Articles
Meet M.Gemi: The Italian Footwear Brand For Modern Women
Thanks To M.Gemi, You Can Now Feed Your Designer Shoe Obsession Without Guilt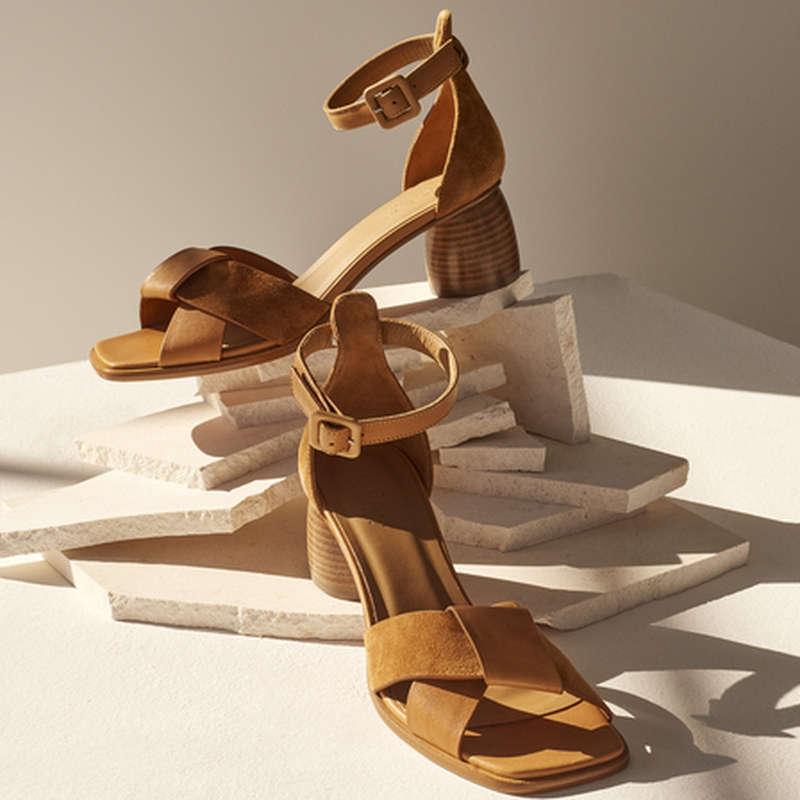 When it comes to footwear, we're big believers in investing—and we're not just saying this because we're a team almost entirely comprised of shoe-obsessed women. A high-quality pair of shoes can carry you through multiple seasons and events, getting better with age and offering an unmatched level of comfort. But with today's designer styles costing upwards of $500 or more, we know that splurging isn't always an option. Enter M.Gemi: a first-of-its-kind footwear brand making Italian luxury attainable.
While you could argue that women's footwear is one of the most saturated markets out there, M.Gemi's founder, born-and-bred Italian entrepreneur Maria Gangemi, managed to find its one true white space. The brand cuts through the supply chain to combine the costs and quick turn-around times of fast-fashion shoes with the quality and construction of designer ones. By working closely and personally with Italy's small, family-owned workshops and selling products directly through its website, M.Gemi avoids traditional retail markups and delivers beautiful, high-quality shoes at a cadence and price point that have never been seen before.
Take the Felize, for example, M.Gemi's most-loved moccasin and one of Maria's personal favorites (she's also partial to the Esatto, Palestra, and Ilaria). While the shoe retails for $198, a similar style from another Italian-made brand could set you back anywhere from $500 to $2,000. The same goes for the rest of M.Gemi's designs, which consist of everything from classic pumps and sneakers to mock-croc booties and chic fur slides.
But according to Maria, M.Gemi isn't just about the jaw-dropping shoes they churn out—it's also about the hard work that goes into making them. In fact, the brand itself was inspired by Maria's unending love for Italian craftsmanship.
"M.Gemi was born out of a simple and true concept: A platform to showcase and help preserve the skills of small Italian artisans while providing customers with unfettered access to the highest-quality Italian-crafted leather goods at attainable prices," she said. "On my frequent trips back home to Italy, I would often meet these craftspeople and admire their beautiful work. I wanted to ensure that their craft would stand the test of time and be available for generations to come, and so M.Gemi came to be."
Today, M.Gemi's inventory consists of more than 200 styles and has expanded to include handbags and men's shoes. To keep things feeling fresh, Maria says listening to customers is key.
"[We incorporate] feedback from our customers where possible and work very collaboratively with our artisans in the production process," Maria said. "Before the pandemic hit, we had planned to roll out a considerable assortment of women's high-heeled pumps and sandals. Once stay-at-home orders were enacted, we knew we had to move quickly to change our assortment to be more relevant to what the customer would need in 2020 and beyond."
Thanks to M.Gemi's close partnerships with its Italian artisans, the brand can release new styles with turnaround times that are much shorter than those of traditional luxury brands. While this means that designs can come and go quickly, there are a few iconic styles—think the Corsa ankle boot and the ever-so-classic Felize driver—that remain constant.
"We listen to our customers. There are certain styles that are just timeless and evergreen, and our customers have let us know how much they love and enjoy those styles both through our sell-outs and our season-after-season performance of those shoes. We really do listen to the data, and we make decisions based on the feedback we receive in real-time," Maria said.
Since M.Gemi's launch in 2015, the brand has earned itself a huge following—and an impressive one, at that. From Gwenyth Paltrow to Shay Mitchell, some of the world's most stylish women turn to M.Gemi for its on-trend designs and exceptional quality.
Lucky for us, Maria says M.Gemi has lots of exciting plans for the future, including new product lines and even more in-depth work with its Italian artisans and factories. But until then, it's a brand you'll want to keep on your radar, whether you're in the market for a pair of wear-forever shoes or simply want to treat yourself to something beautiful.
"In our lives, there are things that we buy for beauty and pleasure, and things that we buy for function. At M.Gemi, we marry the two so you never have to pick."
This article is brought to you by our friends at M.Gemi. For more on M.Gemi and favorite styles to shop, check out Brands We Love: M.Gemi.
April 23, 2021
Interviews and Articles make it easy to learn more about the products that top our lists, what's currently trending, and the leaders who inspire us We are reader-supported and may earn a commission when you shop through our links.
---
View All Articles