Articles
Your Guide To Achieving Fall's It Mani
From Polish Remover To Trending Fall Hues, Butter London's Manicure Essentials Make At-Home Manicures Possible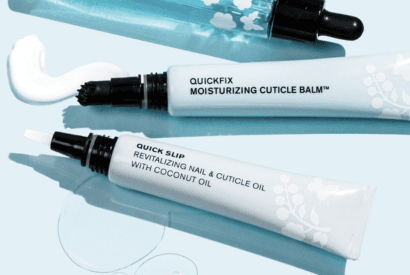 It's no secret that one of the biggest nail trends this fall is deep brown shades and earth tones, given the prevalence of the latte makeup craze and terracotta hues in stores. Even Nailing Hollywood's CEO, Mazz Hanna, notes that "earthy tones are always popular in cooler months, but this year, hot chocolate nails will be everywhere." Hanna even goes on to say, "Chocolate brown is a versatile and timeless shade that flatters all skin tones, nail shapes, and lengths, making it a simple trend to try at home."
Basically, it's safe to say we'll see many variations of this popular color on people's hands (pun intended). So, with that in mind, we're talking all things Butter London today—AKA your go-to destination for achieving the coveted "It" manicure right from the comfort of your home. With an impressive array of nail treatments, essential tools, and the gorgeous new polish shade "Boozy Chocolate," Butter London has everything you need to elevate your fall nail game.
August 31, 2023
Interviews and Articles make it easy to learn more about the products that top our lists, what's currently trending, and the leaders who inspire us We are reader-supported and may earn a commission when you shop through our links.
01
Crafting Your Signature Fall "It" Manicure
Attaining the perfect fall manicure can be a daunting task, but with Butter London's carefully curated collection of nail care treatments, the process is made effortless and easy. Whether you're a seasoned nail pro or a beginner, their wide range of essentials cater to your every need. From priming base coats that create a flawless foundation to luxurious top coats that seal in your masterpiece with UV protection, Butter London's treatments are an all-in-one solution for achieving professional results in the comfort of your home. Moreover, they even offer 2-in-1 mani prep wipes and quick-dry drops that condition your cuticles while accelerating dry time—all to ensure your nails remain healthy and your manicure flawless. With Butter London, you can rest assured that your nails will look and feel their best.
02
Essentials For Precision And Perfection
To perfect any manicure trend at home, precision is crucial, and Butter London is well aware of this. Their range of necessary tools includes all the essentials for achieving impeccable lines, a seamless application, and a polished look. These tools, like the glass cuticle pusher and nail file, not only enhance your manicure skills but also promote stronger nails and longer-lasting polish.
03
Boozy Chocolate: Fall's Must-Have Polish Shade
Fall is known for its beautiful colors, and Butter London's latest nail polish shade, "Boozy Chocolate," embodies this perfectly. This shade features a rich blend of cocoa tones complemented by a subtle hint of warmth, making it the perfect addition to your fall nail polish collection. Whether you're enjoying a delicious pumpkin spice latte or taking a leisurely stroll among the fallen leaves, "Boozy Chocolate" adds that touch of opulence to help you master your "It" manicure at home.
---
View All Articles