Articles
How To Stop Your Face From Breaking Out
Preventing acne and breakouts can be important to your emotional well-being and health. Learn how to treat acne with a variety of methods from your skincare routine, to diet, vitamins, and exercise that can help you prevent future breakouts.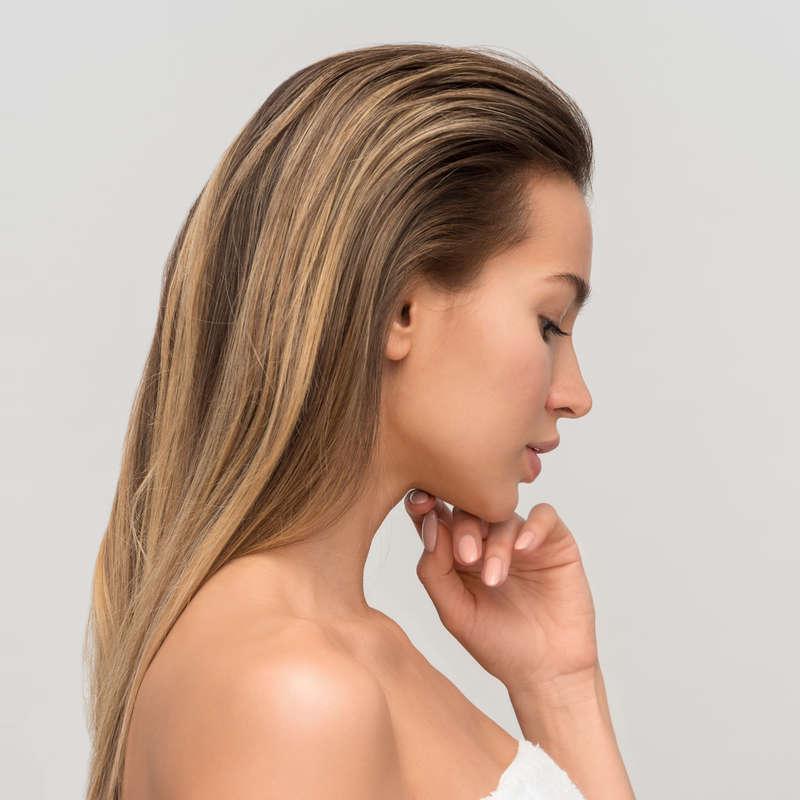 Stopping breakouts starts with understanding acne and looking for solutions that suit the needs of your skin and body. Acne is one of the most common skin conditions in the United States. Though it is typically considered an adolescent condition, it can occur at any stage in life and affects up to 50 million Americans annually.
Acne is caused by your skin's natural oil, sebum, and dead skin cells clogging your skin's pores. When the pore is clogged, the typically harmless bacteria present in the sebaceous glands—the glands that produce sebum—can cause inflammation and infection resulting in acne. Though acne is not a serious health risk, it can cause scarring and damper your self-image, emotional well-being, and confidence.
Learning how to prevent acne and stop your face from breaking out with different methods and skincare routines can help keep your acne in check. This can help make you more comfortable in your skin, and lower the chances of whiteheads, blackheads, and pimples from popping up. Here to help clear up your complexion and prevent further breakouts, we've provided you with a few easy-to-follow tips you can start implementing today to ensure better skin days ahead!
Opening image: Photo by Icons8 Team on Unsplash

March 13, 2020
Interviews and Articles make it easy to learn more about the products that top our lists, what's currently trending, and the leaders who inspire us We are reader-supported and may earn a commission when you shop through our links.
01
Wash Your Face Twice A Day
Washing your face with the proper soaps and methods can help keep your skin clear by removing excess oils, toxins, and impurities. Proper face washing methods include: - Washing with a mild face wash and cleanser, as a harsh soap can cause further irritation. - Use warm (not too hot or too cold) water. - Use a soft cloth, cleansing brush, or your hands in a gentle up-wards manner to wash your face. Wash any cloths or tools (remember to replace those brush heads if using a cleansing brush!) you use to between each use, or you may recontaminate your face. - Wash your face gently and use the best microdermabrasion product for your skin type. Avoid scrubbing your skin harshly, as this can cause further irritation. - Gently pat your face dry with a clean towel. - Use an acne clearing serum or moisturizer either twice a day or just before bed. Many facial cleansing products may dry the skin when removing excess sebum, so it is important to use a moisturizing agent that is suited to your skin type to rehydrate your skin. REMEMBER: Facial washes and cleansers, as well as microdermabrasion products, serums, and moisturizers, often come with a range of ingredients that are targeted to skin types and sensitivities. It is important to consider your skin type and where your face may be most oily or dry when selecting the products that will work best for you and your skin.
Although it may be best not to wear loads of makeup during a breakout, you may still want to continue with your beauty routine. It is important to select products that are designed to work with acne-prone skin to create those flawless looks. Look for primers that are designed for acne-prone skin or hypoallergenic, water-based, or oil-free cosmetics without added dyes or chemicals. Make sure to use foundation brushes that are suited to your skin sensitivity, and be sure to wash them weekly to avoid bacteria build-up.
03
Try an Over-the-Counter Acne Product Or Supplement
For some, your skincare routine might need a deeper approach. Those who are naturally prone to acne, experience hormonal imbalances, or who may be vitamin-deficient may consider supplementing their diet with vitamins and minerals. Vitamins and minerals play important roles in bodily function, including your skin's health. Eating foods and taking supplements that are rich in vitamins and minerals essential for skin health may help prevent and treat acne. Studies have shown that vitamin A, vitamin E, and zinc can be helpful for those affected by acne. Vitamin A and E are basic antioxidants and help improve the immune system. Zinc is an essential mineral that contributes to a range of functions, and when zinc is taken orally or topically for acne, studies suggest it has antibacterial and anti-inflammatory effects that may decrease sebum production. Acne associated with vitamin D levels has also been studied and found that vitamin D deficiency was more frequent in patients with acne.
04
Keep Your Hands Off Your Face
It may be hard to break the habit, but it is best to avoid touching your face or propping your face in your hands. Touching your face introduces and transfers the bacteria and oils on your hands to the skin on your face and can cause further breakouts. Popping and picking at acne and pimples can cause an infection that may lead to inflammation and scarring, especially if your hands are not clean.
As previously discussed, vitamins and minerals are important to skin health and one of the best ways to ensure healthy skin is by hydrating and eating a good diet. While eating well is generally good health advice, some studies show that the right diet can help get rid of acne. Some foods and beverages raise your blood sugar quickly and may have negative effects on acne. Eating a diet of low-glycemic foods such as fresh vegetables and fruits, as well as beans and oats may reduce acne. Cow's milk has also been associated with increased acne, but no studies have found that products made of milk such as yogurt or cheese may lead to breakouts. It is important to remember that every person's body is different, so certain foods such may worsen acne for some, and hardly have an effect on others. If you think your diet may be a culprit, consider keeping a food journal to examine when breakouts occur, and what might be triggering them.
Regular exercise is all-around good advice for a healthy body, but it can also have positive effects on your skin; even Time, Vogue, and The New York Times, have written articles on studies discussing younger, healthier skin through exercise. Studies show that exercise stimulates mitochondrial regulators that function in the aging of skin and metabolism. If you are considering how to become more active, make sure you also account for the clothing you wear and the effects it may have on your skin. Wearing headbands to wick away sweat may trap bacteria against your forehead causing irritation and breakouts. Other workout factors that may increase acne include not removing your makeup before working out, or re-wearing workout clothes without washing them, as both can trap bacteria, dead skin cells, and oils against your skin, causing further irritation and breakouts. REMEMBER: Always use clean towels to wipe off sweat, and do your best not to share equipment with others than can transfer someone else's skin bacteria to you. Be sure to shower after each workout to rinse away sweat and bacteria that may linger and clog your pores.
Because we love you, here are a few more additional home methods and life practices that may help improve your skin and reduce acne. - Limit time spent in the sun. Ultraviolet rays from the sun can cause inflammation and post-inflammatory hyperpigmentation. Reducing the exposure of your skin to the sun is a health practice that may reduce the effects of photoaging such as wrinkles, fine lines, and pigmentation. Sun-damaged skin can also increase the likelihood of skin cancer and actinic keratosis—tiny red bumps that appear after repeated or long-term exposure to UV light. Some acne and skin medications can increase sensitivity to UV light, making sunlight more damaging to skin. If a sunkissed look is a must for you, consider using a bronzer that is flattering and warming to your skin tone. - Use moisturizers and sunscreens. The American Academy of Dermatology Association recommends using acne-friendly moisturizers that are oil-free, noncomedogenic, and won't clog pores for dry skin, noting that it could be an important part of an acne treatment plan. The dermatology association also discusses the importance of sunscreen for everyone and its importance in protecting skin from ultraviolet rays. If you are acne-prone, consider using a sunscreen made specifically for sensitive skin. - Practice mindfulness and stress-relief. Having a breakout can be a stressful event. Studies on psychological stress and acne and the response of skin diseases such as acne to stress show a significant association between stress and the severity of acne. When your face breaks out and makes you stressed, your stress can further your breakout. Practicing mindfulness or stress-relieving activities such as meditation, yoga, thoughtful breathing, or even doing something you enjoy to find a calm state can help reduce stress and increase wellbeing. - Try home recipes. There are a variety of home remedies for acne that can be found in your kitchen or at your local grocery store. These may include using apple cider vinegar diluted with water to fight bacteria on the skin and improve the appearance of acne scars. Other remedies include making homemade face masks with ingredients such as honey and cinnamon, applying green tea extract or aloe vera to acne-prone areas, or spot treating acne with tea tree oil or witch hazel.
---
View All Articles