Articles
Product Review: Quince Ultra-Stretch Ponte Straight Leg Work Pant
The $40 Wardrobe Staple That Feels Like Leggings And Looks Like Pants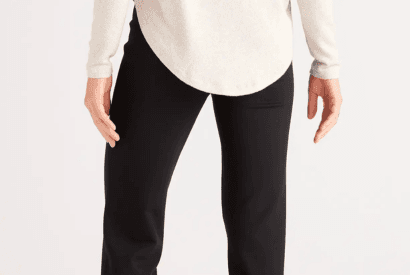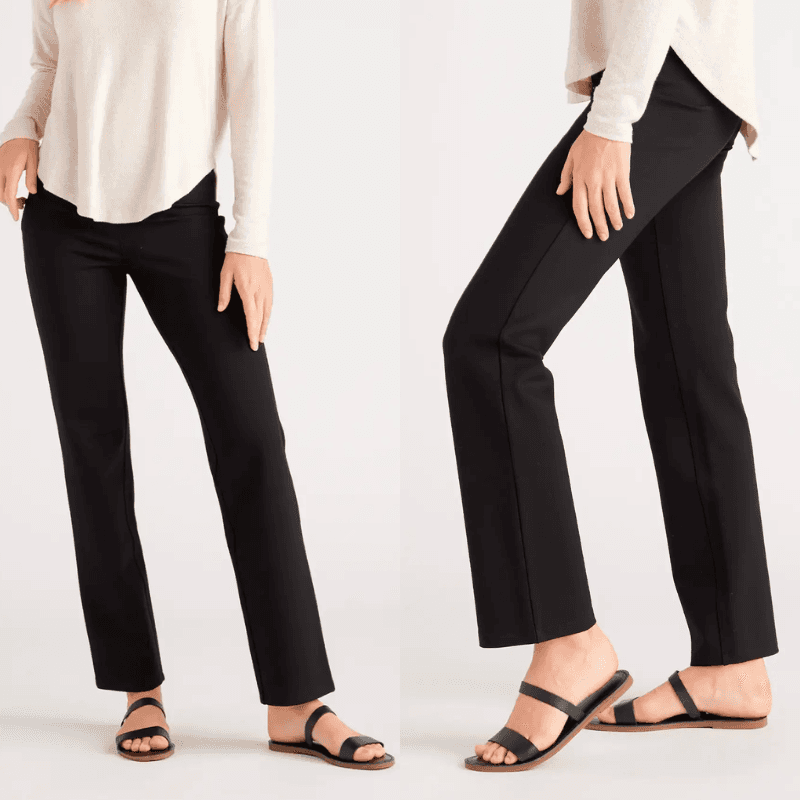 In a perfect world, one could wear loungewear but look like they're decked out in designer clothing from head to toe. But of course, we don't live in a perfect world, and looking put-together usually requires some sort of sacrifice in the comfort department.
That said, in the midst of a global pandemic that took us from eight hours of sitting at a desk in restrictive trousers to eight hours of sitting on the couch in sweatpants, it's safe to say many of us have raised our standards when it comes to workwear. Whether you're working from home or back in a corporate setting, there's a good chance comfortable nine-to-five attire is a higher priority than ever—especially when it comes to something as timeless and versatile as the black pant.
Enter: Quince. The sustainable brand may have initially caught the world's attention with its impressively affordable cashmere sweaters and washable silk pajamas (ranked #2 and #7 on our Top 10 lists, respectively), but it's quickly risen in popularity across an abundance of other categories—workwear in particular. And after seeing the Ultra-Stretch Ponte Straight Leg Work Pants rank #6 on our list and receive over 1,500 reviewers touting them as "fabulous," "flattering," and "amazingly comfortable," we knew we had to take them for a spin ourselves. Read on for our full review after an in-office try-on session.
August 11, 2023
Interviews and Articles make it easy to learn more about the products that top our lists, what's currently trending, and the leaders who inspire us We are reader-supported and may earn a commission when you shop through our links.
Quince's 4-way stretch Ponte fabric may just change your perspective on pants. Made of 67% rayon, 28% nylon, and 5% spandex, it's somehow just as thick and supportive as it is buttery soft and stretchy, making the pants perfectly toe the line between comfort and style. Our CMO, Beth, was the first to give them a whirl. She reported that she could move and stretch in them comfortably, but her panty lines (which weren't seamless, btw) stayed completely concealed, even mid-squat.
It's worth noting that they're a great choice for travel, too. Because—aside from the fact that they basically feel like leggings—after tossing them from coworker to coworker and desk to desk, we can confidently say that they are indeed wrinkle-resistant.
Despite their comfy feel, the pants have a classic, straight-leg fit that lends them a polished and professional look.
Beth typically wears a 6 in major brands like Gap and Loft, and the size small we passed around the office was a perfect fit for her. They have a pull-on silhouette and elasticized waistband that contributes to their legging-like feel, plus a flat front and belt loops to give them that pant-like look. The rise comes up just high enough to hold in the tummy and provide a supportive, held-in fit. The pockets in the front and back are faux, but according to Beth, this is worth it for the easy-to-wear feel.
At 5'8", the 30" length hit Beth at the perfect spot, just below the ankle. However, should your legs fall on the shorter or longer side, the pants come in two additional inseam lengths: 28" and 32".
Considering their quality, comfort, and eco-friendly factor, one of these pants' most impressive features is their price point. As one reviewer put it, "They are perfect—not too dressy and not too casual. I just can't figure out why they didn't cost twice as much."
At $40, they ring up around 60% less than those from traditional retailers. And in case you'd like proof, you'll find it on Quince's competitor comparison chart, a feature you'll see on every Quince product page that details how it stacks up against similar offerings from other retailers (in this case, think Spanx or NYDJ). Quince also offers free shipping and free returns within a whopping 365 days of purchase, so trying things out is as risk-free as it gets. And with seven colorways to choose from, multiple different silhouettes aside from straight (wide leg, bootcut, kick flare, pintuck, and skinny), and a giant seal of approval from us, you might even consider grabbing a few pairs.
Interested in shopping more from Quince? These best-sellers are a great place to start.
---
View All Articles