Top 10 Affordable Trending Handbags
Instagram's Buzziest Handbags To Buy This Season—All Under $100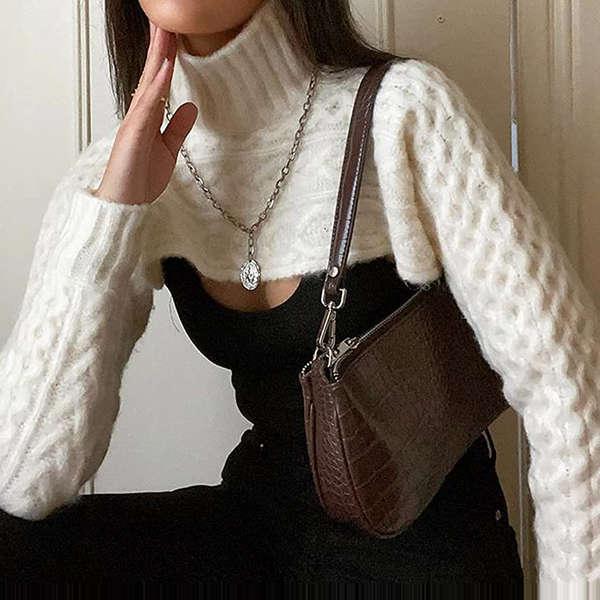 Our Top 10 Lists help shoppers quickly and easily find what they need. Using an intense review and approval process (which you can learn more about here), we break down the best styles according to what consumers most commonly search for and want.
Thanks to the help of Instagram and influencers, keeping up with the latest and greatest trends is easier than ever. Whether you're searching for the perfect pair of gold hoops, looking for of-the-moment manicure ideas, or browsing Amazon for TikTok-famous finds, it's safe to say technology makes it simple to stay in the loop. All that said, with an ever-changing library of knowledge comes an intense desire to shop and score all of the trendy items one sees. A common weakness? Killer handbags.
While chic and essential, constantly splurging on dreamy designer bags would leave most of us with seriously suffering bank accounts. But thankfully, there are lots of affordable options out there—you've just got to know where to look. From mock-croc shoulder bags to croissant-like shapes, we've rounded up the best ones in a handy little list below.
Our Method For Finding The Best Affordable Trending Handbags
A great-looking handbag doesn't have to break the bank, and the 10 picks ahead are proof. Every bag on this list is vetted by our data-driven algorithm that factors in real user reviews, best-seller lists, and social media buzz, so you can shop them with confidence. The best part? All of them ring up under $100, which means you'll have some cash left over to put inside them. Scroll on to shop our edit of the Top 10 affordable trending handbags and snag one (or a few) for your summer collection.
Next up, check out the 10 Best Clutch Handbags. Opening image: amazon.com
Jump To List
October 7, 2021
Top 10 Lists serve as unbiased shopping guides to the most trusted product recommendations on the internet. Products are scored and ranked using an algorithm backed by data consumers find most valuable when making a purchase. We are reader-supported and may earn a commission when you shop through our links.
View All Womens