Top 10 Diaper Bags
Top-Rated Diaper Bags For Function And Style All-In-One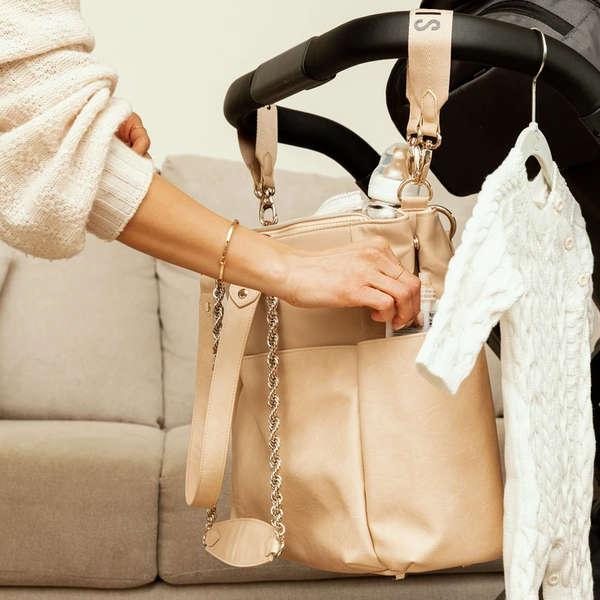 Remember the days when you could simply grab your purse and head out the door? Those days are soon to be long gone. By the time baby arrives, you'll need a whole lot more than your lipstick, compact, wallet, and keys—think diapers, wipes, bottles, snacks, and toys. With the addition of some new essentials and a precious baby, you're gonna need a whole lot more real estate, mama. Luckily for you, diaper bags have come a long way, and they're actually quite chic these days. Whether you're on the hunt for a utilitarian vessel or something that looks almost as good as your favorite purse, we've got you covered.
WHAT TO LOOK FOR IN A DIAPER BAG
Like we said, diaper bags are not what they used to be, and we mean that in the best way. These handy dandy tools come in a ton of chic, modern styles, and some even include a pop-out changing table—wow. So what's important when it comes to selecting one of these bad boys? For starters, you'll more than likely be toting this bag around until your kiddo hits preschool, so durability is an absolute must. Size is another important factor to consider. If you've got more than one little one, or if you're the type of mama who wants to be prepared for any and every happening, we'd recommend going for something that can hold all of the essentials. Consider everything you'd want to be equipped with for a regular outing—a change of clothing, burp cloth or covering, pacifiers, toys, snacks, bottles, etc. Next up, consider the functions of the bag. Does it have pockets for all of your gadgets? What about something insulated for bottles? Or a designated spot for dirty clothes? Lastly, if dad will be carrying this bag around, too, we'd be on the lookout for something unisex that both parties will feel comfortable carrying.
TYPES OF DIAPER BAGS
Now that we've covered all of the basics, it's time to move on to the very best part: choosing a silhouette. The most popular diaper bag silhouettes amongst the parenting community are backpacks, totes, messenger bags, and convertible bags. What shape you choose depends entirely on your preferences and needs. If you would much rather be hands-free, or if you're a mama constantly on the go, a backpack might be your strongest option. For mamas who are constantly traveling and prefer pocket organization, a tote bag would be a wise choice. Messenger bags are your best bet for comfort as they come with a cross body strap and are less likely to cause you shoulder pain. Lastly, there's the convertible bag, they can be worn tons of different ways, but they tend to be on the bulkier side, which is absolutely an important factor to consider.
HOW WE SELECTED THE BEST DIAPER BAGS
We know prepping for a new baby, isn't at all easy, which is why we're here to help you lighten the load a bit. We've tracked down the 10 most stylish, durable, functional, mess-proof diaper bags on the market, so you can find the best pick for you. Our picks are vetted by our data-driven algorithm that factors in editorial mentions, social media buzz, and top-rated reviews from mamas just like you. A quality diaper bag will help you keep it all organized and within an arm's reach, so you can run around town with baby in tow like a pro. Go with one of these top contenders, and we promise you've got this whole parenthood thing in the bag (pun intended). Opening image: biestravel.com
Did you like our 10 Best Diaper Bags? Then we think you'll love our 10 Best Baby Footed Pajamas too!
Jump To List
January 12, 2021
Top 10 Lists serve as unbiased shopping guides to the most trusted product recommendations on the internet. Products are scored and ranked using an algorithm backed by data consumers find most valuable when making a purchase. We are reader-supported and may earn a commission when you shop through our links.
View All Womens