Top 10 Athletic And Sports Dresses
Hands Down, These Are The Cutest Athletic Dresses For Working Out (Or Not)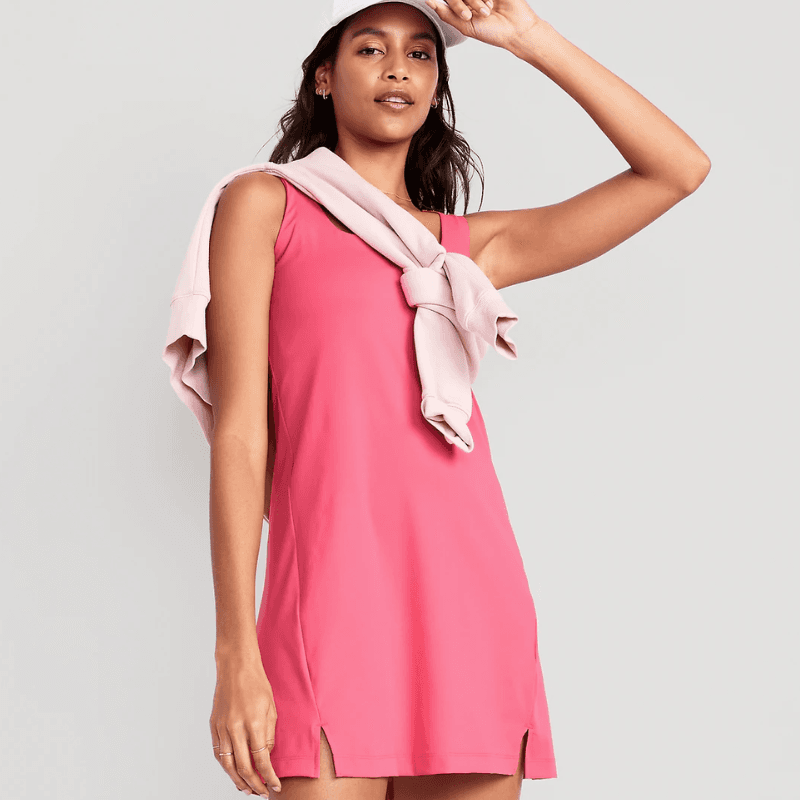 Whether you're hitting the gym, going for a run, or simply running errands, athletic dresses offer a seamless blend of fashion and functionality. From retro-inspired designs to modern and chic versions, these sporty dresses are the epitome of versatility, making them a must-have addition to your wardrobe. And with their rise in popularity over the years, owning one (or several) of these workout-ready dresses is basically essential. So, let's dive into everything you need to know about athletic dresses, from why they're so great to what to consider when shopping for one. And of course, we'll share our top-ranked picks of the best athletic dresses available online.
Why Choose Athletic Dresses?
Gone are the days when athletic dresses were limited to tennis and golf. Today, fashion-forward activewear brands like Girlfriend Collective and Outdoor Voices are reinventing the athletic dress game. These dresses boast pretty details like cutouts, flared skirts, and deep V-necks, ensuring you stay stylish while on the move.
Moreover, workout dresses are not just about aesthetics; they are designed with technical features that make them practical for various physical activities. Many of them come with built-in bras and shorts, making them an all-in-one solution for your active pursuits. Whether you're hitting the trails, taking a yoga class, or enjoying a night out with friends, these dresses effortlessly transition from one setting to another.
How To Choose The Perfect Athletic Dress
When selecting the ideal athletic dress for your needs, consider these key factors:
: Opt for moisture-wicking and breathable fabrics to keep you comfortable during intense workouts.
: Look for dresses that offer a flattering and supportive fit, ensuring you can move freely and confidently.
: Choose a length that suits your activity and personal style. Some may prefer shorter lengths for activities like running, while others might favor longer dresses for added coverage during yoga or hiking.
: If you prefer added support, opt for dresses with built-in bras or shelf bras.
: Seek dresses that can effortlessly transition from workout sessions to casual outings, maximizing their wearability.
Benefits Of Workout Dresses
There are many benefits of wearing workout dresses, including comfort, time-saving, elimination of chafing, and fashion-forwardness. Athletic dresses are designed with comfort in mind, ensuring you can focus on your performance without any distractions. The all-in-one design of many workout dresses saves time on outfit planning, making them a practical choice for busy individuals. Additionally, dresses with built-in bike shorts help combat thigh chafing, particularly during hot summer months. With a wide range of stylish options, athletic dresses allow you to express your personal style even during your workout routine.
Of course, not all athletic dresses are created equal, and not all are suitable for every situation. Luckily, we've taken the work out of your workout dress shopping and created a Top 10 list filled with options that are sure to fit the bill no matter what your sport of choice is—even if that choice is running errands.
How We Found The Best Athletic Dresses
At Rank & Style, we're committed to finding the best products for our readers. That's why we use a proprietary algorithm that takes into account factors like best-seller lists, user reviews, and editor recommendations. And because our algorithm is unbiased, so you can trust that our Top 10 lists are always made up of the best products on the market. So go ahead and scroll through our list to find the perfect exercise dress for you!
Jump To List
August 2, 2023
Top 10 Lists serve as unbiased shopping guides to the most trusted product recommendations on the internet. Products are scored and ranked using an algorithm backed by data consumers find most valuable when making a purchase. We are reader-supported and may earn a commission when you shop through our links.
View All Womens