Top 10 Body Shapers
This Top-Rated Body Shaper Has Over 9,000 Reviews On Amazon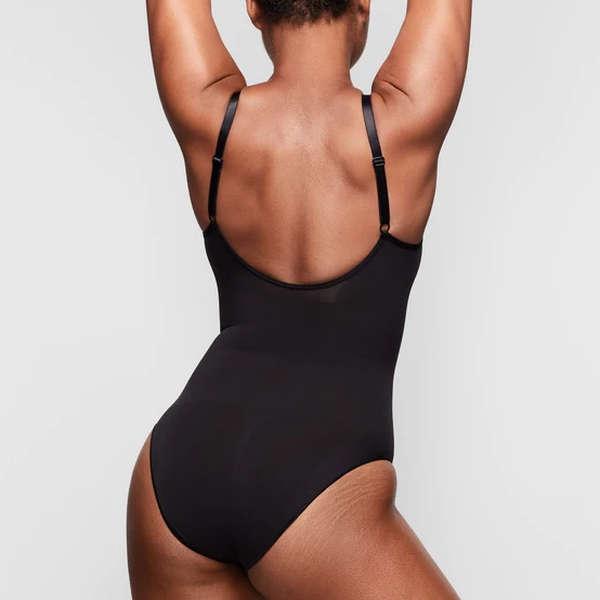 Our Top 10 Lists help shoppers quickly and easily find what they need. Using an intense review and approval process (which you can learn more about here), we break down the best styles according to what consumers most commonly search for and want.
When you want to look your best, sometimes it's necessary to call in the heavy artillery—as in shapewear, of course. We've all found ourselves in need of a quick slimming solution for life's big moments—commonly referred to as weddings, dates, and parties. Our advice? Invest in a high-quality body shaper. It sounds easy enough, but if you're new to the world of shapewear, there can be a lot to learn. Fret not, because we've got you covered. Whether it's your first time shopping for shapewear or you simply need a refresher, here are a few things to consider before jumping in.
Benefits Of Wearing A Body Shaper
There's no shame in needing a confidence boost now and again. When a special occasion or big event is coming up, we all want to look our best. Who wouldn't? Needless to say, body shapers are a fail-safe solution for smoothing out problem areas and getting the most flattering fit possible out of our attire. While they do all of the hard work of smoothing and tucking, we get to enjoy the major confidence boost they give us. The best part? They can target certain areas or provide full-body coverage. From stomach shapers to full-on bodysuits, these discreet undergarments will accentuate your body's best features and make you look and feel your best while they do it.
Breaking Down The Different Types Of Body Shapers And When To Wear Them
Because we all come in different shapes and sizes, it's only logical that our tucking-and-smoothing goals will differ. And for that reason, there are a few different types of control or coverage offered by body shapers. The first is light control. Light-control shapewear can be used daily—think slimming tank tops that are perfectly snug and smooth out the lines around your bust, stomach, and waist but won't squeeze you uncomfortably. Then there's firm control, which is what you'll likely want to go with when it comes to big events like weddings, parties, and anything else you'll want to nail your outfit for. Firm shapewear takes curve-smoothing to the next level by providing support and tucking wherever it's necessary. Lastly, for those who want to target specific areas, your best bet is shopping for shapewear options that focus their smoothing benefits on a particular body part. For example, if you want to accentuate your waistline, it would be best to search for an undergarment like a waist shaper.
Choosing The Best Body Shaper For Your Body
When the time comes to pick out the body shapewear that works best for you, there are a few things to keep in mind to ensure that you're getting something that feels the most comfortable underneath your clothing. Although it may be tempting to size down, it's best to stick to your true size. It may seem like a smaller size will up the tucking and lifting power, but it will likely result in the opposite effect. Wearing a body shaper that's too tight can actually draw more attention to the areas you want to hide. Trust us—the best body shapers are powerful enough on their own and will deliver incredible results in your correct size. To ensure your shapewear delivers the best results, try it on before you wear it out, and make sure you can sit and move around comfortably.
Lastly, you'll need to figure out which shapewear is best for your unique body type and outfit. If you plan to wear a dress that hugs your figure and shows off every curve, you should probably go with a full-body shaper or strapless body shaper, depending on your dress. Another option would be a high-waisted slimmer that covers your thighs and goes all the way up to your torso, hitting just below the bust. Try different silhouettes until you find something that works for you. There's no harm in experimenting.
Our Method For Finding The Best Body Shapers
To find the best body shapers, we utilized our data-driven algorithm that sifts through countless rave reviews, best-seller lists, and editorial mentions. What does that mean for you? A data-backed list of shapewear that's been tried and loved by shoppers just like you. Ahead, shop shapewear options for every skin tone, body type, and need. From buzzy options by Skims and Spanx to affordable picks by Jockey, we've got your back on all things shapewear ahead.
Next up, check out the 10 Best Slips. Opening image: skims.com
Jump To List
August 11, 2021
Top 10 Lists serve as unbiased shopping guides to the most trusted product recommendations on the internet. Products are scored and ranked using an algorithm backed by data consumers find most valuable when making a purchase. We are reader-supported and may earn a commission when you shop through our links.
View All Womens