Top 10 Body Washes For Acne
When You Suffer From Body Acne, These Cleansers Will Help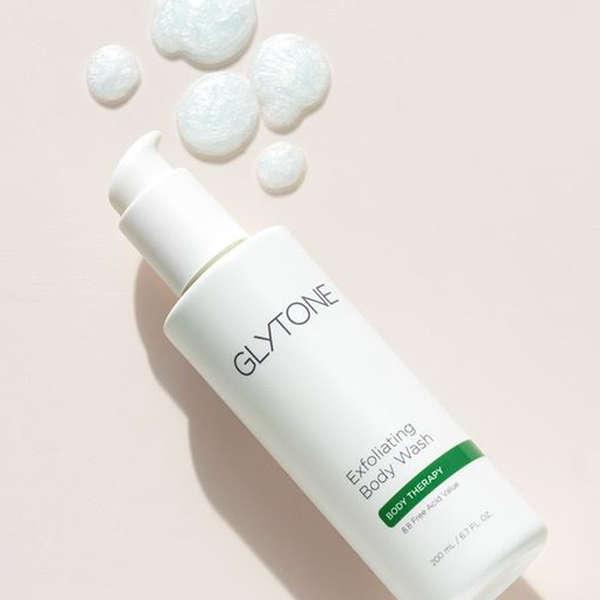 With warmer weather on its way and swimsuit season just around the corner, getting our summer glow on is a big priority. For us, the first order of business is a seriously good skin-clearing body wash (after sunscreen, of course). Since there are tons of options out there for acne-prone skin, we took it upon ourselves to rank the best ones thanks to the help of our data-driven algorithm that factors in real user reviews, best-selling buzz, editorial mentions, and more. Chock-full of clarifying ingredients like AHAs, BHAs, and vitamin C, the data-driven selection of body washes below is sure to help you get that glow in no time. From a classic Clinique option to a cult favorite that will actually make you smell like a tropical vacay, keep scrolling to shop the Top 10 and take on bikini season feeling your best. Opening image: @glytoneusa
Did you enjoy our 10 Best Body Washes for Acne? Then we think you'll really enjoy our 10 Best Chemical Exfoliators!
Jump To List
March 17, 2020
Top 10 Lists serve as unbiased shopping guides to the most trusted product recommendations on the internet. Products are scored and ranked using an algorithm backed by data consumers find most valuable when making a purchase. We are reader-supported and may earn a commission when you shop through our links.
The Rankings
---
Proactiv Deep Cleansing Wash
WHAT IT DOES: Formulated with 2% salicylic acid, this baby not only clears pores and reduces oil, but it also prevents breakouts from coming back. Genius.
HELPFUL TIP: Sensitivity can occur if you're new to salicylic acid, so we recommend starting out slow for the first few days. Begin with just one application per day, then build up to two or three times as needed.
---
Clinique Acne Solutions Cleansing Bar For Face & Body
BEST FOR: If you're a minimal routine kinda gal (or guy), opt for this super simple formula from Clinique. You can use it on both your face and your body, and best of all, it'll leave the skin feeling hydrated and smooth—never dry or tight.
HELPFUL TIP: Don't let the fact that it's a bar scare you away—this stuff has some serious acne-fighting power. And bonus: it should last a lot longer than a liquid formula.
---
CLn Body Wash
BEST FOR: Eczema, rosacea, psoriasis—no matter how troubled your skin is, this cleanser can handle it. The secret is sodium hypochlorite, an ingredient that gently prevents the spread of bacteria, leaving your skin both acne- and irritation-free.
USERS SAID: "Honestly this stuff changed my life. I was suffering from horrible acne on my chest for ages from a hormonal issue. My new dermatologist suggested this soap, and it's incredible. I've only been using it for about a month and there isn't one pimple on my chest—just in time for swimsuit season! The acne had been my biggest insecurity for years, and I'm a new woman!"
---
Glytone Exfoliating Body Wash
LOVED FOR: Thanks to glycolic acid, this body wash has some serious exfoliating powers. While removing dirt, oil, and debris, it'll also help shed old skin cells and leave your bod feeling refreshed and rejuvenated.
FUN FACT: Don't be surprised if you end up buying it for the scent alone. According to reviewers, it smells exactly like freshly laundered sheets.
---
Alba Botanica Acnedote Face & Body Scrub
BEST FOR: If you're looking for a more affordable option, pick up this super effective formula for just under $7. It has the same acne-fighting powers as expensive products thanks to 2% salicylic acid, it's gentle enough for all skin types, and best of all, it's free of artificial fragrances and parabens. Score.
USERS SAID: "I literally NEVER write reviews, but this stuff is the TRUTH! Since I was a teenager (I'm 26 now), I have always struggled with bad back acne. No matter what I would do, it just seemed like nothing would work. One day, I decided to try this stuff out. My back acne literally disappeared within three to four weeks! I don't ever go without this now."
---
CeraVe Body Wash with Salicylic Acid
WHAT IT DOES: Formulated with three essential ceramides and salicylic acid, this cleanser helps restore and maintain the skin's natural protective barrier while smoothing rough bumps.
HELPFUL TIP: While this is a great option for treating acne, it also does wonders for curing dry, itchy and psoriasis-prone skin.
---
Murad Acne Body Wash
LOVED FOR: Acne-fighting powers aside, users absolutely love the cooling and refreshing feeling that comes with this body wash. It's the perfect way to wake up in the morning.
USERS SAID: "I have been struggling with hormonal back breakouts for over a year now, and I finally caved in and bought this after reading some good reviews. I am SO HAPPY I did. Within the first week, I could start to tell a difference, and after a month of use, my breakouts are completely gone. Being able to wear tank tops and open-back dresses without feeling insecure is the best feeling!"
---
Neutrogena Body Clear Body Wash
WHY YOU NEED IT: Can't go wrong with a classic. This fan-favorite body wash contains the maximum amount of salicylic possible to effectively fight acne without over-drying, all for just under $10. Run, don't walk.
HELPFUL TIP: Don't be afraid to spend more time on problem areas—this stuff is super gentle.
---
Mario Badescu A.H.A. Botanical Body Soap
WHAT IT DOES: There's a reason derms highly recommend AHAs (think glycolic and lactic acids) to tackle acne on your body and face. AHAs have a gentle but ultra-powerful exfoliating effect, and they also help stimulate collagen production to prevent wrinkles.

BEST FOR: All skin types will benefit from this revitalizing cleanser, but it's ideal for those with problem skin on the back, shoulders, and chest.