Top 10 Clear Handbags
We've Just Made Finding The Perfect Clear Handbag Super Easy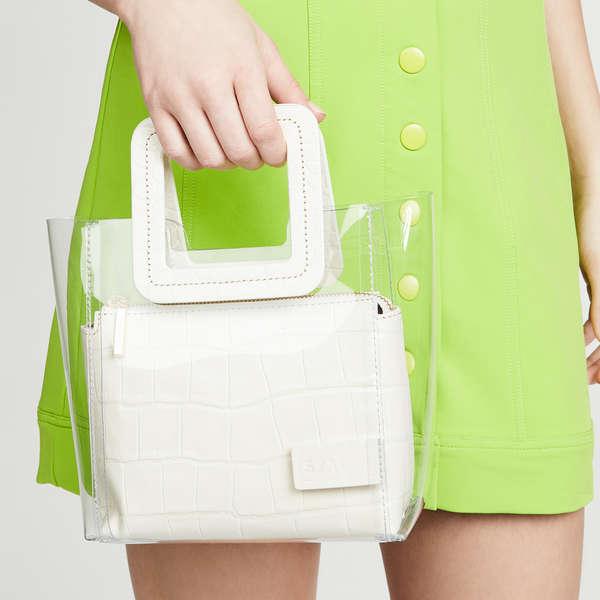 Clear bags are having a moment again, and we are definitely not mad about it. This cool nod to the '90s is also practical as stadiums have introduced a new clear bag policy in an effort to up security. But stadium policies or not, we love them because they totally encourage us to clean out our old receipts and broken pens more often (plus, we get to show off our cute wallets and phone cases). Is there any true downside to this trend? Fashion brands certainly don't seem to think so because they have all jumped at the chance to capitalize on it in the most stylish of ways. From essential stadium bags to playful totes to glamorous clutches, click through our list of Top 10 clear handbags to help you find the perfect, transparent addition to your wardrobe. Opening image: shopbop.com
Love our 10 Best Clear Handbags? Check out our 10 Best Straw Bags or our 10 Best Tote Bags next!
Jump To List
August 26, 2019
Top 10 Lists serve as unbiased shopping guides to the most trusted product recommendations on the internet. Products are scored and ranked using an algorithm backed by data consumers find most valuable when making a purchase. We are reader-supported and may earn a commission when you shop through our links.
The Rankings
---
adidas Originals Clear Festival Crossbody
BEST FOR: Showing off your sporty side
USERS SAID: "You won't regret buying this!! So nice because festivals and football games don't need to go through your purse. It's roomy for your keys phone and money and still super cute! Also love the adjustable strap so you can wear it however you want."
---
Baggallini Legacy Stadium Clear Bryant Crossbody
LOVED FOR: The super tiny shape makes this great for taking to games and concerts.
USERS SAID: "My girl needed for attending a conference at a stadium event where they required see-through bags. Small, just room for what is needed. Small wallet, phone, couple keys!"
---
Clear Handbags & More Clear Purse Stadium Approved
LOVED FOR: The top handle silhouette makes this the perfect handle bag.
USERS SAID: "This bag is just perfect for work. I thought it might have been too big for my needs but I'm so glad I got this size. I can fit my phone, my ipod, wallet,coin purse,a makeup bag (for when you're in a rush and need to apply your makeup on the go lol), keys, hand lotion, tissue, and other miscellaneous items. Its so convenient because you can just dump your things there and be ready to go. I had mine for about 4 months and it still doesn't show a lot where and tear. [...]"
---
Hoxis Clear Chain Tote
BEST FOR: The larger tote size is ideal for anyone who likes to carry it all!
HELPFUL TIP: This bag can be worn in two different ways by simply adjusting the chain strap. Wear as a crossbody or should bag.
---
MICHAEL Michael Kors Whitney Large Clear and Leather Tote Bag
BEST FOR: The oversized design makes this tote perfect for carrying to work.
USERS SAID: "First of all, it's large. The design and leather details are sharp. The inside leather pouch has actually three compartments, allows for organizing your cell phone and other items. I've already used it and I felt like I got a great bargain."
---
Hoxis Turn Lock Cross Body Bag
FUN FACT: This bag features a removable shoulder strap, providing you with two stylish ways to carry your belongings.
USERS SAID: "This bag was inexpensive and is very high quality. It was large enough for me to carry anything I needed during the game as well as items for my three friends. The cross body strap is very secure and the bag is made well. I liked the clasp over other bags with snap closure because I could pack it full and it still sealed securely."
---
Lam Gallery Clear Turn Lock Purse
LOVED FOR: The Chanel-esque silhouette and style
USERS SAID: "Can't get much better than this. It closes securely and looks refined. Before I purchased this one, I had ordered and returned about six different clear purses, many were poorly made, most are too big, some were too stiff to be functional, another was too fancy looking for a basketball game. This one is perfect. It will hold my glasses case, phone, and keys, and it has an external pocket for the tickets."
View All Womens