Top 10 Overalls For Women
10 Fashionable Overalls Reviewers Are Stocking Up On This Season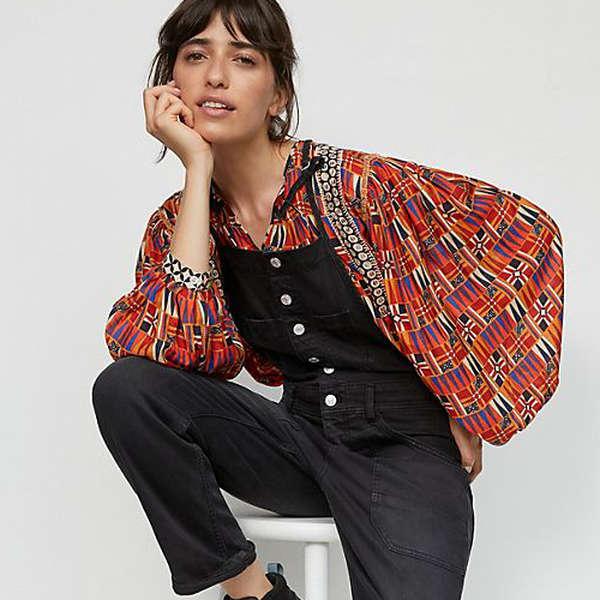 News flash: overalls aren't just for toddlers and farmers anymore. Thanks to the fashion world's current obsession with all things '90s, the functional childhood staple has officially made a comeback—and this time the denim dungarees come in silhouettes that flatter all shapes and sizes. However, we must admit that the trend hasn't been totally embraced by all. But personally, we can't get enough of them—for us, the biggest selling point is the ease that comes with styling overalls. Just add a turtleneck, crop top, t-shirt, or shacket, and call it a day. And if you're still feeling a bit hesitant about adopting the trend, don't. We've spotted celebs and street style stars rocking their overalls many times, which alone practically makes them It-girl approved. To take things just one step further, we've rounded up the Top 10 overalls the internet has to offer, from classic Levi's to figure-flattering skinnies and dark wash options. The picks ahead are all backed by user reviews, best-seller lists, editorial mentions, and more. Keep scrolling to discover and shop the the best women's overalls you can buy right now. Opening image: anthropolgie.com
Love our 10 Best Overalls? Check out more Top 10 Denim lists to discover additional top-ranked finds!
Jump To List
November 10, 2020
Top 10 Lists serve as unbiased shopping guides to the most trusted product recommendations on the internet. Products are scored and ranked using an algorithm backed by data consumers find most valuable when making a purchase. We are reader-supported and may earn a commission when you shop through our links.
The Rankings
---
Abercrombie & Fitch Ripped Ultra High Rise Straight Overalls
WHY YOU NEED IT: These overalls have that effortless, lived-in vibe that sort of makes them look thrifted—minus the part where you search every vintage store in town.
USERS SAID: "I get so many compliments when I wear these! They are somewhat oversized, but I wouldn't size down. This way you can pair them with a sweater underneath. Super comfortable and easy to wash."
---
Madewell Relaxed Overalls In Irwell Wash
LOVED FOR: These 100% cotton denim overalls are so soft, we're pretty sure you'll never want to take them off. Don't be surprised when you find yourself reaching for these rather than your go-to blue jeans.
STYLE WITH: The V-cut detailing on the back of these overalls deserves a moment in the spotlight. To make sure she gets her five minutes of fame, we'd style these overalls with a button-down shirt or cozy sweater.
---
Free People Ziggy Denim Overalls
WHY YOU NEED IT: The only thing you need more than a denim pair of overalls is a black denim pair of overalls—and we think your search ends here.
STYLE WITH: We'd style these loose-fitting overalls underneath a shacket, buttoned up or open.
---
Universal Thread High-Rise Cropped Raw Hem Denim Overalls
BEST FOR: These cropped-hem overalls are excellent for showing off your favorite pair of ankle booties or cozy, cute socks.
USERS SAID: "I love these overalls and would wear them every day if I could. I sized up one size, and they fit perfectly—not too loose, not too tight. Great price, too! I like them with an ankle bootie."
---
Gap Wide-Leg Denim Overalls
BEST FOR: Now this is a pair of overalls you can wear year-round. Style them with an off-the-shoulder crop top in the summer and a thick long sleeve in the winter.
HELPFUL TIP: If you love Gap denim, you'll love these too. Just like Gap's jeans, these wide-leg overalls are comfy, cute, and built to last.
---
Old Navy Stonewashed Jean Overalls
BEST FOR: If you prefer a slimmer silhouette, we're pretty confident you'll love these stonewashed overalls.
STYLE WITH: We'd style these skinny overalls with a plain t-shirt and a flannel tied around the waist.
---
Pilcro And The Letterpress Painters Denim Overalls
WHY YOU NEED IT: The front button detailing on these painters overalls is to die for. If you're looking for something a little different than your run-of-the-mill Levi's, this dressed-up pick is perfect.
USERS SAID: "I've been looking for a pair of overalls that had a little different styling, and these fit the bill perfectly! I love the different type of straps as compared to the thicker ones. They are really easy to adjust and surprisingly comfortable. I ordered a size bigger than I normally wear just because I wanted a little more room, and it was exactly what I wanted. Highly recommend these!"
---
Gap Relaxed Denim Overalls
WHY YOU NEED IT: These overalls will go with everything. With a silhouette that's not too loose and not too tight, we'd be willing to bet even Goldilocks would consider these just right.
STYLE WITH: Layers are all the rage, people. We'd style these overalls with a lightweight turtleneck underneath and a sherpa jacket on top.
View All Womens