Top 10 Petite Black Work Pants
We Ranked The 10 Best Petite Black Work Pants On The Internet—No Hemming Required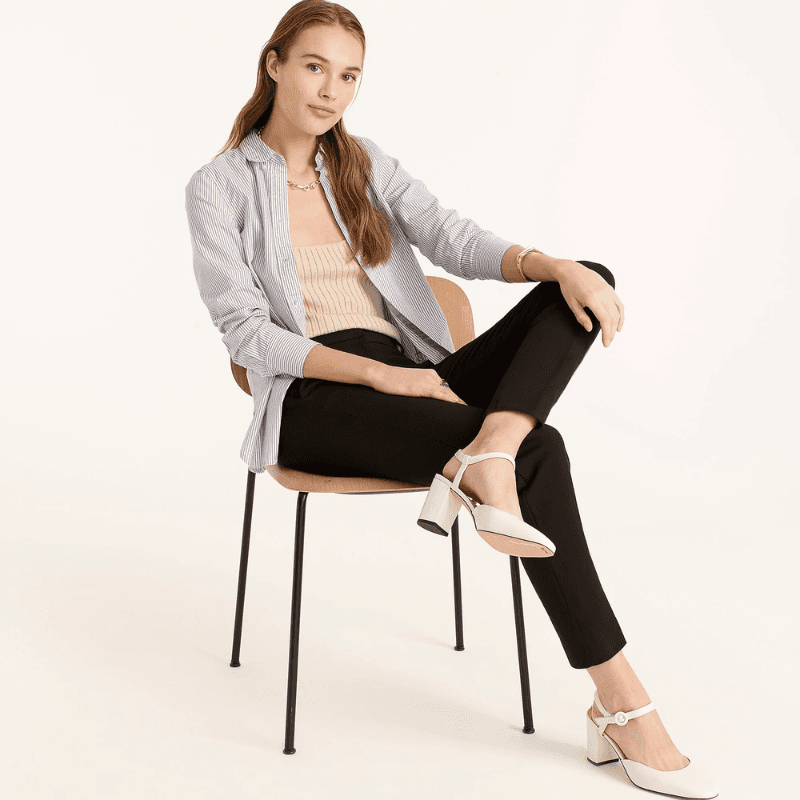 Shopping as a short girl can be quite a struggle. To start with, reaching high shelves in stores is pretty much impossible. And then, once you finally manage to grab the item you want off of said shelf and get to a fitting room, you'll try it on only to find that it's too long for your petite figure. Don't even get us started on searching for the perfect pair of jeans or pants. That dreaded search is frustrating for anyone, but for short women, it can be practically unbearable.
Thankfully, more and more brands are beginning to cater to short-legged gals, offering all kinds of styles in "short" and "petite" fits for those of us who don't make that 5'3" cut. These advances are especially apparent when it comes to bottoms. Thankfully with stores like Banana Republic, J.Crew, and Old Navy, you can finally find full-length pants that you don't trip over and, yes, ankle-length pants that actually hit your ankles—and below, we're dishing on the best black work pants to buy from each. Welcome to easy shopping.
How We Found The Best Petite Black Work Pants
Using our data-driven algorithm, we've simplified the short-girl shopping process and rounded up the 10 best petite black pants on the market. With these, there's no more need for expensive trips to the tailor, and you can finally say goodbye to ill-fitting bottoms. Now, you can spend a little less time in that dreadful dressing room and a little more time enjoying your new wardrobe. Ahead, find a selection of black pants that will actually fit you right off the rack—no alterations required. From top-rated styles to best-selling 'fits, these are officially the internet's most recommended pairs to buy according to petite women.
Jump To List
May 18, 2023
Top 10 Lists serve as unbiased shopping guides to the most trusted product recommendations on the internet. Products are scored and ranked using an algorithm backed by data consumers find most valuable when making a purchase. We are reader-supported and may earn a commission when you shop through our links.
View All Womens