Top 10 Rain Jackets For Women
From Everlane To Columbia, These Rain Jackets Are Taking The Internet By Storm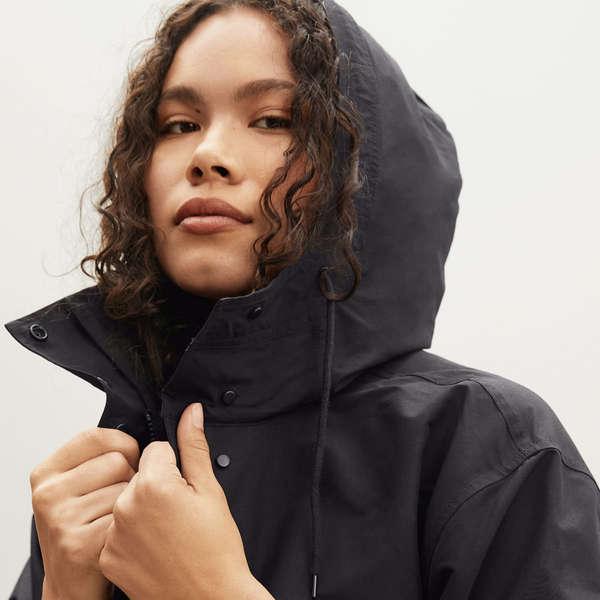 Some of us wake up and obsessively check the weather forecast, while others cross their fingers as they step out the door for the day. Whichever camp you fall into, there's one thing we can all agree on: Getting caught in the rain is rarely as romantic as it seems in the movies.
That's not to say we're rainy day haters—there's something really nice about listening to the pitter-patter of a light storm as you go about your day. But sometimes we've got places to be and people to see, and being ill-prepared for precipitation on a busy day almost always results in looking (and feeling) like a wet cat.
For that reason, a proper rain jacket is a must-have for everyone. And lucky for us all, there are plenty of functional and fashionable options out there. So, say goodbye to soggy sweaters and frizzy hair, because we've found the 10 best raincoats for women.
How We Found The Internet's Best Rain Jackets For Women
It feels like most of us have a story about a "water-resistant" jacket failing us in a moment of need. Today's the day to tell that story for the last time, though, because the 10 jackets below are ready to weather any storm with you. How do we know? Our algorithm, of course, which is a one-of-a-kind tool that uses data (such as reviews and best-seller lists) to curate lists of the best products in a given category. Below, shop the best women's rain jackets around, according to our data-powered process.
Next up, check out the 10 Best Rain Boots. Opening image: everlane.com
Jump To List
April 5, 2022
Top 10 Lists serve as unbiased shopping guides to the most trusted product recommendations on the internet. Products are scored and ranked using an algorithm backed by data consumers find most valuable when making a purchase. We are reader-supported and may earn a commission when you shop through our links.
View All Womens