Articles
A Guide To Understanding Your Skin's Undertone
What To Know About Your Skin's Undertone And How It Can Help You Find The Perfect Foundation Shade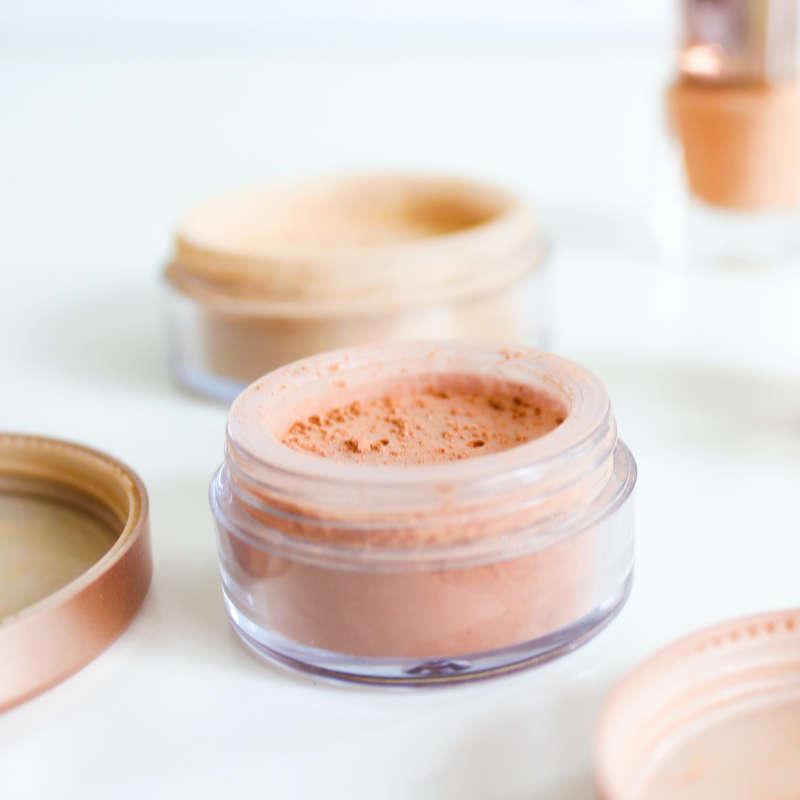 We think it's safe to say that at one point or another, we've all worn a shade of foundation that just wasn't right for us. Whether you've rocked that telltale line across your jawline or the powdered ghost look, we want you to know that we've all been there, and you're not alone.
Finding your perfect match when it comes to foundation is sort of like finding The One. You'll have to go through a lot of trial and error before you get it right, and that's totally okay because, in the end, you'll find what works for you. However, we don't think your daily makeup routine should be as complex as your dating life, so we'll let you in on a little secret: finding the perfect shade of foundation is all about finding your undertone. Sounds sort of intense—we know. The good news? We've got the 411 on all things undertones and how to find a flawless shade of foundation because of them. Ahead, we're breaking down the basics.
What Exactly Is An Undertone?
Undertones are simply the colors that exist beneath the surface of the skin. To be clear, these are entirely different from skin tones. Skin tones are influenced by the melanin within our skin as well as outside factors such as an abundance of sun or lack thereof, while undertones remain consistent at all times.
There are three different types of undertones: warm, cool, and neutral. Warm undertones make the skin appear well, warm, and are most commonly denoted by shades of yellow, gold, or peach. Cool undertones give the base of the skin a blue, pink, or red tint, while neutral undertones are a mixture of both warm and cool hues. Oftentimes, this means that those who have a neutral undertone have an undertone that appears to be the same color as their skin tone.
When it comes to foundations—or makeup in general, for that matter—undertones play a huge role in finding shades that flatter and properly match your skin tone. And this isn't just about foundations—we're talking everything from lipstick to eyeshadows to blush. Below, we walk you through the steps to finding your undertone, and eventually, your perfect foundation.
How To Find Your Undertone
Finding your undertone is actually quite simple. First, take a look at the veins on the underside of your wrist—these can help you figure out exactly what undertone category you fall into. If you notice that your veins appear green, you likely have a warm undertone. If your veins appear blueish or purple, your undertones are cool. If you're struggling to locate a vein or find that yours aren't visible, fret not—there are plenty of other methods for finding your undertones.
If you look best in gold jewelry, it's probably safe to say that you have warm undertones. Look stunning in silver? Your undertones are more than likely cool. If both look amazing on you, neutral is where you fall on the spectrum.
Still not sure? Throw on a white t-shirt and head to a space with bright, natural light. If your skin looks pink and rosy against the contrast of a white t-shirt, you've got cool undertones. If your skin gives off a golden glow, your undertones are warm.
And if you want to make sure that you've figured out your undertone once and for all, here's a list of celebs that fall into each undertone category:
Warm: Beyonce, Kim Kardashian, Rihanna, Lucy Liu, Jessica Alba, Halle Berry, Blake Lively
Cool: Adele, Emma Stone, Iman, Alek Wek, Nicole Kidman, Lupita Nyong'o
Neutral: Kerry Washington, Miranda Kerr, Jennifer Aniston, Sandra Bullock, Drew Berrymore
Finding Your Undertone Based On Your Skin Tone
Remember, skin tones and undertones are two completely different things. However, your skin tone can serve as a guide to determining your undertone. Skin tones fall into seven categories: fair, light, medium, olive, tan, medium-dark, and deep.
Fair skin tones are on the lightest end of the spectrum and most often fall into the neutral or cool undertones category. If you have fair skin, you'll find that shades that are cool-toned such as oatmeals, taupes, and mild pinks usually complement your skin tone and undertone best.
Light skin tones still fall on the fairer end of the spectrum, but they're not as light as fair skin tones. People with light skin tones often look best in soft, neutral cool-toned shades—think light blue, gray, and deeper nudes.
Medium skin tones usually complement both warm and cool tones, and their close cousin olive follows a similar rule. These skin tones look most radiant in bright and vivid shades like warm yellows and rich reds.
Tan skin tones are slightly deeper than medium and olive tones—think of them as glowing bronzes. They look best with metallic shades like gold and copper.
Medium-dark and deep skin tones are similar to medium and olive skin tones. They work with cool and warm colors alike, and they also look amazing in vivid colors. Their most complementing shades are hot pinks, electric blues, and deep nudes like sable, espresso, and mauve pink.
Finding Your Perfect Foundation Shade
Next time you're in the market for a new foundation, be sure to keep your undertone in mind. Our best advice is to do this in person, if possible. However, if you can't make it out, there are tons of online tools available from popular makeup retailers that make it easy to find your perfect shade virtually.
Start by choosing a few foundations that will work with your unique skin type and provide your preferred amount of coverage. Select formulas in colors that you feel will best complement your undertone. Some brands make this easy by labeling their shades with markers like C for cool, N for neutral, and W for warm.
Next, test a bit of the foundation on your skin. The best place to do this is on your neck or cheek, as your hands and wrists tend to differ from the shade of your face due to sun exposure. Look for the shade that perfectly blends and disappears into your skin, and voila—you've found your perfect match.
SHOP NOW: View our Top 10 foundation lists for every skin type and need
WHAT TO READ NEXT: The Skin Experts Guide To Anti-Aging
January 4, 2022
Interviews and Articles make it easy to learn more about the products that top our lists, what's currently trending, and the leaders who inspire us We are reader-supported and may earn a commission when you shop through our links.
---
View All Articles