Articles
The Skin Expert's Guide To Anti-Aging
Your Most Burning Questions About Anti-Aging Skincare, Answered By The Industry's Top Experts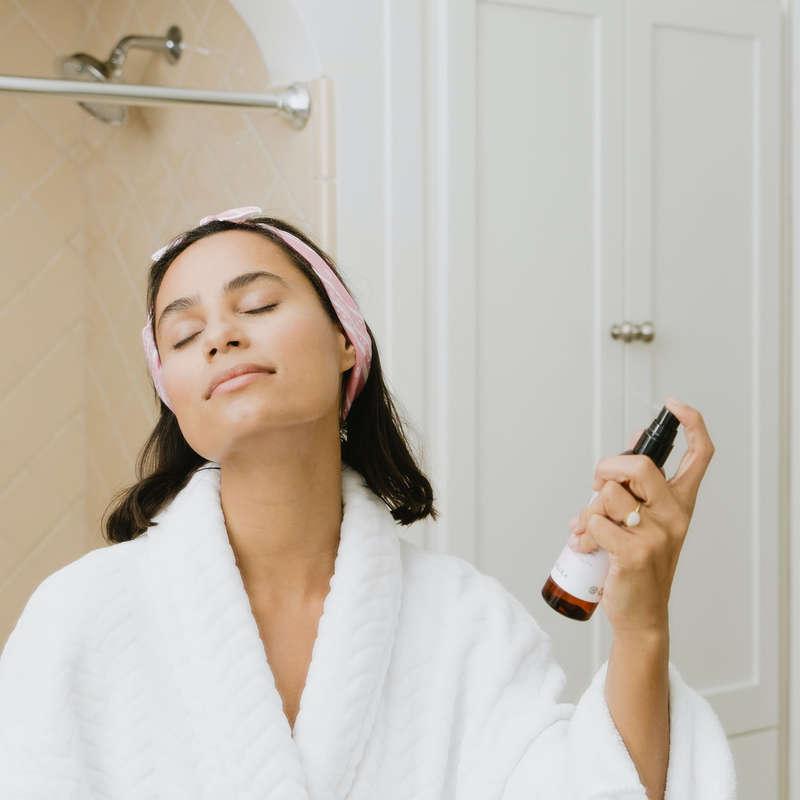 The world of anti-aging skincare is an oversaturated one, to say the least. There are countless products and procedures out there that promise to fight fine lines, fade dark spots, and bring back the bounce and radiance we had in our teen years, and the process of figuring out what works and what doesn't can leave you with nothing but a little irritation and a lot of questions. Want to know what ingredients are best for banishing fine lines or how to get rid of those pesky sunspots once and for all? Lucky you—we went straight to the source to get some answers.
Ahead, we're covering your most burning questions about anti-aging skincare thanks to the help of two experts, Renee Rouleau and Celeste Hilling. From the exact products you should be using to when and how you should be using them, read on for their best advice.
MEET THE EXPERTS:
Renee Rouleau is a celebrity esthetician and trusted skincare expert based in Austin, TX, whose clients include Demi Lovato and Lili Reinhart. She is also the founder of her eponymous skincare line, which consists of an extensive range of products formulated for each unique skin type.
Celeste Hilling is a trusted skin expert and the CEO, co-founder, and product formulator of Skin Authority, where she's applied her background in technology to developing a new category of health-inspired skincare.
July 28, 2023
Interviews and Articles make it easy to learn more about the products that top our lists, what's currently trending, and the leaders who inspire us We are reader-supported and may earn a commission when you shop through our links.
01
When's a good time to start implementing an anti-aging skincare routine?
There's no such thing as starting too early, even if you don't have a fine line or freckle in sight. In fact, Hilling recommends beginning a basic, consistent skincare routine at the age of 12 or 13. "Cell turnover slows down significantly with the onset of puberty. If we can keep that turnover higher, we can greatly delay the signs of aging and breakouts," says Hilling.
There are tons of factors that can contribute to these skin changes—pollution, poor food choices, sunburn, you name it. That being said, Rouleau recommends starting an anti-aging regimen no later than your 21st birthday. In addition to sun protection—which both experts agree should be your first line of defense—it's this age that you should start boosting your antioxidant protection topically in order to help prevent and repair all that aforementioned damage. "Studies show that when sunscreen is combined with vitamins C and E, sun protection can be increased up to four times," says Rouleau.
To start, Rouleau recommends opting for an antioxidant serum you can wear under your sunscreen, like her Vitamin C&E treatment. You should use it during the day as this is when you're exposed to the sun, but nighttime use is okay too.
Pro tip: Apply it to your neck, chest, and hands for extra protection on those often-overlooked areas.
02
What are some mistakes we might be making that contribute to aging skin?
Skimping on sunscreen. The sun is the biggest culprit of premature aging, so skipping that crucial SPF step—rain or shine—is a major no-no. "The rays that cause premature skin aging and skin cancer (UVA rays) are approximately the same strength year-round and can penetrate through clouds, even on a snowy or rainy day," says Rouleau. If it helps, invest in a moisturizer that has SPF built right in so you can tackle two steps in one. Make sure to apply it thoroughly on your neck too, as Rouleau notes that's an area we often tend to forget. "Apply a generous layer of sunscreen to the front and sides of the neck, including your chest if you're wearing a shirt or dress that exposes this area. The protection you get from sunscreen is less about the SPF number and more about how generously you apply it. If you apply an SPF 50 sparingly, it could very well be giving you the protection factor of an SPF 4."
Not getting enough sleep. Before you pick up that remote to tell Netflix that you are, indeed, still watching, keep in mind that you may be doing your complexion a disservice. Lack of sleep not only affects collagen growth, moisture levels, and skin texture, but it also leaves us yawning the next day, which, according to Rouleau, can cause an acceleration of wrinkles. In other words, get your beauty sleep, and don't be sorry about it.
Forgetting your face wash in the morning. Just because you gave your skin a good cleanse the night before doesn't mean you can simply get away with the swipe of a makeup wipe in the morning. Your skin goes into repair mode at night, and in the process, it secretes toxins and sebum (AKA oil). It's important to wash all that off in the morning so you can have a clean slate for your daytime products to work their magic.
Eating too much sugar. Turns out too many sweets can affect more than just the way our jeans fit. According to Hilling, a high-sugar diet can permanently destroy collagen and lead to a loss in elasticity and firmness. Yikes.
Going heavy on the happy hours. We get it—some days, 5 p.m. can't come fast enough. But one too many cocktails can wreak havoc on your complexion in the form of fine lines, puffy eyes, broken blood vessels, and age spots. While we definitely aren't telling you to skip the sips, it's important to be conscious of how much you're drinking and how you're caring for your skin post-party.
03
What does the ideal anti-aging skincare routine look like?
Rouleau and Hilling agree that having different skincare routines for day and night is absolutely essential. According to Hilling, daytime routines are critical to reducing the signs of aging, while evening routines are a time to focus on replenishing products because the skin repairs most at night (between 10 p.m. and 2 a.m.). "I like to think of it as working out," says Rouleau. "You want a variety of different exercises on different days that all work together to give you the best end result, which in the case of physical fitness, is a fit, toned body. The same goes for your skin. It requires a variety of ingredients in order to create positive change to look and feel its best."
Here's a breakdown of an esthetician-approved routine, along with a few product recommendations and tips on how to use them.
Morning Routine
Cleanser. A simple and hydrating cleanser is a safe bet for all skin types, but Hilling recommends going a step further with a gel-based AHA formula—this will help kill bacteria and prep your skin for the products you plan to apply afterward.

Toner. A good toner will sweep away any traces of dirt, makeup, and impurities that your cleanser didn't catch, and many of the best options out there can be found at your local drugstore.



Product Recommendation: Thayers is loved by celebs and dermatologists alike, and it'll set you back just $10 per bottle.

Serum. The serums you choose will always depend on your skin type and its specific needs, but when it comes to anti-aging, both Rouleau and Hilling recommend going with vitamin C during the day—it boosts collagen production, repairs damage, protects against pollutants, and helps even out the skin tone.



Top 10 List Spotlight: The Best Vitamin C Serums

Moisturizer. Keeping your skin hydrated is key in any anti-aging routine. For daytime, Rouleau recommends going with a formula that has SPF in it too.

SPF. You know the drill. If your moisturizer doesn't contain SPF, you'll need to apply a facial sunscreen next. Hilling recommends opting for a product that provides full light protection, because the rays that stream from our devices can age our skin in the same manner as sun exposure. Don't forget about your lips during this step—Hilling recommends

Skin Authority's SkinSuit Lip

for a sheer layer of protection against indoor and outdoor environmental damage.

Makeup. You may think wearing foundation every day will clog pores and suffocate the skin, but we're here to tell you otherwise. According to Rouleau, neither of these things are true as long as you're using a formula that's right for your skin type. "The truth is, makeup offers a much-needed barrier against harmful UV rays. This serves as an additional barrier, above and beyond your daily sunscreen," Rouleau says.
Evening Routine
Cleanser. Hilling suggests doing a double cleanse at night to remove makeup and oil first (micellar water is a French-girl favorite), then following with the same cleanser you used in the morning.

Toner. Feel free to stick with the same trusty toner you use in the morning. Apply it when the skin is still damp from cleansing so it absorbs better, either by sweeping it across your face with a cotton pad or tapping it into the skin with your fingers.

Serum. As for your nighttime serum, Rouleau recommends switching things up. Start with a retinol serum for the first two nights—this will increase cell turnover from within and push old skin cells to the surface. On night three, use an exfoliating acid serum to dissolve those old skin cells. She recommends one that contains lactic and glycolic acid, but you should opt for salicylic instead if you're prone to clogged pores. On night four, go with a nourishing serum that contains ingredients like peptides, antioxidants, and hydrators to fortify the skin.





While it is okay to use more than one serum per night, Rouleau is big on sticking to one at a time. "Generally, I find that focusing on one serum a night and letting it do its job is the best strategy. By rotating serums that provide specific benefits to the skin, you can truly get the best, most well-rounded results."

Moisturizer. You can use the same moisturizer both during the day and at night, but Hilling recommends going with a peptide-packed option to firm, lift, and replenish the moisture barrier.

Eye Cream. Invest in an eye cream that targets your specific needs, whether that be dark circles, puffiness, crows feet, or all three.



Pro tip: use your ring finger to apply it, as too much pressure around the eye area can accelerate wrinkles.
Weekly Routine
Once a week, Hilling recommends using a therapeutic clay mask, such as Skin Authority's Calming Mask, which will help minimize the appearance of pores, clear blackheads, calm inflammation, and replenish the moisture barrier. She also suggests utilizing a leave-on glycolic peel once a week to dissolve damaged surface cells, fade discoloration, and smooth lines.
Monthly Routine
Having a facial once a month is a great way to keep your skin glowing and your lines less visible. If you don't have the budget or time to commit to a professional visit, there are tons of at-home options available nowadays that contain professional-grade ingredients and higher concentrations of actives.
Top 10 List Spotlight: The Best At-Home Facial Peels
04
What if we're short on time or simply not the type to commit to a multi-step routine?
If you're looking to keep things simple, Rouleau and Hilling agree that the anti-aging ingredients worth prioritizing are sunscreen, vitamin C, and retinol.
05
Do we have to exfoliate?
The short answer: yes. Exfoliating is key in order to tackle dead skin cells, which can increase the depth of wrinkles, lines, and discoloration, block moisture from the surface of the skin, and even slow down the making of new cells. If you're worried about exfoliating because your skin is sensitive or acne-prone, don't be. In fact, Hilling says exfoliating is even more crucial for these skin types. Just be sure to skip the scrubs as they can increase sensitivity and redness. Rouleau recommends her Triple Berry Smoothing Peel—it's safe for all skin types.
06
What anti-aging tools and treatments should we be utilizing?
When it comes to at-home tools, Rouleau recommends you ditch the derma roller and leave that to the pros, as overuse can cause potential damage to the health and integrity of the skin. Instead, she recommends dermaplaning, which leaves the skin silky smooth and glowing by removing dead skin cells and unwanted facial hair. "This treatment is offered at skincare spas and doctors' offices by trained professionals using a metal blade and gives excellent results. But now, you can take advantage of at-home devices that provide a similar result for hair removal and exfoliation."
Top 10 List Spotlight: The Best Dermaplaning Tools
As far as professional treatments go, Hilling says microneedling is an excellent way to take care of scars. Laser treatments are great for that too—as well as veins and acne—but it's important to remember that this typically requires multiple appointments and lots of time and cash. Lastly, Hilling recommends Platelet Rich Facials (PRP) if you're looking to achieve a quick glow before an event.
---
View All Articles