Articles
How To Achieve Your Dream Brows At Home
A Definitive Guide To Shaping And Maintaining Your Arches On Your Own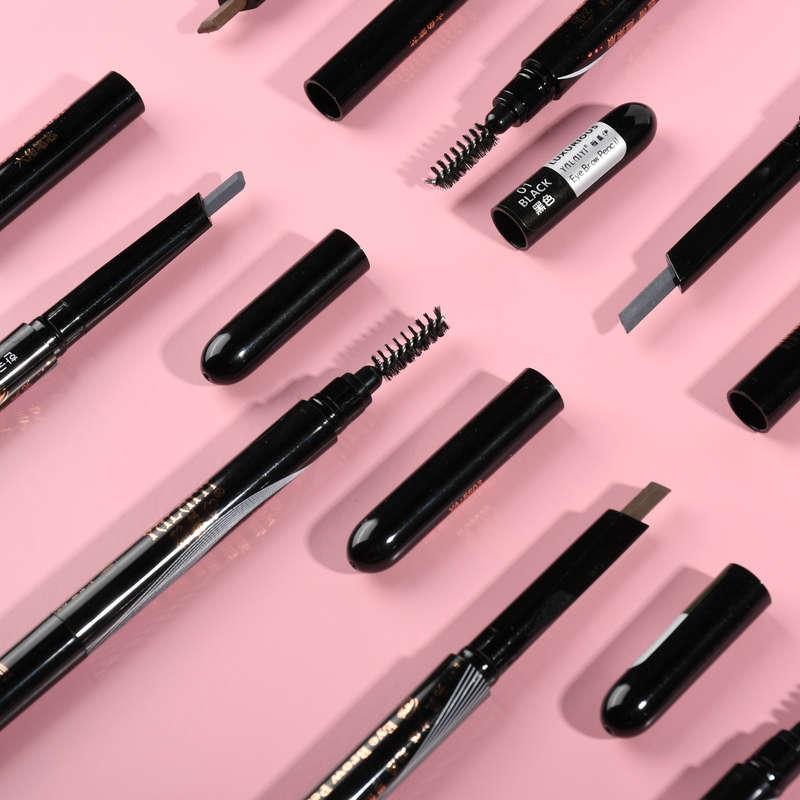 From dip manicures to dermaplaning, we'll try our hands at pretty much any at-home beauty trend in the name of saving a little cash. But eyebrows, on the other hand, are a totally different story. Even the removal of one strand in the wrong place can completely throw things off—and by "things," we mean facial symmetry. So when it comes to tweezing, trimming, tinting, or anything else that may have to do with your arches, it's best to leave it to the pros unless you really know what you're doing.
If you don't, don't stress—we tapped Austin brow expert Kara Sánchez for her best tips and tricks when it comes to at-home brow maintenance. Ahead, learn what it takes to shape and maintain your way to balanced, proportional brows that complement your best features, all from the comfort of your own home.
Meet The Expert
Kara Sánchez Reed is an Austin-based brow and microblading expert. Trained under Anastasia Soare, founder of Anastasia Beverly Hills, Kara has worked with celebrities including Kim Kardashian, Amal Clooney, and more.
More of a visual learner? Watch Kara shape and fill a client's brows in her studio.
March 10, 2022
Interviews and Articles make it easy to learn more about the products that top our lists, what's currently trending, and the leaders who inspire us We are reader-supported and may earn a commission when you shop through our links.
01
Use The Golden Ratio Method
Before you think about picking up a pair of tweezers, it's important to understand your natural brow shape. Kara recommends filling in your brows using the Golden Ratio Method, a technique coined by Anastasia Soare that guarantees a flattering result for every face shape. Here's how it works: Step 1: Start by brushing your brow hairs upward and toward the temples. Next, grab a brow pencil or an angled brush dipped in brow powder—this is what you'll use to map out your brow points, find your ideal shape, and determine which hairs to keep and which ones to get rid of. Hold the pencil or brush vertically against your nose over the center of your nostril—this is where your brow should begin. Make a mark with your pencil relative to your brow thickness. Step 2: To find the end of your brow, hold your pencil at an angle so that it makes a straight line between the corner of your nostril and the corner of your eye, then make another mark. Step 3: To find your arch, place your brow pencil on the tip of your nose and angle it straight across the top side of your iris—not your pupil—and make another mark. You'll need to be looking straight into a mirror for this to work properly.
Now that you've mapped out your brows using the Golden Ratio Method, you're ready to fill them in. Using your pencil or brush and brow powder, fill in your brows by connecting the dots you just made. It might sound odd to do this before you tweeze, but this pro tip will ensure you're left with a perfect guide for the rest of the process. "Don't worry if it's too dark or harsh—that's actually a good thing at this stage," Kara says. Step away from the mirror to make sure you like what you see and that everything looks symmetrical. If so, you're ready to move on.
Now that your brows are filled, brush them upward and toward your temples just as you started. Then, in short, snipping motions, trim the tips of the hairs that fall outside your makeup lines. "It's important to angle your scissors in the same angle as the section of the brow you're trimming, then make sure you're trimming a little above where your makeup line is," Kara says. "This allows the hair to fall back to its natural shape without looking like it's just been chopped." Pro Tip: If you have really long, coarse, or curly brows, you may need to repeat this step.
Once it's time to tweeze, use the lines you've drawn as a guide to ensure you're only removing the strays. Most importantly, make sure you're pulling each hair in the direction that it grows. Not only will this ensure that your brow hairs don't grow back in different directions, but it'll also prevent you from damaging or changing your hair follicles. "By pulling in the direction of the hair, there's less chance it'll break off at the skin's surface and leave a noticeable root that lasts for days until you can actually try again with tweezers," Kara says. "Never dig for one of these hairs. I can't tell you how many irreversible scars I've seen because people were too impatient to let it come through the skin." On that note, here's one of the most important things we'll leave you with: use discretion. If you're unsure, do not pluck.
It might seem like a small step, but this pro secret can make a huge difference—especially on blondes and redheads. Pull the skin taut on your forehead and use your facial razor to clean up any peach fuzz above your brows, making small, downward strokes at an angle. This will leave you with a super clean look, and it'll make your makeup apply incredibly smooth too.
If you're still recovering from the brow trends of the '90s, don't lose hope. First and foremost, Kara recommends putting down the tweezers. "It's one of the hardest things to do, but it's something I talk about every day with my clients preparing for microblading or those participating in my Brow Rehab program where we're updating '90s brows regularly." You can also invest in a good brow serum—Kara recommends Grandebrow or Revitabrow depending on your budget. "But the key to that is you have to use it every single night for six weeks if you want to see new hair growth," Kara says. "If you have a healthy follicle, one of these products will grow hair, guaranteed." Once you're finally seeing some growth, check in with a pro. "Find someone in your area, like me, who specializes in brows and offers a lesson with your first appointment," Kara says. "not only will you be rewarded for growing them out but you will also have the skill to maintain salon-quality results at home."
07
Beware Of These Brow Don'ts
For good measure, Kara left us with a few things not to do. First off, never tweeze your brows fresh out of the shower. "In the 25 years I've been doing brows, I can count on one hand the people who have had naturally symmetrical brows," Kara says. "This is why you create the symmetry with makeup first, then tweeze." Another major no-no? Tweezing in the car. If you can only see that hair with the sun at a perfect angle through your moonroof, chances are it should stay there or you risk over-tweezing. Last but not least, don't bother with castor oil. "Even when applied twice a day, you won't see a significant difference for a very long time." Instead, stick with one of the high-quality growth serums listed above.
---
View All Articles