Articles
The Best Online Shopping Sites For Women Over 50
Here Are 10 Retailers And Brands To Shop If You're Looking For Stylish Clothing Made For The Mature Woman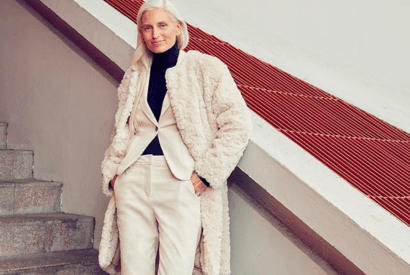 In case you need to hear it, here's a reminder: Fashion knows no age. Let the likes of Tracee Ellis Ross (who turns 51 later this year) and Dame Helen Mirren (a stunning 77 years of age) reinstill in you a sense of personal style that, like wine, will only become more refined as time goes on. Because if Viola Davis can turn heads in vibrantly-colored feathers and sequins on the red carpet at the age of 57, you can definitely sport that new style you've been eyeing but have been hesitant to actually try on.
On that note, we hope you're inspired to refresh your wardrobe this season, because it's a great time to do it. It's also the reason why we decided to create a guide of the best online stores where women in their 40s, 50s, and 60s shop regularly. This unofficial list of brands that cater to mature shoppers is better than ever, with new names joining the long-standing lineup of Talbot's, Chicos, Eileen Fisher, Garnet Hill, Karen Kane, and J.Jill. These retailers and brands offer universally flattering and on-trend pieces that are perfect for older women, no matter their style preferences. So, keep scrolling to learn more about these must-know brands and shop a few best-selling styles from each.
August 14, 2023
Interviews and Articles make it easy to learn more about the products that top our lists, what's currently trending, and the leaders who inspire us We are reader-supported and may earn a commission when you shop through our links.
---
Whether your style leans more daring or classic, there's definitely a site in the list above that will help you express yourself in a way that feels both authentic and fun, as well as age appropriate.
View All Articles