Top 10 Beauty Powders
Add A Spoonful Of One Of These Beauty Powders To Your Morning Smoothie For Seriously Glowing Skin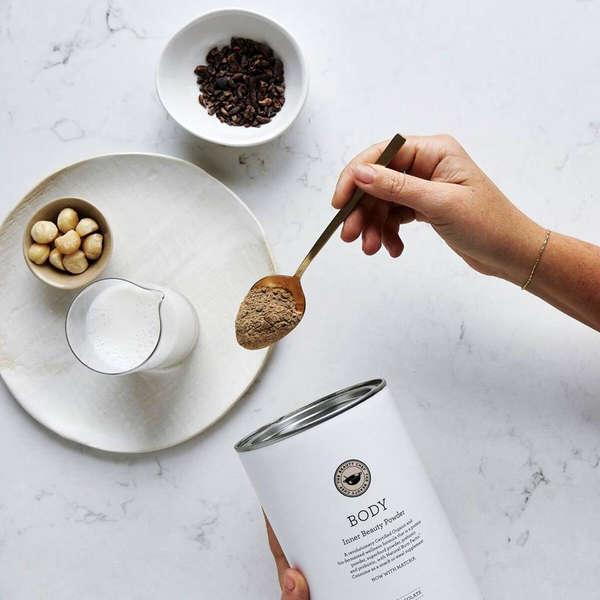 Ingestible beauty is all the rage these days, and for good reason. We all want glowing skin, silky-smooth hair, and strong nails, but eating a healthy diet and splurging on expensive facial serums sometimes just isn't enough. There are tons of beauty supplements lining the shelves and it can be overwhelming to figure out which one is right for you. So naturally, we turned to our trusty algorithm to pinpoint which ones are worth the hype. Factoring in user reviews, beauty editor selections, and social buzz, we've found the 10 best beauty super powders on the market—from an anti-aging drink mix to collagen supplements that provide you with your daily vegetables in just one teeny-tiny tablet. Each of these products takes a different approach to beauty and nourishes your body from the inside out, meaning they have tons of other benefits like stress relief, increased focus, and even energy boosts. Keep scrolling to find out which beauty powders made the cut and add one to your regimen stat. Opening image: @TheBeautyChef
Love our 10 Best Beauty Powders? Just wait till you see our 10 Best Hair Vitamins!
Jump To List
January 16, 2019
Top 10 Lists serve as unbiased shopping guides to the most trusted product recommendations on the internet. Products are scored and ranked using an algorithm backed by data consumers find most valuable when making a purchase. We are reader-supported and may earn a commission when you shop through our links.
The Rankings
---
Kora Organics Noni Glow Skinfood Dietary Supplement Powder
BEST FOR: A beauty boost, inside and out
USERS SAID: "I am obsessed with this product! I have been using it for one week and feel amazing. I drink it mixed in with a glass of almond milk every morning and it's wonderfully creamy, gives me an incredible boost of energy, and makes my skin glow."
---
The Nue Co. All Natural Skin Food + Prebiotic
WHAT IT DOES: Instead of using actual collagen, The Nue Co.'s Skin Food + Prebiotic is formulated with collagen-boosting ingredients from whole food sources to boost your body's own collagen production. As well as fighting early signs of aging, the result is skin that's smoother, brighter, firmer, and healthier.
FUN FACT: This supplement is made with all-natural and organic ingredients.
---
8G Greens Dietary Supplement
WHY YOU NEED IT: Because as much as we'd like to, we can't all be green-eating machines. With just one tablet, you'll feed your body as much vitamin B5 as 20 cups of broccoli, as much B3 as 18 cups of carrots, as much B12 as nine cups of milk, and as much zinc as 10 cups of asparagus.
USERS SAID: "LOVE THESE! They're an easy and effective way to get my daily vegetables. I've been taking these for months and they really work. I have tons more energy and less muscle pain."
---
Sun Potion Ashwagandha Powder
BEST FOR: Reducing the effects of physical, mental, and emotional stress
FROM THE EXPERTS: The U.S. National Library of Medicine found that ashwagandha may help with asthma, arthritis, chronic fatigue, anemia, infertility, depression, and blood pressure.
---
Welleco The Super Elixir
WHAT IT DOES: Everything. The Super Elixir uses 45 plant-based nutrients to support the body's 11 systems. This means increased energy, stronger immunity, AND glowing skin.
HELPFUL TIP: Make sure to avoid caffeine an hour before and after drinking for best results.
---
Vital Proteins Collagen Peptides
BEST FOR: Healthy skin, hair, nails, and bones
HELPFUL TIP: Mix it with water, juice, smoothies, and even foods like oatmeal or soup.
View All Beauty