Top 10 Bodysuits
These Spring-Approved Bodysuits Are About To Make Getting Dressed A Whole Lot Easier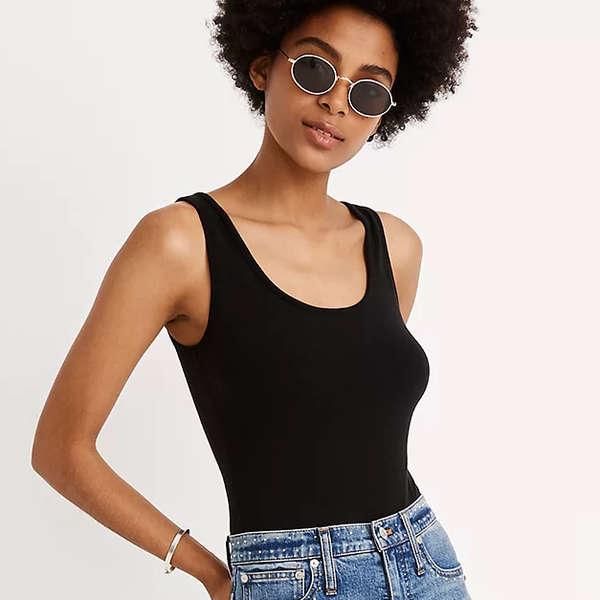 Our Top 10 Guides help shoppers quickly and easily find what they need. Using an intense review and approval process (which you can learn more about here), we break down the best styles according to what consumers most commonly search for and want.
THE BEST BODYSUITS REVIEWERS BUY FOR COMFORT AND EASY STYLE
We'll be honest: when bodysuits first made their comeback, we were hesitant. Something about them felt a little too '80s aerobics class to last. But once Kim K started wearing them on repeat and American Apparel's versions reached cult status, we knew we had to try them out. And boy, did our wardrobes change for the better. Bodysuits have become full-blown basics for good reason—what's better than a one-and-done top that requires no tucking or adjusting? However, if there's anything we've learned about these one-piece wonders, it's that they're definitely not all created equal. The best ones feature soft, breathable fabric that doesn't budge, flat seams to prevent those dreaded VPLs (visible panty lines), and—most importantly—don't skimp on comfort. Determined to find the bodysuits that meet the above criteria, we tapped our data-driven algorithm and ranked the 10 best.

How We Found The Best Warm-Weather Bodysuits
As with all of our Top 10 lists, we curated this list using our unique algorithm that ranks products based on best-selling buzz, editorial mentions, real user reviews, and more. What does this mean for you? A seamless shopping experience with zero dressing rooms, fewer returns, and better products. So without further ado, keep scrolling for our roundup of the easiest and breeziest bodysuits for wearing underneath your shorts this season.
Next up, shop our 10 Best Denim Shorts for more warm-weather staples. Opening image: madewell.com
Jump To List
March 24, 2021
Top 10 Lists serve as unbiased shopping guides to the most trusted product recommendations on the internet. Products are scored and ranked using an algorithm backed by data consumers find most valuable when making a purchase. We are reader-supported and may earn a commission when you shop through our links.
View All Womens