Top 10 Dry Conditioners
A Quick-Fix Solution For Better Second-Day Hair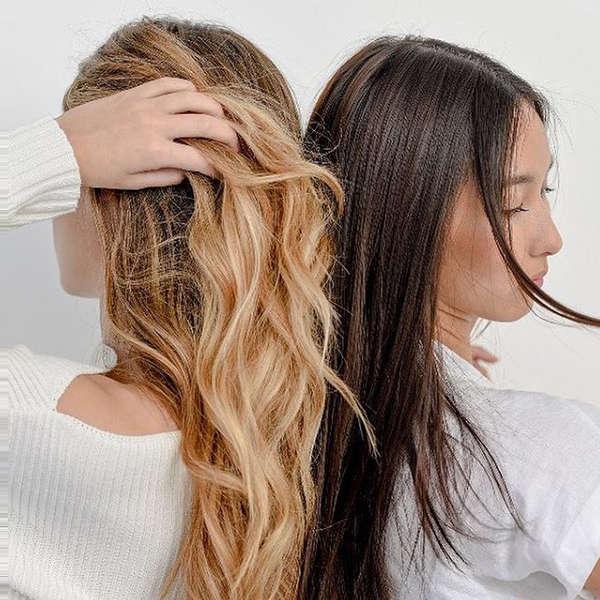 It's no secret that dry shampoo is one of the best things ever invented. The revolutionary beauty product literally combines lazy girl tendencies and a perfect hair day into one convenient can, and honestly, can you think of anything better than that? Shockingly, we have the answer to that question, and it just so happens to be dry shampoo's lesser-known little sis: dry conditioner. Thanks to a mix of proteins, oils, and conditioning molecules, dry conditioner has the power to soften and hydrate hair without actually getting it wet. While dry shampoo absorbs excess oil and boosts volume at the roots, dry conditioner detangles, defrizzes, and adds major shine. Don't let the two confuse you—they're just like their liquid counterparts, except they don't need to be used together to work their magic. So when your 'do is looking a little dry and dull by day two (or even day three), reach for one of the algorithm-approved dry conditioners below to extend its lifetime and further avoid that inevitable wash day. Hey, anything to make that expensive blowout last a little longer, right? Opening image: @verbproducts
Love our 10 Best Dry Conditioners? Check out our 10 Best Best Hair Dryers for more top-ranked finds!
Jump To List
February 13, 2020
Top 10 Lists serve as unbiased shopping guides to the most trusted product recommendations on the internet. Products are scored and ranked using an algorithm backed by data consumers find most valuable when making a purchase. We are reader-supported and may earn a commission when you shop through our links.
The Rankings
---
Chi Dry Conditioner
LOVED FOR: This top-rated formula is not only great for adding softness and shine, but it also protects your tresses from touch-ups with your hot tools thanks to silk and ceramic elements.
FUN FACT: This dry conditioner has major anti-aging and color-preserving benefits, too.
---
Kristin Ess Style Reviving Dry Conditioner
BEST FOR: Formulated with Kristin Ess's proprietary Zip-Up Technology that "zips up" split ends and targets weak strands, this is the ideal option for refreshing and styling next-day hair.
WHY YOU NEED IT: This multi-tasking formula detangles, restores moisture, and adds shine all while providing UV and thermal protection to combat heat damage and color fade from the sun. Name a hair product that works harder. We'll wait.
---
Cantu Refresh Dry Co-Wash
WHAT IT DOES: Hectic mornings are about to get a whole lot easier. Made with apple cider vinegar, tea tree oil, and shea butter, this deeply cleansing and nourishing formula serves as a dry shampoo and a dry conditioner in one convenient can.
LOVED FOR: No white residue? Yes, please.
---
Luseta Volume Reviving Dry Shampoo & Conditioner Bundle
BEST FOR: If you want something that'll take care of excess oils and boost volume at the roots, go with this dynamic duo. The dry shampoo works to deeply cleanse and refresh while the dry conditioner adds some much-needed softness and shine.
HELPFUL TIP: To amp up the volume even more, spritz on the dry shampoo, blow out your hair with a round brush, then finish off with the dry conditioner.
---
Eva NYC Forget Me Knot Dry Conditioner
BEST FOR: Have curly, tangly, or hard-to-manage hair? This super-strong formula can handle it all.
HELPFUL TIP: Toss it in your gym bag to refresh, detangle, and condition post-workout hair.
---
Tigi Rockaholic Dirty Secret Dry Conditioner
LOVED FOR: According to ecstatic reviewers, this dry conditioner tackles frizz and tames flyaways like no other.
USERS SAID: "I absolutely love this dry conditioner! I use dry shampoo all the time, especially after a mid-day workout, and sometimes it leaves my hair a little brittle looking. But after using this, it looks amazing! It's not greasy AT ALL and leaves it feeling silky and smooth. I keep a bottle at home and a spare in my gym bag."
---
Batiste Dry Conditioner
BEST FOR: Reviewers love this formula for its ability to smooth and soften strands without weighing them down. If your hair is thin or fine, this is an excellent option.
USERS SAID: "This product is INCREDIBLE. Absolutely does not make your hair greasy, and makes it so soft and manageable like it was just washed. Less is more, so it will definitely last a long time."
---
Verb Ghost Dry Oil
WHAT IT DOES: Not only does it add instant softness and shine, it's also packed with pro-vitamin B5 and moringa seed oil to enhance your hair's natural thickness and provide a big boost of body.
FUN FACT: This product is vegan and gluten-free.
---
Amika Silken Up Dry Conditioner
USERS SAID: "I am in love! It is perfect! It makes my hair look like I just blow dried it even after three days, and it smells amazing!"
HELPFUL TIP: You know that annoying hair static that makes you look like you just got electrocuted? An allover spray of this will kick that issue to the curb real quick.
View All Beauty