Top 10 Flat Irons And Hair Straighteners
And Now… The Best Hair Straightners Of 2022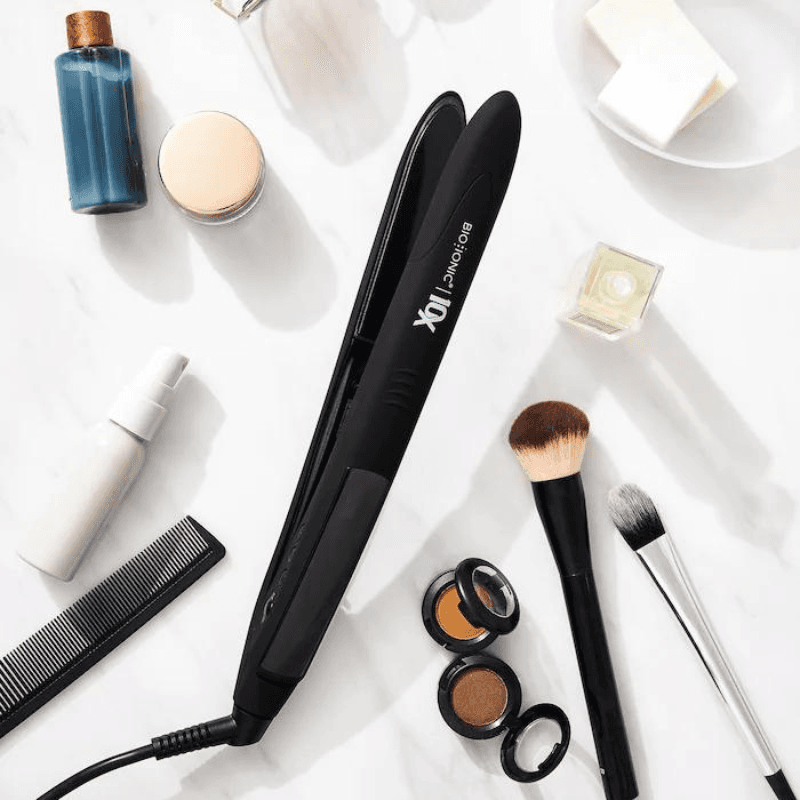 There are few hair tools on the market more versatile than a trusty flat iron. Whether you want to curl, wave, or straighten your hair, these tools can make it happen. Not only that, but they also work on any hair texture—it's just a matter of finding the right one.
Truthfully, the internet has no shortage of options when it comes to straightening tools (there are hundreds of options on Amazon alone). But it would be helpful to know which one is the best for your specific hair type, the difference between ceramic, titanium, and tourmaline, and—oh yeah—which ones are actually worth splurging on. That's why we're here to help you find the crème de la crème of whatever your heart desires. Ahead, we break down the best flat irons on the world wide web and give you the 411 on what makes them so great.
What's The Difference Between Ceramic, Titanium, And Tourmaline?
So what's the difference between the three types of flat irons, and why does it actually matter? To put it simply, achieving the pin-straight hair of your dreams requires you to use a flat iron that's suited for your specific hair type and needs. Ceramic irons work best on easy-to-straighten hair—think textures that range from fine to wavy. Titanium works best on coarse and curly hair, and it's the most common type of straightener found in a stylist's tool kit. Lastly, tourmaline is the type of flat iron you'll want to use if your hair is already damaged or you're doing all you can to avoid damage. Additionally, these tools are great for neutralizing ions that cause static and frizz.
How Do I Choose The Best Straightener For My Hair?
When it comes to the shape of your flat iron, you'll want to keep your texture in mind. If you're attempting to transform your unruly curls into the glass hair you see all over Instagram, you'll want to use a thinner or more narrow straightener. If your hair is straight for the most part but still requires a few touch-ups, you'll want to go for a wider shape. Lastly, if you're looking for a tool that can handle small sections or shorter hair, you'll want to use something mini, like a travel-sized flat iron.
The next thing we recommend putting some thought into is how you intend to use your iron when it comes to styling. If you're going for tight ribbon curls, you'll want to search for a flat iron with a rounder shape. If beachy waves are in your lookbook, search for something with a wider, flatter shape that you can easily twist and turn throughout your hair.
How To Get The Most Out Of Your Hair Tool
Reaching your straightener's fullest potential starts with a great base. Before you embark on your straightening journey, make sure your hair is completely dry, has been prepped with a heat protectant, and is detangled. Next, section your hair into small pieces, beginning to straighten at the root and gliding the flat iron down to the end. To be frank, straightening your hair or using any sort of heat will always lead to damage. But you can avoid a whole lot of it by using your heat tool on the lowest setting. Trust us—it'll still work just as well.
How We Found The Internet's Best Flat Irons
The process for putting together our Top 10 lists goes a little something like this: we ask you, our readers, what kind of products you're in the market for lately. Then, once we've got an idea for a category to focus on, we start collecting information from best-seller lists, social media buzz, reviews, and more. Next, our ranking algorithm uses this data to score products and come up with a definitive list of the best options in that category. Lastly, we publish that list with all the details you need to make an informed shopping decision. But there's one more step, and it's on you to take it: shop the 10 hair straighteners our process determined are the best money can buy.
Jump To List
November 21, 2022
Top 10 Lists serve as unbiased shopping guides to the most trusted product recommendations on the internet. Products are scored and ranked using an algorithm backed by data consumers find most valuable when making a purchase. We are reader-supported and may earn a commission when you shop through our links.
View All Beauty