Top 10 Fall Fragrances
Fall In Love At First Sniff With Fall's Most Popular Fragrances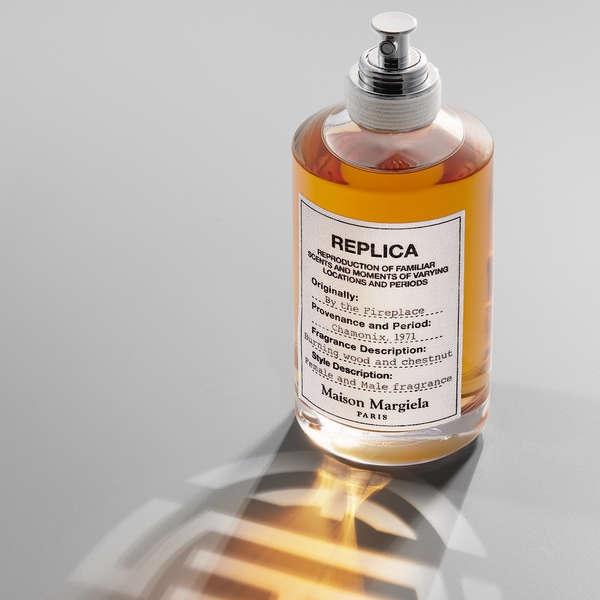 The arrival of autumn often calls for a seasonal shift in our beauty routines—gel moisturizers become heavy creams, lightweight lip tints become bold mattes, nude nail colors become moody hues, and so on. But the swap we're most excited to make just so happens to be one of the most underrated and overlooked, and you'll find it sitting pretty at the fragrance counter. The fruity and floral scents of summer are great and all—and sure, you can wear them year-round if you so please—but with the overwhelming amount of fall-worthy options currently on the shelves, it'd be a shame not to invest in one for the new season. That's why we turned to the help of our trusty algorithm to round up a science-backed list of the best new fall fragrances you can buy—all of which emulate the smokey, woodsy, musky, and sweet scents we crave this time of year. From a beloved Lancôme perfume that's already racked up thousands of reviews to newly-updated classics, keep scrolling to shop the Top 10 scents that'll earn "you smell good" comments all season long. Opening image: @maisonmargielafragrances
Love our 10 Best New Fall Fragrances? Check out our 10 Best Bath Oils next!
Jump To List
October 11, 2019
Top 10 Lists serve as unbiased shopping guides to the most trusted product recommendations on the internet. Products are scored and ranked using an algorithm backed by data consumers find most valuable when making a purchase. We are reader-supported and may earn a commission when you shop through our links.
The Rankings
---
Byredo Velvet Haze Eau de Parfum
WHAT IT DOES: Interestingly enough, this fan-favorite perfume from Byredo was inspired by rock climbing—though we can assure you it smells nothing like dirt stains and sweat. With amber, patchouli, and coconut water, the scent is musky but still soft and feminine.
LOVED FOR: Besides the luxurious and Instagrammable packaging, reviewers rave about how unique this scent is. You won't find a dupe for this one—trust us.
---
Tom Ford Tobacco Vanille
BEST FOR: With tobacco and a contrasting touch of sweet vanilla, this warm and opulent fragrance is ideal for men and women alike.
USERS SAID: "This is my most favorite fragrance of all time. I am constantly getting compliments on it, and whenever I try to find a less expensive alternative, I'm always disappointed. [...] I have had mine for at least three years, and it smells as amazing as it did the first day that I purchased it. Love, love, LOVE this scent!"
---
Gucci Mémoire d'une Odeur Eau de Parfum
LOVED FOR: If Gucci's campaign videos of a handsome Harry Styles didn't make you want this perfume, then the swoon-worthy scent of chamomile and coral jasmine definitely will.
FUN FACT: After almost 50 years of creating fragrances, Gucci's Mémoire is the brand's first-ever universal scent.
---
Yves Saint Laurent Libre Eau De Parfum
LOVED FOR: With lavender essence, orange blossom, and musk accord, this fragrance smells floral without feeling too feminine.
USERS SAID: "Walked into the store just to peruse, and walked out with this scent. It was love at first whiff. It's light and pretty with a hint of sexiness that packs a punch. I wasn't disappointed when I got home hours later, and the scent was still strong [...] Absolutely love this."
---
Maison Margiela Replica By The Fireplace Fragrance
WHAT IT DOES: Wood and chestnut make this fragrance smell smokey but sweet—think fresh-baked goods on a fireside winter night.
USERS SAID: "I love this fragrance so much! I have been searching for a signature winter scent for a while, and I finally found it with By the Fireplace. It is warm, cozy, and unique, and I love all three stages of it. The top note is smoky and sweet like roasting marshmallows over a fire, the middle note is a deep caramel with a little lingering smoke, and the base note is a warm vanilla."
---
Lancôme Idôle Eau de Parfum
WHY YOU NEED IT: All the way down to the bottle (which happens to be one of the slimmest perfume bottles in the world), this unique perfume screams girl power. The scent is fresh, floral, and feminine, and was created by three female perfumers on a mission to create a fragrance with ingredients that are transparent and traceable. Also, the bottle is refillable. Need we say more?
FUN FACT: Though it debuted just over a month ago, this beloved Lancôme scent already has over 3,000 glowing reviews on Nordstrom's website. The hype is real, people.
---
Chloé Chloé Eau de Parfum
USERS SAID: "Chloe EDP is gorgeous! It's the first perfume that I fell in love with at first sniff. It's a soft, powdery rose, and I find it suitable for all occasions. I spritz the underneath my hair once, and it lasts all day. It is pleasant, non-offensive, and doesn't punch anyone in the face when I walk into the room. It's so beautiful, and I feel pretty when I wear it."
FUN FACT: Though every bottle of Chloe's cult-favorite fragrance features the same clean combo of peony, rose, honey, and cedarwood, this scent smells unique on every person who wears it.
---
Tom Ford Black Orchid Eau de Parfum
LOVED FOR: Beautiful bottle aside, people praise this perfume for its warm, seductive scent—think of it as a cross between a warm dessert and a fresh bouquet.
HELPFUL TIP: Despite the feminine-feeling description, we assure you that this scent is appropriate for the boys, too.
---
Yves Saint Laurent Black Opium
LOVED FOR: Just as you'd suspect based on the glittery black bottle, this best-selling fragrance smells fierce, feminine, and glam all at the same time. It pairs well with a killer pair of heels and a bold and bright lip.
FUN FACT: This floral favorite won big at the 2019 Fragrance Foundation Awards. Yes, it's that good.
View All Beauty