Top 10 At-Home Pedicure Essentials
Everything You Need To Create The Perfect At-Home Pedicure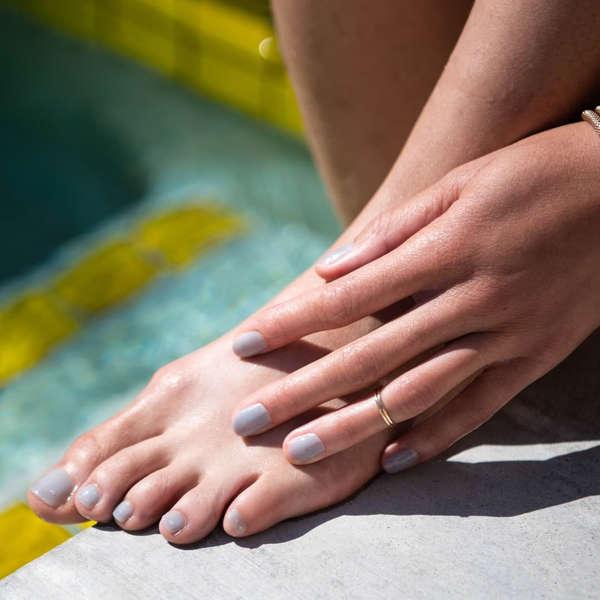 We may not be able to show off all our new cute sandals now that we're stuck inside and living in slippers, but that doesn't mean we plan on pampering our pretty feet any less. To help you do the same and keep your toes in tip-top shape while you shelter-in-place, we've rounded up an edit of every tool you'll need to achieve a perfect pedicure from the comfort of your couch. From a beloved top coat that promises 10 days of wear to the buzzy foot peel all the beauty bloggers are currently obsessing over, the at-home pedi essentials that follow boast rave user reviews, countless editorial mentions, best-seller lists, and more. Keep scrolling to shop the Top 10 tools you'll need to master the art of a pro-quality pedi at home—no salon visits necessary. Opening image: @opi
Love our 10 Best At-Home Pedicure Essentials? Just wait till you see our 10 Best Nail Polishes For 2020!
Jump To List
April 13, 2020
Top 10 Lists serve as unbiased shopping guides to the most trusted product recommendations on the internet. Products are scored and ranked using an algorithm backed by data consumers find most valuable when making a purchase. We are reader-supported and may earn a commission when you shop through our links.
The Rankings
---
OPI Infinite Shine ProStay Primer & Gloss Duo Set
BEST BASE AND TOP COAT
WHY YOU NEED IT: From preventing polish stains to achieving a chip-free finish, there are so many reasons why base and top coats are essential. OPI's are some of the best in the biz for good reason—not only are both formulas super long-lasting, but they'll also provide you with salon-quality results at a super affordable price.
USERS SAID: "This is the BEST nail system! Use the base coat, add your color coat, and finish with top coat and the polish will last for 10 days or more."
---
Nado Care Moisturizing Socks
BEST SPA SOCKS
WHAT IT DOES: Ditch the scrubs and pumice stones and kick your feet up while these moisturizing socks do the work. After wearing them for a week, you'll notice a huge improvement in the health of your heels.

WHY YOU NEED IT: At $15 for a pack of four, these best-selling socks are a total steal.
---
Onyx Professional Hard As Hoof Nail Strengthening Cream
BEST CUTICLE CREAM
WHY YOU NEED IT: This do-it-all product functions as a moisturizer, nail strengthener, and cuticle conditioner all in one. You've really got no excuse for not adding this streamlined cream to your daily routine.
FUN FACT: This is Amazon's #1 best-seller for nail strengtheners.
---
Asutra Therapeutic Foot Soak
BEST FOOT SOAK
WHAT IT DOES: You definitely don't have to hit up the salon for a full-blown spa experience, and this affordable foot soak is proof. Formulated with sea salts for exfoliation and essential oils to give you that soothing spa feel, this product is the perfect way to achieve a pro-quality soak at home.
USERS SAID: "I work on my feet over 60 hours a week, and pedicures at the nail salon are getting so expensive these days. I ordered this particular foot soak because it's a small company and that means a lot to me, and, in this case, I wasn't let down. This stuff is wonderful. My feet were so soft and I would definitely recommend it to the next person!"
---
Palmer's Cocoa Butter Foot Magic Scrub
BEST FOOT SCRUB
WHY YOU NEED IT: To kick all those dry patches and calluses to the curb, look no further than this super soothing scrub. Formulated with shea butter, peppermint oil, cocoa butter, and vitamin E, it'll leave your feet feeling smooth, moisturized, and revitalized after just one use.
LOVED FOR: Unlike many foot scrubs on the market, this one won't leave your feet feeling greasy for the remainder of the day.
---
Iridesi Toe Separators
BEST TOE SEPARATORS
WHAT IT DOES: Though they're often forgotten, toe separators a must for making your at-home pedi experience feel a little more pro. This set of 12 comes with a variety of pretty colors, and the soft fabric will keep your toes apart while you paint without inflicting any pain.
USERS SAID: "These toe separators are great! They're soft, multi-colored, cut well, don't smell terrible, don't hurt your toes, and are reusable! I keep them in a Ziploc bag to help keep their color and stay soft and pliable."
---
Baby Foot Original Exfoliant Foot Peel
BEST FOOT MASK
LOVED FOR: Formulated with 17 different exfoliating extracts, this powerful foot peel will break down pesky layers of dead, cracked skin to reveal your softest, smoothest, prettiest feet yet. Trust us—your pumice stone has nothing on this.
HELPFUL TIP: Full disclosure—this stuff will make your feet shed layers upon layers of skin. Be prepared to spend the next week or so wearing your favorite sneakers.
---
Ivation Foot Spa Massager
BEST FOOT BATH
WHAT IT DOES: With heated bubbles, massage rollers, and a handle for easy transport, this top-rated foot bath provides you with a spa-like experience anytime, anywhere—no need to hunch over your bathtub any longer.
HELPFUL TIP: Add Epsom salt or a few drops of your favorite essential oil for the ultimate experience.
---
Inpher Professional Pedicure Tools Kit
BEST PEDICURE TOOL KIT
WHY YOU NEED IT: If you only buy one item from this list, let it be this expansive set of pedi essentials. Including 18 high-quality, stainless steel tools, it has everything you need to achieve a pro-quality pedicure in the comfort of your own home.
USERS SAID: "I love this pedicure kit! It has everything you need to have a nice at-home pedicure. I used it tonight, and the tools are great quality for the price!"
View All Beauty