Top 10 Scalp Serums
Reduce Buildup and Dryness When You Apply One Of These Serums To Your Scalp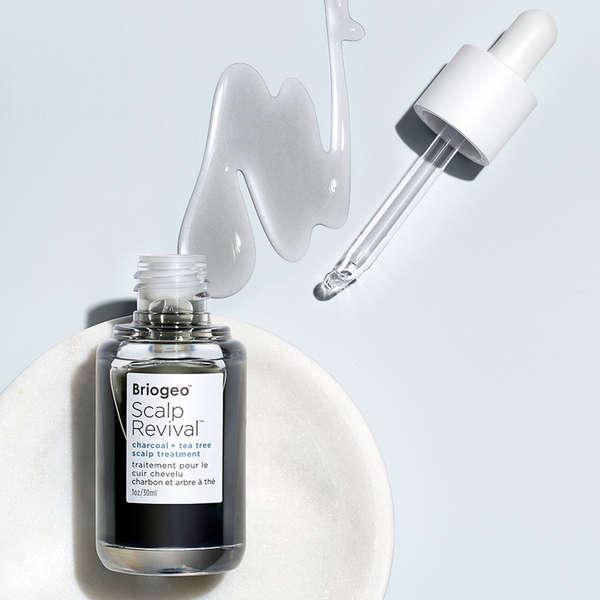 Suffering from an itchy, flaky, inflamed scalp? You're not alone. In fact, scalp issues are more common than you think. Just as with our complexions, there are a number of reasons why irritation can occur. Product buildup, sunburn, skin sensitivity—you name it. Thankfully, there are tons of serums out there that will kick your scalp concerns to the curb, whatever they may be. And below, we're giving you the lowdown on the best ones you can buy. Keep in mind—even if you don't suffer from any scalp issues in particular, these products will still work wonders for you. Since our hair follicles (the actual living, growing part of our hair) reside in the scalp, caring for it promotes healthy hair and hair growth. What we're saying is: a happy scalp equals happy hair, plain and simple. So whether you're struggling with any of the concerns mentioned above or you're just looking to up your hair care game, get to the root of your hair woes with the top-rated serums listed below. Opening image: briogeohair.com
Love our 10 Best Scalp Serums? Just wait till you see our 10 Best Shampoos For Damaged Hair!
Jump To List
May 8, 2019
Top 10 Lists serve as unbiased shopping guides to the most trusted product recommendations on the internet. Products are scored and ranked using an algorithm backed by data consumers find most valuable when making a purchase. We are reader-supported and may earn a commission when you shop through our links.
The Rankings
---
Klorane SOS Serum with Peony
WHAT IT DOES: Whether it be from stress, travel, or one too many trips to the salon, scalp discomfort is the worst. Klorane's serum refreshes and soothes for fast relief that lasts up to 24 hours.
LOVED FOR: The precision spray nozzle makes application a total breeze.
---
Fantasia Naturals Scalp Serum
BEST FOR: Itchy scalp, be gone. This all-natural serum provides instant relief.
USERS SAID: "AMAZING. I have the itchiest scalp and this works for days. So tingly, too!"
---
MoroccanOil Dry Scalp Treatment
WHAT IT DOES: If you're looking for a dry scalp fix that won't weigh hair down, MoroccanOil's got you covered. This soothing argan oil treatment protects and moisturizes the scalp and leaves you with bouncy, beautiful locks too.
FUN FACT: Whether you suffer from a dry scalp or not, argan oil is a total haircare hero. In addition to its moisturizing properties, it also does a killer job of softening, protecting, and adding shine to dull, lifeless hair.
---
Unwash Balancing Scalp Treatment Serum
BEST FOR: Infused with skincare faves like aloe, witch hazel, and tea tree oil, this serum is incredibly gentle and ideal for those with sensitive skin.
USERS SAID: "Believe me when I say I have tried everything for my dry, flaking scalp! [...] I've done salicylic acid treatments, apple cider vinegar, charcoal scrubs, Head and Shoulders, cade oil, peppermint, and NOTHING gives me immediate results Iike this does. My scalp doesn't itch or feel dry and I don't see any flakes within the first four days after a wash."
---
The Ordinary Multi-Peptide Serum for Hair Density
BEST FOR: For those of you who could use a good volume boost, look no further than this baby.
USERS SAID: "This stuff is awesome! I have a ton of naturally wavy hair, but it always lacked volume. Since I started using this, my hair is noticeably more voluminous and the waves come through so much fuller. My hair is also growing like CRAZY."
---
Reverie CAKE Restorative Scalp Tonic
LOVED FOR: Pretty packaging aside, reviewers love the ultra-hydrating results of this scalp tonic. Thanks to a blend of essential oils that reduce inflammation and irritation, this serum tends to be less drying than others.
HELPFUL TIP: Don't let the heavy price tag scare you—each application requires just a few drops, so one bottle will last a while.
---
Jane Carter Scalp Nourishing Serum
WHAT IT DOES: When used daily, this nourishing serum will combat pesky dryness, flakiness, and dandruff.
HELPFUL TIP: Just like you'd give yourself a facial massage to boost circulation, you can massage this serum into your scalp to boost blood flow to the hair follicles. Remember this on your next #SelfCareSunday.
---
Kérastase Initialiste Advanced Scalp & Hair Serum
WHY YOU NEED IT: This powerhouse serum not only works wonders when it comes to hair strength, shine, and softness, but it also encourages healthy hair growth, too.
USERS SAID: "I applied this directly to my roots and it made my hair extremely manageable, frizz-free, and improved my scalp overnight. It's even helping my hair grow out of that weird phase it's been stuck in for the last couple of months."
View All Beauty