Top 10 Straight-Leg Jeans
The Most Versatile Denim Silhouette, Plus The Top 10 Pairs To Shop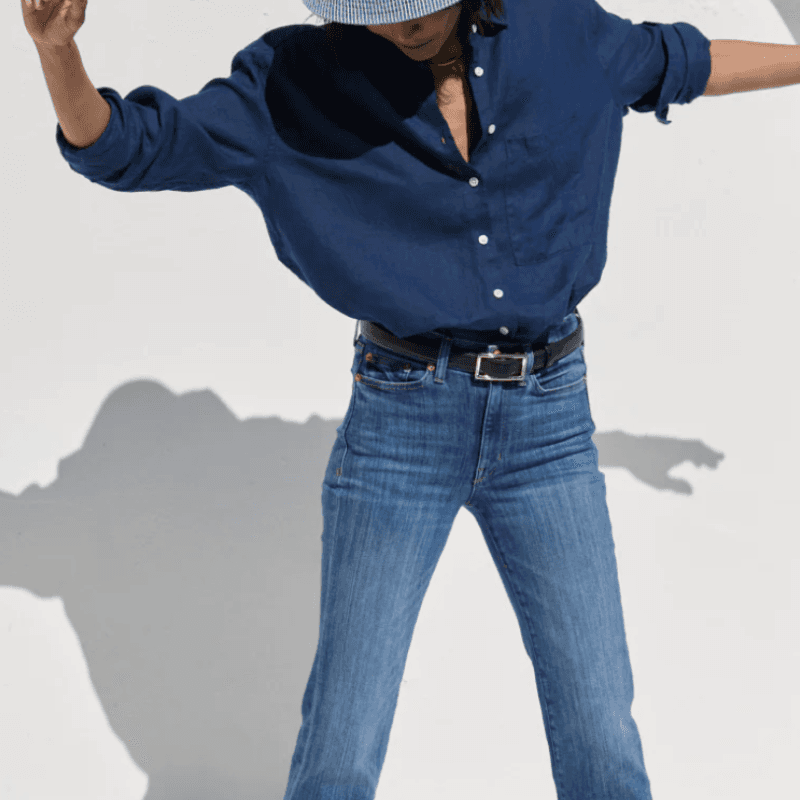 Jeans will always be in style, but sometimes certain silhouettes spend more time in the spotlight than others. Take straight-leg jeans, for example. Lately, the no-fuss denim trend has been spotted practically everywhere and on everyone, from supermodels like Hailey Bieber to the season's hottest runways. 
While some of us aren't quite ready to give up our skinny jeans (no matter what Gen Z says), straight-leg styles have definitely made their way onto the must-have denim list, and it's pretty much essential to add a pair to your rotation for a modern, updated wardrobe. The challenge? Finding the perfect pair can be a struggle, as straight-leg jeans can be less than flattering if you don't know what to look for. That's why we've rounded up a list of the Top 10 straight-leg jeans available online right now, featuring styles with stretch, support, and even slimming qualities. We've even gone beyond that to give you the entire low-down on what to know about straight-leg jeans. Keep reading for all the details.
Straight-Leg Jeans 101
So, what exactly are straight-leg jeans? Well, as the name suggests, they feature a straight cut from the hip down to the ankle, providing a classic and streamlined look. Unlike other jeans, straight-leg jeans offer a more relaxed fit without compromising on sophistication. Whether you prefer a casual or dressier aesthetic, these jeans are incredibly versatile and can be effortlessly dressed up or down for any occasion.
Who Can Benefit From This Jean Style
Who are straight-leg jeans best suited for? The answer is simple—everyone. Straight-leg jeans are incredibly inclusive and work well for various body shapes and sizes. If you're looking for a style that offers a slimming effect while still providing comfort, straight-leg jeans are the perfect choice. They create a sleek and elongated silhouette, making your legs appear longer and leaner. Whether you have curves to flaunt or prefer a more streamlined look, straight-leg jeans will have you strutting with confidence.
What To Look For
When choosing a pair of straight-leg jeans, there are a few things to consider. First and foremost, consider the fit. Look for jeans that sit comfortably on your waist without feeling too tight or too loose. The length is also crucial—opt for a pair that hits just above the ankle or at your preferred length, allowing you to showcase your favorite footwear if you so please. Additionally, pay attention to the fabric quality. Choose jeans made from a durable and stretchy material that provides both comfort and longevity.
Buying Tips
Now, let's talk about actually buying a pair. That's where we come in to assist you. We've done the work already and found the best straight-leg jeans to buy right now. These styles have all been vetted by our algorithm and feature some of the most flattering and comfortable pairs to shop, or at least that's what the reviews say. So, whether you're headed to the office or in need of a versatile jean you can wear with anything, we've got you covered and ready to select the right pair for you.
How We Found The Best Straight-Leg Jeans On The Internet
If you really want to know our secret, we'll let you in on the confidant behind our recommendations: data. With the help of our ranking algorithm, we use information from user reviews, editorial mentions, social media, and more to determine which products deserve a spot in our Top 10 lists. Today's lineup includes recognizable names in denim such as Levi's and Agolde, as well as a few surprises from brands like Old Navy and Abercrombie. Whenever you're ready, scroll on to meet your next favorite pair of straight-leg jeans.
Jump To List
July 6, 2023
Top 10 Lists serve as unbiased shopping guides to the most trusted product recommendations on the internet. Products are scored and ranked using an algorithm backed by data consumers find most valuable when making a purchase. We are reader-supported and may earn a commission when you shop through our links.
View All Womens