Top 10 TSA-Approved Toiletry Bags
The Most Functional Toiletry Bags Approved By Shoppers—And TSA Agents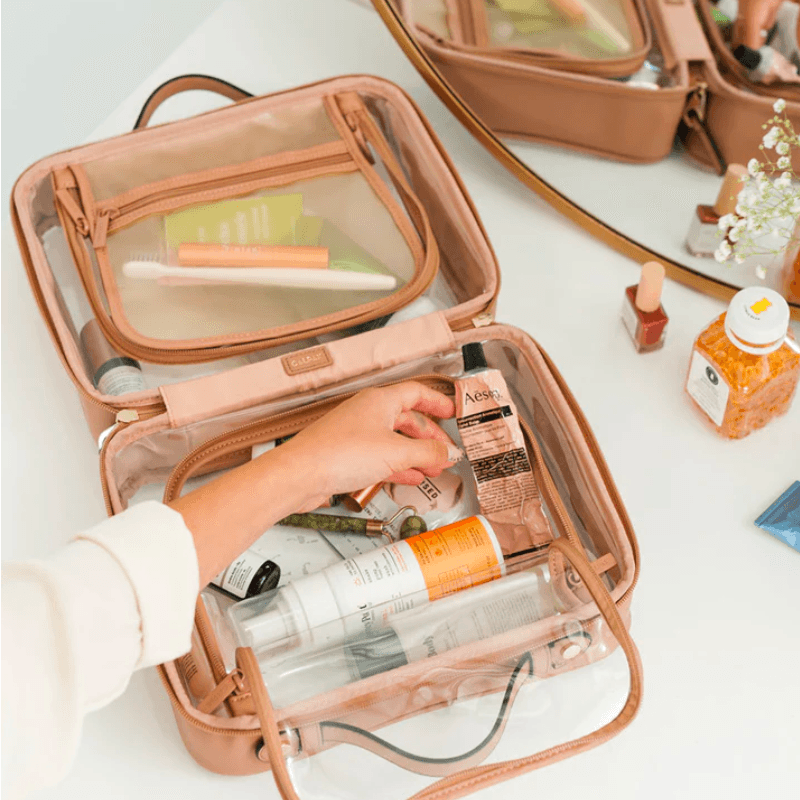 No matter how frequently you fly, it's still easy to find yourself confused by airport security's liquid guidelines. Many travelers find themselves asking questions like, "How much liquid can I bring?" and "What kind of bag do I need?" The good news is that with a little bit of preparation and the right information, you can breeze through security without having to sacrifice your favorite skincare products.
So, how much liquid can you bring on a plane? According to the TSA, liquids in carry-on luggage must be in bottles that are 3.4 ounces or smaller and stored in a clear, quart-sized bag. This applies to items like shampoo, conditioner, lotion, and other liquids. It's important to note that this rule also applies to gels, aerosols, and pastes.
As for the type of bag you need, the key is to make sure it's clear and no larger than one quart. This allows TSA agents to easily see what's inside your bag without having to rummage through it. Additionally, it's worth noting that each passenger is limited to one quart-sized bag of liquids, so be sure to pack accordingly.
Even if you're a textbook over-packer and prefer to check your luggage, using a TSA-compliant bag to pack your toiletry products will still come in majorly handy. Spill-proof and transparent, they make it easy to find exactly what you're looking for and allow you to have your most essential products with you at all times—even if you run into a dreaded lost luggage situation.
Now, if you're worried about finding the right bag to store your liquids in, don't be. Many brands offer TSA-approved toiletry bags that meet the size and transparency requirements—and we're bringing you a list of the best ones below.
How We Found The Best TSA-Approved Toiletry Bags
"Best" is a word we don't take lightly. In order to find the best TSA-approved toiletry bags that truly live up to their claims, we turned to our trusted data-driven algorithm. Unique to Rank & Style, our algorithm searches the web and factors in user reviews, editor recommendations, best-seller lists, and more in order to determine which products deserve a spot in our Top 10 lists. Keep scrolling to see which clear quart-sized bags made the cut and find your new go-to.
Overall, when it comes to packing your liquids for air travel, the key is to be prepared and informed. Make sure you have a clear, quart-sized bag that meets TSA requirements, and consider investing in a spill-proof toiletry bag for added peace of mind. With these tips in mind, you'll be able to breeze through security and enjoy your travels with all your favorite skincare products in tow.
Jump To List
May 1, 2023
Top 10 Lists serve as unbiased shopping guides to the most trusted product recommendations on the internet. Products are scored and ranked using an algorithm backed by data consumers find most valuable when making a purchase. We are reader-supported and may earn a commission when you shop through our links.
View All Lifestyle