Articles
Tips + Tricks For At-Home Nail Care
How To Ensure Your Nails Look Their Best And Remain In Tip-Top Shape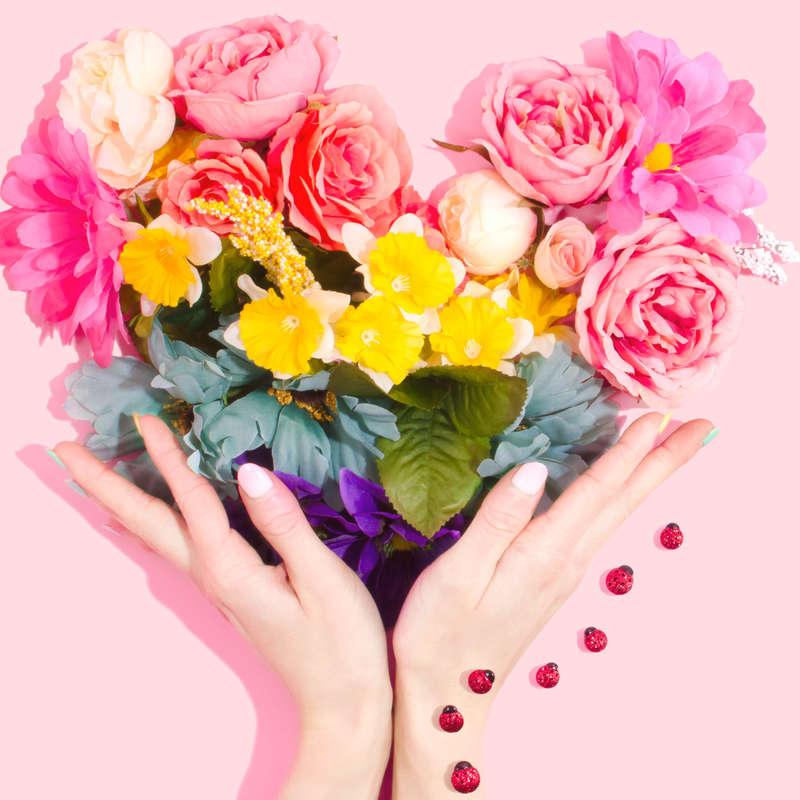 Whether it be budget constraints or a global pandemic, sometimes trips to the salon just aren't an option. However, navigating life without the help of your trusted nail tech is possible, and we're here to prove it to you. Don't know the first thing about cuticle care or how on earth you're going to remove your grown-out gel mani? Read on to see our top tips for taking care of your nails at home so you can keep them pretty, protected, and healthy while you wait for your next salon appointment.
HOW TO: UN-GEL YOURSELF
First thing's first: Do. Not. Pick. We know it's tempting, but the damage you inflict on your natural nails in the process will be way harder to get rid of than the gel itself. To start, grab a medium-grit nail file and begin carefully filing away the shiny topcoat. Next, apply cotton balls soaked in pure acetone to all 10 fingers, securing each one with a piece of foil so they don't budge. After 10-15 minutes, the gel should be softened enough to gently slide off with the help of a nail file or orange stick.
PRO TIP: You can use this process for acrylic and dip nails too, but you'll want to make a few tweaks since these formulas are a little tougher to work with. Begin by using a slightly coarser file—think 100 grit—and be prepared to let them soak a bit longer. You may need to repeat the process for best results, but eventually, you'll achieve damage-free, naked nails—no salon visits necessary.
HOW TO: CARE FOR YOUR CUTICLES
Just like your hair, taking care of your nails starts at the roots. Your cuticles are living tissues that act as protective seals for your nails, and failing to care for them properly can cause irritation and even make them grow back tough and jagged. Drop the clippers and leave that part to the pros, and reach for a hydrating cuticle oil or cream instead. A high-quality formula with ingredients like vitamin E and jojoba will make haggard, dry skin practically disappear on contact, and you'll be left with shiny, strengthened, healthy-looking nails in no time.
HOW TO: CLIP AND FILE CORRECTLY
If there's one thing you need to approach with extra care, it's clipping. The best time to clip is when your nails are moist (like after a shower) so they're softer and easier to cut, and it's important to trim straight across the nail. Once you've reached your desired length, grab your favorite nail file to start the shaping process. Keep in mind—filing your nails in a back-and-forth motion is a big no-no. Not only will it most likely lead to those frustrating frayed edges, but it can also damage and weaken the nail bed and cause breaks and tears in the future. The best way to file is with one fluid motion, going from one side to the other and returning to your starting point.
PRODUCT RECOMMENDATION: Check out our Top 10 Nail Tools to discover the must-have essentials everyone needs for doing their own nails.
HOW TO: PREVENT DAMAGE
Hydration is key when it comes to healthy-looking nails, but between the constant handwashing and drying antimicrobial soaps, odds are you need even more of it right now. Keep a nourishing hand cream close by throughout the day and slather some on before bed too. It's also a good idea to wear gloves when you're washing dishes, cleaning with harsh chemicals, or doing anything that involves soaking or dirtying your hands—not doing so will only undo all your hard work and weaken your nails.
HOW TO: STRENGTHEN YOUR NAILS
From frequent polish removal to experimenting with gel and acrylics, trips to the salon can wreak havoc on your hands and nails. Now that you're stuck at home, there's no better time to give them a breather and focus on strength and repair instead. Luckily, there are tons of strengthening polishes on the shelves that can provide weakened, peeling, and brittle nails with the nutrients they need, and most of them have quick-drying formulas that are easy to incorporate into your daily routine. To further up the ante, you can also take supplements like biotin or collagen—these will nourish your nails from within and most likely improve the health of your hair and skin too.
PRODUCT RECOMMENDATION: Use our Top 10 Nail Strengtheners to help you find the best product and formula for your exact needs.
HOW TO: GET RID OF UNSIGHTLY STAINS
We've all been there: you're pressed on time and your toes are looking a little less than cute in your new summer sandals, so you bail on the base coat, quickly apply your go-to red polish, and head out the door. Now, you're forced to wait for some weird, pinkish stains to grow out because of it. To speed up the process, start by lightly buffing the surface of your nails with a fine-grit nail buff. This alone will make a huge difference, but keep in mind that you don't want to go overboard—buffing can make your nails thinner and weaker if you do it too aggressively, so go easy. Next, scrub your nails with a soft brush and a mixture of peroxide, baking soda, and lemon juice to help take care of any leftover stains. Bye-bye, tinted tips.
HOW TO: POLISH LIKE A PRO
If you decide to DIY, follow the pro-approved tips below for achieving a better at-home mani-pedi.
Tip #1: Prep your nails properly. After clipping and filing your nails, remove any residue with a lint-free cloth or paper towel soaked in polish remover. Cotton balls can leave behind fuzzies and get in the way of your work.
Tip #2: Don't shake the polish bottle. This creates bubbles in the formula which can appear on your nails if you aren't careful, so it's best to roll it between your hands instead.
Tip #3: Apply your polish in three strokes. Do one down the middle, then two on each side.
PRODUCT RECOMMENDATION: For a guide to the season's most popular nail shades and trends, check out our Top 10 Nails Polishes.
Tip #4: Two thin coats are better than one thick coat. Thick coats are a recipe for dents and disasters. Applying two thin coats and allowing polish to dry in between will create a seamless, shiny look.
Tip #5: Fix mistakes fast. Dip an orange stick in acetone and run it around the edge of each nail after you've painted it.
Tip #6: Use a high-quality base and topcoat. These two must-have products will ensure your mani stays chip-free and ultra-shiny for as long as possible.
Tip #7: Be patient. We know it's tempting to blast your nails with a blow drier, but applying heat can actually keep your mani from drying properly. Instead, wait 5-10 minutes and apply some quick-dry drops or spray to finish things off.
BEAUTY HACK: Don't have a quick-dry product stashed away in your bathroom? Submerge your lightly wet nails in an ice-cold bowl for about a minute to help speed up the drying process.
Opening image: Photo by Amy Shamblen on Unsplash
April 30, 2020
Interviews and Articles make it easy to learn more about the products that top our lists, what's currently trending, and the leaders who inspire us We are reader-supported and may earn a commission when you shop through our links.
---
View All Articles