Top 10 Chain Necklaces
The Necklace Equivalent To Your Everyday Earrings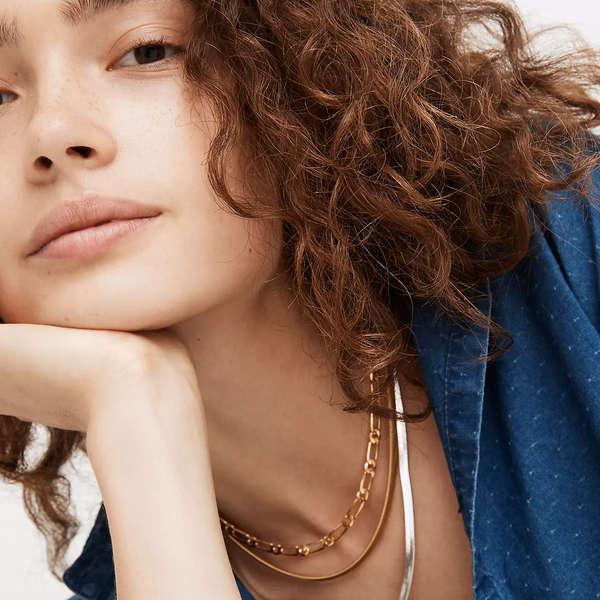 Rank & Style's Top 10 Guides help shoppers quickly and easily find what they need. Using an intense review and approval process (which you can learn more about here), we break down the best products according to what consumers most commonly search for and want.
THE BEST CHAIN LINK NECKLACES TO ADD TO YOUR EVERYDAY COLLECTION
Statement jewelry is fun and all, but there's something oh-so-satisfying about buying a piece that just works, no matter what you happen to be wearing or where you happen to be going. Gold hoops, diamond studs, dainty rings—those classic, everyday pieces that you can sleep in, shower in, go out in, and wear with absolutely anything are the real MVPs. And maybe it's the Zoom era, our obsession with Normal People, or the fact that we've started to tire of the pendant trend, but it's safe to say that our collections of everyday jewelry staples have officially gained a new member: the chain necklace.
It all started on the 2019 runways of Bottega Veneta and Zimmerman, but it's only continued to gain momentum since. We're not surprised to find that the chain necklace has earned itself a spot in the jewelry boxes of influencers and It girls everywhere. It's classic enough for everyday wear but bold enough for nights out, it looks good whether you layer it or wear it alone, and it can toughen up a dress just as well as it can luxe up your sweats. To put it simply, the chain necklace is endlessly wearable and provides the perfect finishing touch to any look. So if you don't already have one, we're here to help you out with that.
How We Found The Best Chain Link Necklaces
It's no secret that there are thousands of options out there when it comes to chain necklaces: chunky, dainty, embellished, plain—you get the picture. But thanks to our unique vetting process that factors in data from user reviews, editorial recommendations, Instagram buzz, and more, we narrowed it down to the 10 best options the web has to offer. From curb to herringbone to braided and beyond, consider the top-ranked pieces that follow your best-kept secret to nailing the chain necklace trend. Keep scrolling for the deets.
Love our 10 Best Chain Link Necklaces? Then we think you'll really enjoy our 10 Best Layered Necklaces! Opening image: madewell.com
Jump To List
January 29, 2021
Top 10 Lists serve as unbiased shopping guides to the most trusted product recommendations on the internet. Products are scored and ranked using an algorithm backed by data consumers find most valuable when making a purchase. We are reader-supported and may earn a commission when you shop through our links.
The Rankings
---
Etika Layered Chain Necklace
BEST FOR A LAYERED LOOK
LOVED FOR: Achieving that effortless layered look can actually feel anything but effortless. Made with three shimmering, multi-textured chains, this beauty by Etika basically does the work for you. Oh, and the under-$100 price ain't so bad either.
HELPFUL TIP: This chain necklace comes with a 5-inch extender, so you can easily switch up the length based on your look.
---
Shashi Sovereign Necklace
BEST TREND PIECE
WHY YOU NEED IT: Baroque pearls and bold chains? Shashi's bringing us two trends for the price of one with this chic find.
STYLE WITH: Dainty as it may be, this chain necklace will make a seriously cool statement with a basic white tee and dark denim.
---
Karine Sultan Braided Link Collar Necklace
BEST CHUNKY STYLE
BEST FOR: If you want a luxe look without the luxe price, you can't go wrong with Karine's Sultan's chain necklace. The collar length gives it a statement-making edge that works with both high and low necklines alike, and reviewers rave about the heavy weight and high-quality feel.
USERS SAID: "I purchased the necklace in silver, and it is stunningly sophisticated and quite expensive looking. I feel like a princess on my commoner budget. This is a great value for a marvelously designed piece."
---
Gorjana Kara Padlock Charm Necklace
BEST CHARM CHAIN NECKLACE
WHERE TO WEAR: Leave it to Gorjana to bring us the teeniest version of the chain necklace trend we've ever seen. With an 18-inch length and sweet padlock charm, this necklace is ideal for all your casual daytime outings—errands, work, brunch, and beyond.
HELPFUL TIP: Prefer a longer length? Gorjana's handy extender chain makes it easy to customize this necklace—or any necklace, for that matter.
---
Mejuri Curb Chain
BEST SPLURGE-WORTHY OPTION
WHY YOU NEED IT: While it may be on the pricy side, Mejuri's curb chain is the most high-quality and classic in the bunch. It's made with 14k solid gold, so it's pretty much guaranteed to last a lifetime. And trust us—you'll want it to.
ABOUT THE BRAND: Mejuri is all about fair pricing and strives to be super transparent about pricing and markups. Just to give you an idea of what we mean, this beauty would most likely cost you around $885 elsewhere.
---
Mejuri Double Curb Chain Necklace
BEST DOUBLE CURB CHAIN NECKLACE
BEST FOR: Double the chain, double the statement. This find is perfect for those who want a bold look without having to layer.
FUN FACT: Not to be confused with regular gold plating, Mejuri's vermeil is a thick layer of 18k solid gold on sterling silver. In other words, the quality here is top-notch.
---
Madewell Herringbone Chain Necklace
MOST AFFORDABLE OPTION
WHY YOU NEED IT: The herringbone chain is a true standout, and this shiny, highly-reviewed option just so happens to ring up at $32. Don't worry—it won't tarnish or turn your neck green.
USERS SAID: "I saw this necklace on one of my favorite influencers, who is also a fitness instructor. I wear this necklace all the time layered with my initial necklace, and it looks great! I wear it in the shower and during workouts. The quality is excellent and it looks and feels like 24k gold! I get so many compliments on this necklace and I'd recommend it to anyone looking for a classic, everyday layered look."
---
Gorjana Parker Necklace
HIGHEST-RATED CHAIN NECKLACE
LOVED FOR: Thanks to the uniquely designed hinge closure (which will never fail you, btw), you can wear this necklace as a lariat, too.
STYLE WITH: You know you want the matching bracelet.
---
BaubleBar Michaela Curb Chain Necklace
BEST FOR ALL PURPOSES
WHY YOU NEED IT: Bold and dramatic with a choker length, this is easily the most eye-catching chain necklace on the list. We don't know about you, but we'd definitely mistake it for a high-end find.
STYLE WITH: We'd pair this with a white button-down during the day and an LBD at night.
View All Womens