Top 10 Necklaces For Layering
10 Everyday Necklaces To Take The Guesswork Out Of Layering Your Jewelry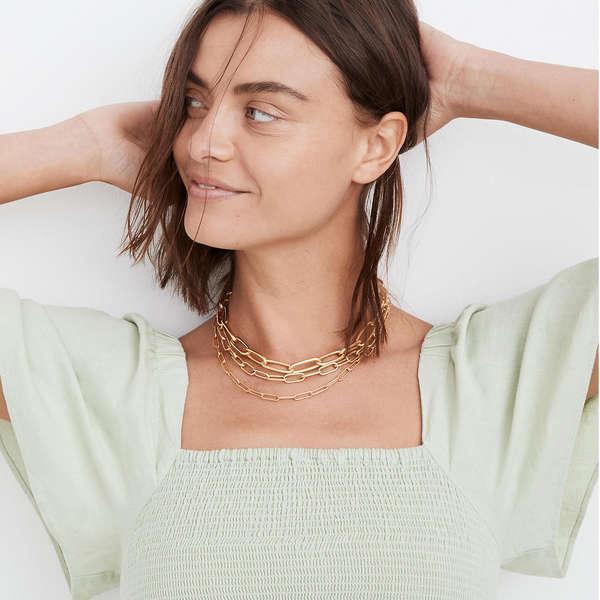 Our Top 10 Lists help shoppers quickly and easily find what they need. Using an intense review and approval process (which you can learn more about here), we break down the best products according to what consumers most commonly search for and want.
These days, keeping up with the ever-changing jewelry trends can feel like a chore. Whether you're currently trading out your dainty silhouettes for heavy hardware or replacing your charms with pearls, the constant pressure to switch things up can get old quite quickly. Thankfully, there are plenty of timeless options out there that will keep you looking chic and put-together no matter the latest of-the-moment trend. Like, a chic layered necklace look—aka the It girl-approved way to amp up any and every outfit. Whether you prefer delicate, simple strands or the chunkiest chains, we made it easy for you to find one you love without having to search the pages of all your favorite retailers. Keep scrolling to shop the Top 10 layered necklaces that will help to up your accessory game and learn more about different ways in which to style and wear your new piece.
How To Layer Necklaces
When it comes to layering necklaces, there are lots of things to consider. For starters, how many is too many? What lengths work best? Is it a fashion faux pas to mix metals? We've all been there. Luckily, you don't have to be a celeb stylist to put together a killer layered look these days—all you need is a bit of inspiration. Retailers have made it surprisingly easy to style necklaces together thanks to designs that include multiple length options, pendant sizes, texture types. Whether you're chasing a bold chain aesthetic, something dainty and elegant, or a minimalistic layered look, there's no shortage of options in the necklace world. Our #1 tip? Less is always more. If you want your jewelry to make a statement, our advice would be to keep your outfit on the simple side. Alternatively, if you're sporting a dress with billowing sleeves or a shirt with a bold print, a dainty approach to jewelry would probably look best. Bottom line: there's no right or wrong way to layer, but it always pays off to factor your jewelry choices into your overall look.
How We Found The Best Necklaces For Layering
We're here to make shopping simple. All of Rank & Style's Top 10 lists are vetted by our data-driven algorithm that factors in real user reviews, editorial mentions, and social media buzz so that our readers only shop top-rated finds. Whether you're looking for a new necklace that will blend into an existing collection or you're on the hunt for a few styles that look like they were made for each other, we've got 10 picks we all but guarantee you'll obsess over. From dainty chokers to on-trend Figaro chains and personalized options, the best necklaces for layering are laid out for you ahead. Read on to shop the Top 10.
Next up, check out the 10 Best Affordable Find Jewelry Brands. Opening image: madewell.com
Jump To List
December 13, 2021
Top 10 Lists serve as unbiased shopping guides to the most trusted product recommendations on the internet. Products are scored and ranked using an algorithm backed by data consumers find most valuable when making a purchase. We are reader-supported and may earn a commission when you shop through our links.
The Rankings
---
Madewell Paperclip Chain Necklace
THE PAPERCLIP CHAIN NECKLACE
WHY YOU NEED IT: Finding the perfect chain can be hard—especially if you're trying to avoid overly thick or thin chains. This necklace meets you right in the middle, with a thickness thats just right. It features an adjustable length and a vintage-y gold brass for a statement making finish that will wear well with everything.
WHO IT'S FOR: Since this chain necklace is nickel-safe and made with gold plated brass, it's an excellent option for those with sensitive or easily irritated skin.
---
Theia Jewelry Petite Swarovski Imitation Pearl Necklace
THE PEARL NECKLACE
WHY YOU NEED IT: A single pearl delicately displayed on a thin gold chain provides a classic and elegant look that will never go out of style.
ADDITIONAL THINGS TO KNOW: In case you didn't notice, this necklace rings up under $30. That's a steal if we've ever seen one.
---
Aurate Gold Bar Necklace
THE GOLD BAR NECKLACE
WHY IT MADE THE LIST: Minimal and modern, this gold bar necklace is equivalent to a white t-shirt—a wardrobe staple every woman should own.
USER REVIEW: "This is exactly the necklace I was looking for. It's perfect with any outfit and you can adjust the length for what you're wearing. I have sensitive skin and it's so nice to have a price of jewelry that I know is durable and won't irritate my skin! I seriously love this necklace. Definitely worth it."
---
PAVOI 14K Gold Plated Initial Necklace
THE INITIAL NECKLACE
WHO IT'S FOR: Personalized gifts are the easiest way to let someone know you truly thought of them. These chic yet affordable necklaces make the ultimate thoughtful gift for special occasions and random pick-me-ups.

USER REVIEW: "I am in love with this necklace! I haven't taken it off since I got it, and it doesn't irritate my highly sensitive skin. This necklace is better quality than ones I've paid over $200 for."
---
Argento Vivo Bar Station Chain Choker Necklace
THE CHOKER NECKLACE
WHY YOU NEED IT: We're willing to bet that this choker is a whole lot chicer than the options you had in your youth. With sleek yet structured metallic bars and a dainty chain, this adjustable choker makes the perfect minimalistic statement piece.
USER REVIEW: "This choker is great for layering, but looks beautiful on its own, too! I love that it has a generous extender so you can customize the length to your look. Although the piece looks delicate, the weight is pretty substantial. I'm impressed with the quality and think it is worth the price."
---
BaubleBar Mini Gia Necklace
THE FLAT CHAIN NECKLACE
WHY YOU NEED IT: This slim, slinky chain necklace is one that looks great when worn solo or paired with other similar styles. It will add just a bit of shine and luxe to any outfit.
ADDITIONAL THINGS TO KNOW: This necklace is handcrafted out of 14k gold plated sterling silver and is hypoallergenic.
---
Mejuri Diamond Necklace
THE DIAMOND NECKLACE
WHY YOU NEED IT: Solid 14k gold with an ethically sourced diamond for $300? You can't beat quality at this price.
USER REVIEW: "This is one of my favorite necklace! It is so elegant and feminine! I do suggest for every woman to have one of this! It shines beautifully in the light. It is perfect for either daily or special occasions too!"
---
Yoosteel Gold Initial Necklace
THE PENDANT NECKLACE
WHY YOU NEED IT: Designed with an au courant paperclip chain and a personalized pendant, this affordable necklace taps into so many 2021 jewelry trends at once.
THINGS TO KNOW: Thanks to the hypoallergenic coating and tarnish-resistant plating, you can wear this necklace every day worry-free.
View All Womens