Top 10 Necklaces For Layering
10 Everyday Necklaces To Take The Guesswork Out Of Layering Your Jewelry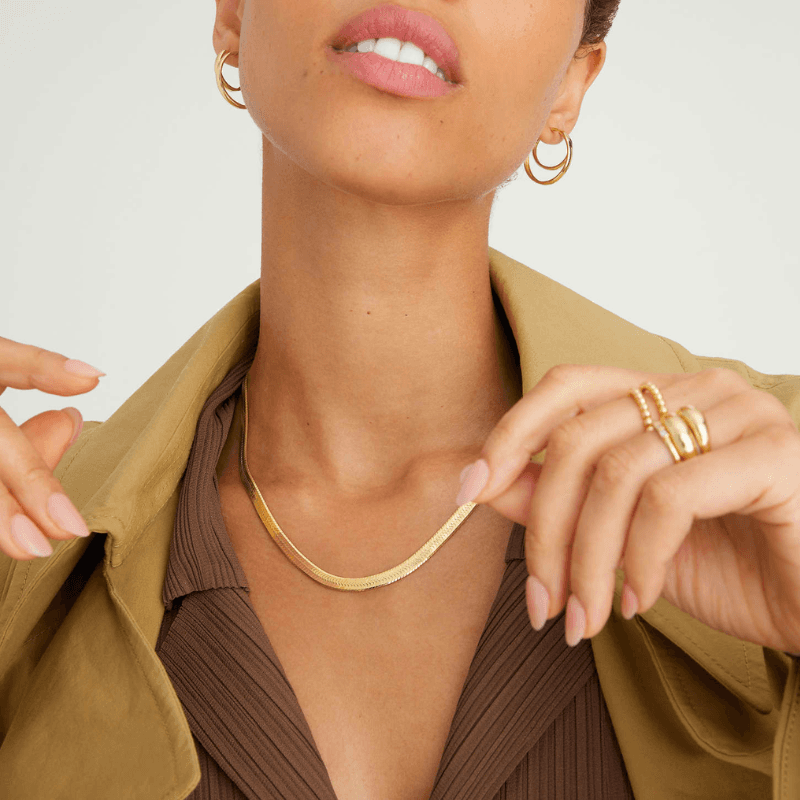 These days, keeping up with the ever-changing jewelry trends can feel like a chore. Whether you're currently trading out your dainty silhouettes for heavy hardware or replacing your charms with pearls, the constant pressure to switch things up can get old quite quickly. Thankfully, there are plenty of timeless options out there that will keep you looking chic and put-together no matter the latest of-the-moment trend. Like, a chic layered necklace look—aka the It girl-approved way to amp up any and every outfit. Whether you prefer delicate, simple strands or the chunkiest chains, we made it easy for you to find one you love without having to search the pages of all your favorite retailers. Keep scrolling to shop the Top 10 layered necklaces that will level up your accessory game and learn more about different ways in which to style and wear your new piece.
How To Layer Necklaces
Luckily, you don't have to be a celeb stylist to put together a killer layered look these days—all you need is a bit of inspiration. Retailers have made it surprisingly easy to style necklaces together thanks to designs that include multiple length options, pendant sizes, texture types. Whether you're chasing a bold chain aesthetic, something dainty and elegant, or a minimalistic layered look, there's no shortage of options in the necklace world. When it comes to layering necklaces, mix up the lengths so that each necklace is visible. Also, consider stacking different chains, like a long paper-clip style necklace with a delicate gold chain. But our #1 tip? Less is always more. If you want your jewelry to make a statement, our advice would be to keep your outfit on the simple side. Alternatively, if you're sporting a dress with billowing sleeves or a shirt with a bold print, a dainty approach to jewelry would probably look best. Bottom line: there's no right or wrong way to layer, but it always pays off to factor your jewelry choices into your overall look.
How We Found The Best Necklaces For Layering
We're here to make shopping simple. All of Rank & Style's Top 10 lists are vetted by our data-driven algorithm that factors in real user reviews, editorial mentions, and social media buzz so that our readers only shop top-rated finds. Whether you're looking for a new necklace that will blend into an existing collection or you're on the hunt for a few styles that look like they were made for each other, we've got 10 picks we all but guarantee you'll obsess over. From dainty chokers to on-trend herringbone chains and personalized options, the best necklaces for layering are laid out for you ahead. Scroll ahead to discover your new favorite everyday necklaces.
Next up, check out the 10 Best Affordable Find Jewelry Brands.
Jump To List
August 29, 2023
Top 10 Lists serve as unbiased shopping guides to the most trusted product recommendations on the internet. Products are scored and ranked using an algorithm backed by data consumers find most valuable when making a purchase. We are reader-supported and may earn a commission when you shop through our links.
View All Womens