Top 10 Face Masks For Oily Skin
Oily Skin? Cure It With One Of These Face Masks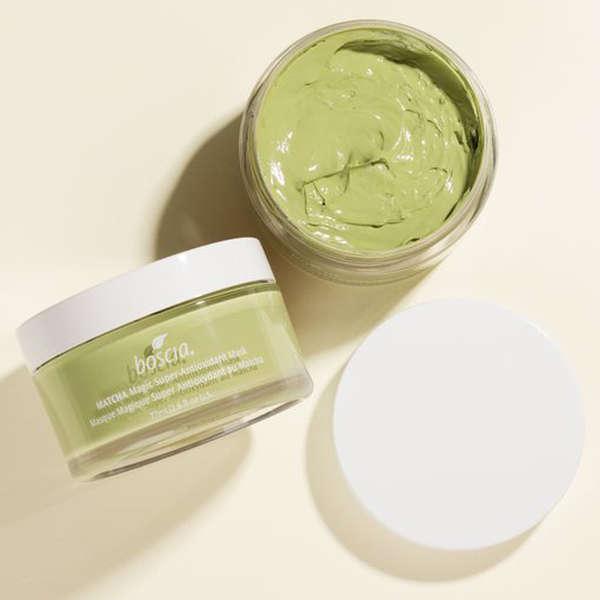 When it comes to skincare, few products are as indulgent as the face mask. Think about it: What's better than laying in bed (or binge-watching Netflix, or shopping online, or whatever) for 30 minutes while your skin soaks up a little TLC? In short, face masks are formulated to provide high concentrations of active ingredients to your skin, giving it a big boost of whatever it needs, whenever it needs it. In other words, if you don't already have one in your routine, you could be missing out on some major skin-beautifying benefits. We know that it's important to tread lightly in the face mask department if you have oily skin, since so many formulas that claim to glow you up only grease you up. That's why we turned to our tried-and-true algorithm to rank the Top 10 face masks for oily skin on the market, all of which will take control of that oil without causing irritation, breakouts, or dryness. Be on the lookout for ingredients like kaolin and bentonite clay varieties, glycolic and salicylic acids, and sulfur—these will all play nice with your skin type. Ahead, shop the top-rated selections that will have you masking, relaxing, and oil-free in a cinch. Opening image: @boscia
Love our 10 Best Face Masks For Oily Skin? Check out our 10 Best Serums for Oily Skin next!
Jump To List
September 18, 2019
Top 10 Lists serve as unbiased shopping guides to the most trusted product recommendations on the internet. Products are scored and ranked using an algorithm backed by data consumers find most valuable when making a purchase. We are reader-supported and may earn a commission when you shop through our links.
The Rankings
---
Boscia Matcha Magic Super-Antioxidant Mask
WHAT IT DOES: Turns out matcha is far more than just an Insta-worthy refreshment. Packed with powerful antioxidants that detoxify, decongest, and de-stress the skin, this mask will leave you with soft, smooth, oil-free skin.
USERS SAID: "This works wonders for my oily, congestion-prone skin! It helped clear out my pores and left my skin feeling clean and refreshed. It wasn't drying at all—my skin felt perfectly balanced after using it!"
---
SkinCeuticals Clarifying Clay Masque
WHAT IT DOES: It's no secret that staying hydrated is a key to healthy-looking skin, but if you're downing a gallon of water by noon and still looking dry and dull, the problem may actually be that you lack lipids, not liquids. Lipids are the healthy fats in your skin that make it look youthful, and this product helps to restore the ones you lose as you age.
HELPFUL TIP: Be sure to stick with it. With regular use, you'll see an improvement in elasticity, moisture levels, and radiance, and trust us—it's worth the patience.
---
Omorovicza Deep Cleansing Mask
LOVED FOR: Most purifying masks tend to leave skin dry and tight, but this one won't. Thanks to the award-winning formula that's rich in calcium and magnesium, it will clear congested pores and brighten the skin without stripping it.
USERS SAID: "I am absolutely thrilled with this mask! I have mature skin with lots of pores and "wear and tear," so I value any product that helps restore firmness and elasticity while softening and refreshing my skin. This simple but effective mask did exactly that and also minimized my pores like no other mask. I usually have sensitive skin, but this mask was totally fine."
---
Olehenriksen Cold Plunge Pore Mask
WHY YOU NEED IT: If you have oily skin, you may think that a glossy (but not greasy) complexion simply isn't in the cards for you. But with this mask, it can be. The detoxifying formula instantly shrinks pores, smooths skin texture, and controls oil, leaving you with a fresh-from-the-spa glow.
FROM THE EXPERTS: In an independent, clinical study on 37 women using Cold Plunge Pore Mask, 94% of users experienced an instant reduction in oil.
---
L'Oreal Paris Detox & Brighten Pure-Clay Face Mask
WHY YOU NEED IT: An oil-free face doesn't need to cost you the big bucks. This mask rings up under $15, and reviewers agree that the pore-purifying results are worth far more.
USERS SAID: "This reminds me so much of the GlamGlow SuperMud Clearing mask! I really loved that mask but couldn't justify paying the high price for it, so when I saw this and the reviews, I had to give it a try. And let me tell you I am NOT disappointed! You can see the mask clearing out all the oil (and whatever else for that matter) from my pores, and it visibly reduces the blackheads on my nose."
---
GlamGlow Youthmud Glow Stimulating & Exfoliating Treatment Mask
BEST FOR: If you want a little anti-aging power in the mix, go with Youthmud. Thanks to the exfoliating formula packed with volcanic rock, natural clay blend, and green tea leaf, it'll soften the look of fine lines and wrinkles while it tackles oil and impurities. It's a win-win.
HELPFUL TIP: If it tingles, don't fret—that means it's working!
---
Sunday Riley Saturn Sulfur Acne Treatment Mask
WHAT IT DOES: This game-changing mask is an acne-fighting powerhouse. With a blend of sulfur, zinc, and niacinamide, the formula penetrates pores to banish existing breakouts and prevent future ones, and yes—that includes those pesky and painful under-the-surface bumps.
FUN FACT: This gem has over 20,000 likes on Sephora. The hype is real, ladies and gents.
---
Peter Thomas Roth Therapeutic Sulfur Masque Acne Treatment Masque
BEST FOR: When a bad breakout strikes (and we mean really bad), consider this sulfur-packed mask your savior. The medicated, maximum-strength formula clears acne, absorbs oil, and cleanses pores to reduce all that redness and swelling ultra-fast.
HELPFUL TIP: You can also use this as a spot treatment for serious cystic bumps.
---
Fresh Umbrian Clay Pore Mattifying and Purifying Face Mask
USERS SAID: "I've tried numerous masks to control acne and oil but none have worked as well as this one! I have extremely sensitive skin (in addition to combination skin) and the worst hormonal breakouts. This mask controls my oily t-zone while keeping my dry spots moisturized, it reduces pimple size drastically after just one application, and it's gentle enough to use multiple times a week!"
FUN FACT: This product has true range—you can use it as a mask, a facial cleanser, and a spot treatment.
View All Beauty