Top 10 Foundation Brushes
When It Comes To Flawless Foundation Application, These 10 Brushes Do It Best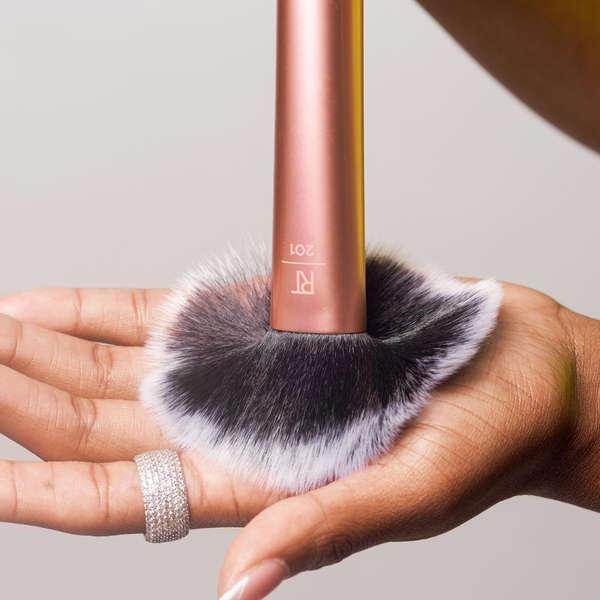 Our Top 10 Lists help shoppers quickly and easily find what they need. Using an intense review and approval process (which you can learn more about here), we break down the best products according to what consumers most commonly search for and want.
When it comes to picking a foundation brush, it isn't always as simple as going with whatever's available on the shelf. There are so many things to take into consideration: brush size, bristle density, materials, grip. If this is news to you, then it might be the very reason your foundation doesn't look as flawless as you'd like it to. Think of yourself as a builder. Without the right tools, how do you expect to create a sturdy foundation?
To start, think about the kinds of formulas you like to use. Generally, it's best to stick to natural bristles for powders and synthetic bristles for liquids. This is because synthetic bristles tend to absorb less product, therefore reducing product waste. Opt for a synthetic buffing brush if you want to go for a full-coverage look, or use a synthetic stippling brush to sheer out liquid foundation in a tapping or circular motion. The different lengths and spikiness of a stippling brush are great for creating an airbrushed effect. Kabuki brushes and synthetic brushes work well on cream-to-powder foundations, too. Choose a soft Kabuki brush and apply loose or pressed powder foundation to your skin in circular motions if you prefer a natural finish. Stick foundations have thicker formulas that can be difficult to blend, so start by warming up the product with your fingers or on the back of your hand, then go in with an angled brush and paint or pat the product onto your skin.
Now that you know the basics, scroll through our list of the 10 best foundation brushes out there. From $3 to $48, there's a top-rated brush on the list for every budget and beauty preference.
Our Method For Finding The Best Foundation Brushes
To round up this list, we turned to the help of our unbiased algorithm. This proprietary tool factors in best-selling buzz, editor recommendations, user reviews, and more to find and rank the best products on the internet. Ahead, take a look at our roundup of the best foundation brushes and find your new go-to.
Next up, check out the 10 Best Facial Hair Removal Tools. Opening image: @realtechniques
Jump To List
September 30, 2021
Top 10 Lists serve as unbiased shopping guides to the most trusted product recommendations on the internet. Products are scored and ranked using an algorithm backed by data consumers find most valuable when making a purchase. We are reader-supported and may earn a commission when you shop through our links.
The Rankings
---
Keshima Flat Top Kabuki Foundation Brush
BEST MULTIPURPOSE
WHAT IT DOES: This super dense kabuki brush buffs your full-coverage foundation into a seamless, airbrushed look. Plus, reviewers rave that it's great for contouring and highlighting too.
WHY IT MADE THE LIST: This brush is made with premium quality synthetic fibers that are as soft as real hair, don't absorb foundation, are easy to clean, and don't shed.
---
Tarte Cosmetics Airbuki Bamboo Powder Foundation Brush
BEST ECO-FRIENDLY
WHO IT'S FOR: If you're big on powder formulas, look no further. Soft, dense, and made from sustainably harvested bamboo, this beauty packs on seamless coverage for flawless application.
ADDITIONAL THINGS TO KNOW: This brush is vegan and cruelty-free.
---
Wet N Wild Flat Top Brush
BEST BUDGET
WHY IT MADE THE LIST: Your search for the perfect brush is over. Loved by makeup gurus and clocking in at just $3, you wouldn't expect these bristles to be so soft and high-quality.
WHAT IT DOES: This brush's soft bristles create a smooth and flawless look without a cakey finish. It's a great option for sheer-to-medium coverage liquid foundations.
---
KVD Beauty Lock-It Edge Foundation Brush
BEST FOR PRECISION
WHAT IT DOES: This high-performance foundation brush boasts an exclusive sculpted shape for precision from every angle.

USER REVIEW: "This brush is pure magic. It gives an absolutely flawless look and makes your foundation do what it is supposed to do. I don't understand why this works so well compared to all the other brushes that I've tried, but it is night and day."
---
It Brushes For Ulta Airbrush Blurring Foundation Brush #101
BEST FOR MINERAL FOUNDATION
WHY IT MADE THE LIST: This easy-to-use, dome-shaped makeup brush allows for even foundation application every time. Plus, it's more affordable than your average It Cosmetics brush.

WHY PEOPLE LOVE IT: This brush beautifully buffs in liquid foundation to provide a smooth look and help it last longer.
---
E.l.f. Cosmetics Kabuki Face Brush
BEST FOR TRAVEL
WHAT IT DOES: This affordable kabuki brush is compact and perfect for precise and controlled application.
HELPFUL TIP: This is great for applying foundation or for buffing in bronzer.
---
Real Techniques Expert Face Brush
BEST FULL COVERAGE
WHAT IT DOES: This brush creates a seamless, medium-to full-coverage canvas and delivers long-lasting results.
ABOUT THE BRAND: Real Techniques was one of the first brands to bring prestige-quality, award-winning, and innovative tools at a great value to the beauty-obsessed around the world. Anybody who's encountered beauty vloggers knows that Real Techniques is a must-have tool in any makeup kit.
---
Sigma Beauty F80 Flat Kabuki Brush
BEST FOR BUILDING COVERAGE
WHAT IT DOES: This brush is ideal for buffing both liquid and powder foundations.

ADDITIONAL THINGS TO KNOW: This brush is vegan and cruelty-free, and the brand is Latinx-owned and founded.
---
It Cosmetics Heavenly Skin Skin-Smoothing Complexion Brush
BEST SPLURGE
WHAT IT DOES: This custom-cut, angled brush hugs the contours of the face to apply your favorite liquid foundation evenly and flawlessly.
ADDITIONAL THINGS TO KNOW: This brush is made with synthetic bristles and infused with collagen, silk, peptides, niacin, and antioxidants to support healthy-looking skin.
View All Beauty