Top 10 Lariat Necklaces
This Simple Necklace Will Complete Your Look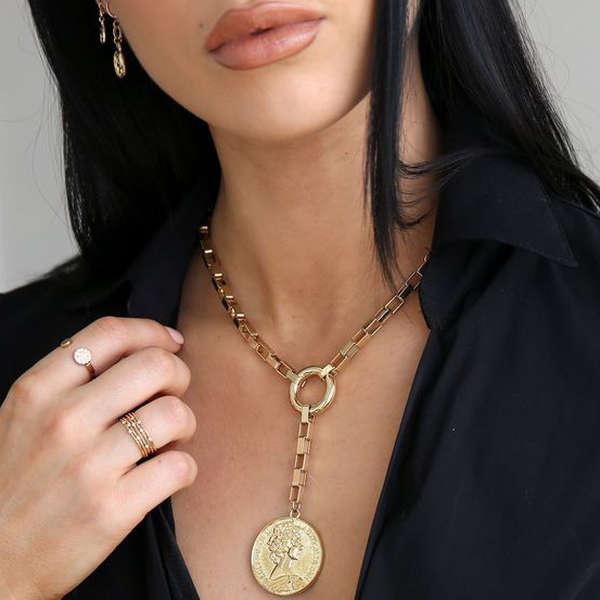 Over the past few seasons, many of the hottest jewelry trends have simply been reinventions of old-school favorites. Puka shell necklaces, friendship bracelets, '90s-esque chokers—designers are all about the nostalgia these days, and spring 2020's selections are no exception. The lariat has been on the down-low for a few years now, but thanks to the likes of Celine, Versace, and Christian Dior, the long, Y-shaped style that reigned supreme in 2014 is officially back and better than ever. We love the trend for its wearability—just like coin pendants and simple chains, it's an accessory you can wear pretty much anywhere and with anything, and there's a version out there to suit every style and budget. Ahead, we're proving it to you with an algorithm-backed list of the best lariat necklaces on the market, from dainty and delicate options perfect for everyday wear to chunky, maximalist pieces you could easily rock with an evening gown. Keep scrolling to shop the Top 10 styles and try out the trend for yourself. Opening image: ettika.com
Did you enjoy our 10 Best Lariat Necklaces? Just wait till you see our 10 Best Everyday Earrings!
Jump To List
March 12, 2020
Top 10 Lists serve as unbiased shopping guides to the most trusted product recommendations on the internet. Products are scored and ranked using an algorithm backed by data consumers find most valuable when making a purchase. We are reader-supported and may earn a commission when you shop through our links.
The Rankings
---
Shashi Solitaire Lariat Necklace
BEST FOR: If you're a diamond necklace devotee, try switching things up with this solitaire lariat. With two cushion-cut crystals and 18-karat gold vermeil, it has just as much sparkle but feels a little trendier.
STYLE WITH: The shorter length (16.25 to 17 inches) makes this style ideal for everyday wear. Pair it with wardrobe staples like plain white tees and basic blouses to give them a luxe touch.
---
Kendra Scott Vivian Necklace
LOVED FOR: A little more minimal than Kendra Scott's typical designs, this lariat necklace features faceted spike accents on a long metallic chain that give it just a touch of edge.
AS SEEN ON: Hailey Baldwin wore a Vivian Necklace with an LBD, so we'll be wearing the Vivian Necklace with an LBD.
---
Gorjana Mave Lariat Necklace
BEST FOR: The extra-long length makes this lariat the ideal accent for extra-low necklines.
USERS SAID: "I wanted a simple gold necklace that I could wear with anything, and this necklace is exactly that. I've purchased other pieces of jewelry from this brand and the quality has been great, so I'm expecting the same from this necklace. I'm planning to purchase the rose gold as well!"
---
BaubleBar Pearl Lariat Necklace
LOVED FOR: Made entirely of freshwater pearls, this pretty piece offers a more feminine take on the lariat necklace trend.
USERS SAID: "This is a charming necklace! I got many compliments on it from the get-go. Not too big and not too small—it makes a nice statement without going overboard. Love it!"
---
Gorjana Laguna Adjustable Lariat Necklace
WHY YOU NEED IT: Complete with hammered beads and glinting chains, you can wear this beauty as a lariat, choker, or pendant. Talk about versatility.
WHERE TO WEAR: Statement-making without steering too costumey, this lariat necklace is perfect for dressy occasions—think weddings, weekend date nights, and beyond.
---
Mejuri Lariat Slide Necklace
WHAT IT DOES: Thanks to that pretty adjustable bead, you can slide this dainty lariat to your preferred length. And don't worry—once you adjust it, it won't budge throughout the day.
WHY YOU NEED IT: Just like most of Mejuri's styles, this piece features gold vermeil (which is much thicker than gold plating), so at $60, it's a total steal.
---
Ettika Large Coin Lariat Necklace
BEST FOR: Maximalists, meet your match. With its vintage-inspired coin, eye-catching chain, and slightly oversized style, this is your best option for making a statement.
USERS SAID: "I am a big fan of coin necklaces, and this one is really nice. It is not at all heavy in weight, but it has an expensive look to it. The color is bright shiny gold, and the length is adjustable so depending on your clothing neckline, you can adjust accordingly. I have not worn it yet, but I expect that I will receive many compliments when I do!"
---
Madewell Knotshine Necklace
WHY YOU NEED IT: Not only is it ranked #1 on the list, but it's also the cheapest and boasts tons of rave reviews. You can also wear it as a lariat style or as a long pendant, so you've got options here.
USERS SAID: "Love love this necklace! I bought it in the silver color, and I am absolutely thrilled with it. I am a goldsmith so I rarely buy jewelry I didn't make myself, but I had to have this piece—it's versatile, timeless, and a really great price too.
View All Womens