Top 10 T-Shirt Dresses
According To Their Rave Reviews—These T-Shirt Dresses Check All The Right Boxes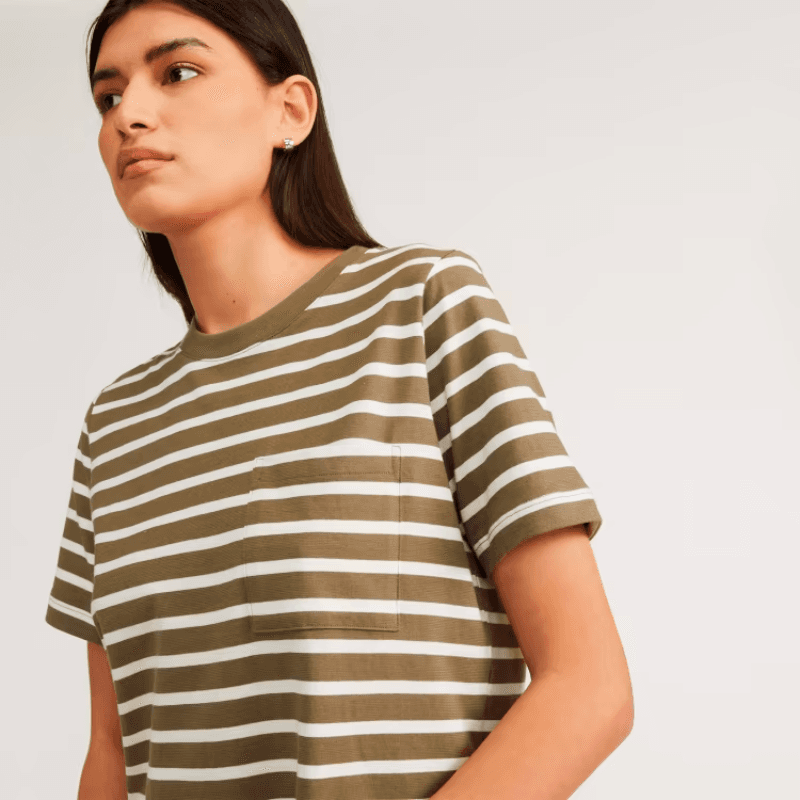 When it comes to building a complete wardrobe, it's important to have great basics. Fashion essentials like sleek button-downs, extensive denim collections, and classic accessories make getting dressed so much easier. They are simple, yet necessary items that form the foundation of any outfit, allowing you to build your look from the ground up. So, when it comes to stocking your closet full of pieces you can always rely on, a t-shirt dress should be a the top of your list.
T-shirt dresses are the epitome of a relaxed but chic style. They are the go-to pieces when you need something a little breezier than your joggers but a little dressier than your denim. The best part? Today's t-shirt dresses come in more silhouettes and styles than ever before. Whether you want something fitted or oversized, long or short, there's a t-shirt dress out there that's perfect for you.
Because we're all about providing you with as much help as we can in your shopping journey, here are a few more reasons why you absolutely need to add a t-shirt dress (or several) to your closet:
Versatility: T-shirt dresses are known for their versatility. They can be dressed up with heels and a statement necklace for a night out, or dressed down with sneakers and a denim jacket for a casual daytime look. You can wear a t-shirt dress to brunch, out running errands around the town, or hey, even relaxing at home.
Comfort: T-shirt dresses are incredibly comfortable to wear. They are made from soft, breathable fabrics that will keep you feeling cool and comfortable all day long. It's basically the equivalent of a giant, chic tee.
Easy to style: Yes, it's true. T-shirt dresses are super easy to style. You can add a belt to cinch in your waist, throw on a denim jacket for a more casual look, or layer a sweater over the top for added warmth—the options are endless.
Now that we've convinced you that t-shirt dresses are a must-have, let's take a look at some of the best options out there. Our list includes a variety of t-shirt dresses that have both comfort and style in the bag, as well as options for every taste and budget.
Oversized T-Shirt Dress: This classic oversized t-shirt dress is perfect for lazy weekends or running errands. It's a great cut to go for if you're one who loves a boyfriend-tee silhouette.
Fitted T-Shirt Dress: If you want something a little more form-fitting, a fitted t-shirt dress is an ideal option. This style looks made to pair well under jackets, sweaters, or even a button-down.
Mini T-Shirt Dress: The mini-length t-shirt dress is perfect for dressing up or down. This style usually features a flattering A-line silhouette, classic sleeves, and a shorter hemline that makes it great for spring and summer.
Tiered T-Shirt Dress: Add some flare to your wardrobe when you opt for this t-shirt dress. With a swing-style design, this type of t-shirt dress is a way you can get comfort with something a bit more fun and flirty. What's not to love about that?
In conclusion, t-shirt dresses are a must-have for any wardrobe. They are versatile, comfortable, and easy to style, making them the perfect choice for any occasion. Whether you prefer an oversized, fitted, mini-length, or tiered shirt dress, there's a style out there that's perfect for you—and we're here to help you find it.
So, if you're on the hunt for the best t-shirt dresses out there, you've come to the right place. We've scoured the internet to find the most comfortable and stylish t-shirt dresses that money can buy. Our picks are always vetted by our data-backed algorithm that searches for top-rated and highly reviewed products loved by shoppers just like you. This means you can shop our site with total confidence, knowing that you're getting the best of the best.
Jump To List
April 27, 2023
Top 10 Lists serve as unbiased shopping guides to the most trusted product recommendations on the internet. Products are scored and ranked using an algorithm backed by data consumers find most valuable when making a purchase. We are reader-supported and may earn a commission when you shop through our links.
View All Womens