Top 10 Travel Jewelry Cases
The Best Jewelry Cases And Organizers For Keeping Your Baubles Tangle-Free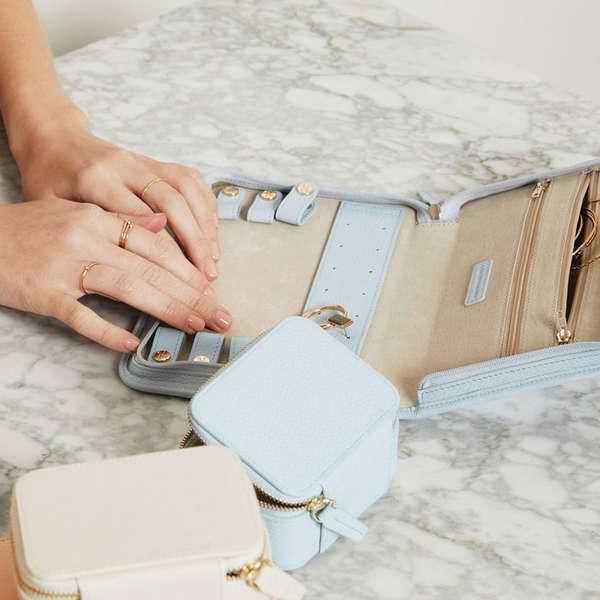 Our Top 10 Lists help shoppers quickly and easily find what they need. Using an intense review and approval process (which you can learn more about here), we break down the best products according to what consumers most commonly search for and want.
10 TRAVEL-FRIENDLY JEWELRY CASES THAT WILL KEEP YOUR NECKLACES, EARRINGS, AND BRACELETS SAFE AND SOUND
After a year of canceled trips and vacations, we couldn't be more excited to get back on the go. But as much as we've missed traveling, we can't say the same about the tedious packing process—especially when it comes to securing our favorite jewelry. Even frequent flyers and the most meticulous packers struggle with jewelry organization, but it's nothing that a chic and practical accessory case can't fix. From sleek jewelry rolls to customizable leather carryalls, there are so many travel-friendly options on the market that will secure all your earrings, rings, bracelets, and more with Marie Kondo-level organization. Ahead, we've rounded up a list of the 10 best options so you can be fully prepared for your next trip—no necklace untangling included.
Our Method For Finding The Best Travel Jewelry Cases
Bid adieu to runaway rings and knotted chains. We're bringing you a list of the best travel jewelry cases thanks to the help of our data-driven algorithm. This unique tool factors in best-selling buzz, editorial recommendations, and rave reviews to score and rank the best of whatever you're shopping for. Keep scrolling to see the 10 travel jewelry cases that made the cut, including removable compartments, tarnish-resistant linings, tangle-proof pouches, and more.
Next up, check out the 10 Best Carry-On Suitcases. Opening image: @leatherology

Jump To List
May 20, 2021
Top 10 Lists serve as unbiased shopping guides to the most trusted product recommendations on the internet. Products are scored and ranked using an algorithm backed by data consumers find most valuable when making a purchase. We are reader-supported and may earn a commission when you shop through our links.
View All Lifestyle