Top 10 Carry-On Luggage
Here's A Look At The Highest-Rated Carry-On Luggage You Can Buy Right Now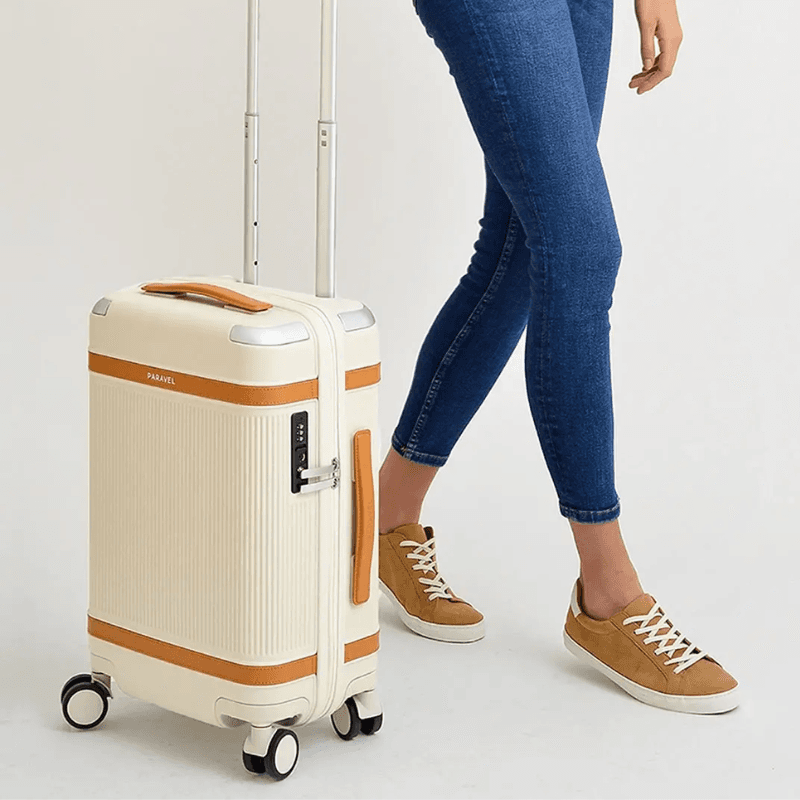 Life is all about the comings and goings, which is why it's important to have some high-quality luggage to take you from coast to coast. More specifically, a durable and functional carry-on. However, finding such is always easier said than done.
Generally speaking, it's a pain to pack small, but the 10 suitcases ahead certainly lessen the burden. Supremely stylish and made to navigate through streets and crowds easily, these carry-on suitcases will set you apart from the sea of other travelers' gear. We've got a wide variety of styles to choose from, so any jet setter's style will be represented wherever they go.
What To Look For In A Carry-On
When shopping for your next carry-on suitcase, there are a few things to keep in mind that will help ensure you find the right one for your travels.
First, there's the exterior, which typically comes in either a hard or soft option. A hard exterior has a solid outer shell and is more protective if you're traveling with fragile goods. A soft exterior typically comes with more compartments than a hard one and offers more flexibility when it comes to packing. We always seem to come back from trips with more than we came with, right? If that sounds like you, we suggest opting for a soft expandable option. Don't forget about the interior of the suitcase, either. Make sure it offers plenty of space or compartments that can accommodate all of your clothing and belongings.
Next, take a look at the wheels. If you like a more traditional appeal, you may want to opt for a two-wheeled suitcase. If you're looking for something that offers more rolling ease, then a four-wheeled suitcase might be the one for you. A four-wheeled carry-on, or spinners, as they're called, comes with wheels that can spin 360 degrees. This means that you aren't limited to pulling your suitcase while navigating airports, planes, or other crowded areas. With spinner luggage, you can push or pull your suitcase, have it right by your side or even quickly spin it in any direction.
Size is also an important factor to consider, especially when it comes to carry-ons. Each airline has its own specific size requirements for their overhead compartments, but a good size to aim for is 22 inches x 14 inches x 9 inches, as these are the required dimensions for a few of the major airlines. Keep in mind that this includes the wheels, exterior compartments, and retracted handle. In addition to size, airlines may also judge the weight. Travel experts recommend that carry-on luggage should also be no more than 7.5 pounds in order to accommodate belongings and still be within the size limit.
How To Choose The Right Carry-On
The first thing to consider when shopping for carry-on luggage is what kind of traveler you are. In other words, how often will you be using this suitcase, and for what purpose? Are you a frequent traveler? Do you travel for business or for pleasure? Domestic or international? From the amount of space to the convenience and accessibility, determining what works best for you is based on what kind of needs you have for your carry-on. If you're looking for carry-on luggage for business trips, you might need a suitcase that's more functional than stylish—one that offers a lot of space, compartments, a quality handle, and additional features for packing convenience. On the other hand, if you're just looking for a small carry-on bag to bring with you on your next vacation, a sleek and minimal one with just the right amount of space would do the trick.
Why People Love These Carry-Ons
Both frequent travelers and occasional vacationers alike can find a good carry-on that will suit their needs on the list ahead. Whether you're looking for a small suitcase to tuck into an overhead bin easily, a lightweight suitcase to haul around, or a carry-on with spinners to glide with you through the airport with ease, you're sure to find what you're looking for in the carry-on luggage on this list. Customers just like you have rated, reviewed, and loved the following bags—and from that data, we've found the 10 best carry-on bags for you to shop from. From tried and true to reliable and accessible, there's a suitcase on this list for everyone, no matter your travel style.
How We Found The Best Carry-On Suitcases
Here's how it works: With the help of our data-powered algorithm, we vet products in a given category in order to determine which ones deserve to be crowned the best. Our Top 10 lists consider information from social media, reviews, industry reports, and more, so you can trust that the recommendations you're getting are unbiased and research-backed. With that in mind, if you're planning on jet-setting somewhere soon and you need a reliable way to transport your things, look no further than the 10 top-rated carry-on suitcases below.
Jump To List
August 2, 2023
Top 10 Lists serve as unbiased shopping guides to the most trusted product recommendations on the internet. Products are scored and ranked using an algorithm backed by data consumers find most valuable when making a purchase. We are reader-supported and may earn a commission when you shop through our links.
View All Lifestyle