Top 10 Drugstore Self Tanners
Get An Affordable Glow With The Best Drugstore Self Tanners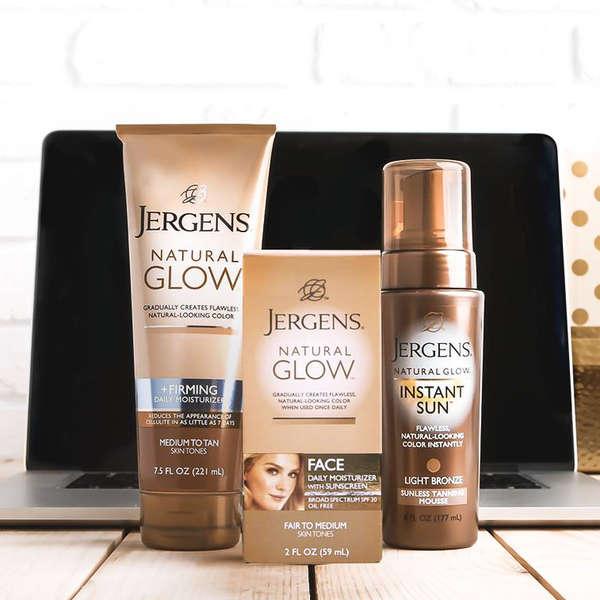 Whether you're headed off to a beach vacation, prepping for summer, or you just feel the need for a little color, a self tanner is the ideal solution to warm up your natural skin tone. On that topic, if your likes include getting a healthy-looking glow and saving a few bucks without sacrificing quality, the below affordable drugstore self tanners are for you!
If you are new to the world of self tanners, we highly recommend you watch a few tutorials on how to best apply the product to avoid streaks, stained hands, and blotchy patches. To help you get started, we recommend you first shower, shave, and exfoliate, focusing on areas that are typically rough or dry. Then apply a moisturizing lotion to your hands, elbows, knees, ankles, and feet, allowing it to completely absorb into your skin before applying your self-tanning lotion. This helps to keep those dry areas of your skin hydrated so your self tanner absorbs evenly. Next, apply the lotion, serum, or foam evenly over your entire body. Rub in the product using your hands or a mitt if you prefer. Finally, use a facial cleansing towelette to remove the product from the palm of your hands. Allow the product to dry and develop for a few hours before showering again or jumping into a pool—even better if you apply the lotion before bed, allowing for maximum drying time.

Now that you know how to use a self tanner, we recommend you shop our list of the best drugstore self-tanners below. To make our selections we used our algorithm, which is unique to Rank & Style, to comb through all the products out there on the web and bring you the Top 10 drugstore self tanners according to sales, expert editorial picks, and glowing user reviews so you can shop this list with confidence. Opening image: @jergensUS
Did you like our 10 Best Drugstore Self Tanners? Check out our 10 Best Moisturizing Body Washes for more top-ranked finds!
Jump To List
February 14, 2019
Top 10 Lists serve as unbiased shopping guides to the most trusted product recommendations on the internet. Products are scored and ranked using an algorithm backed by data consumers find most valuable when making a purchase. We are reader-supported and may earn a commission when you shop through our links.
The Rankings
---
Tan Physics True Color Sunless Tanner
WHY YOU NEED IT: This anti-aging formula gives you a sun-kissed glow and hydrated skin all year round.
USERS SAID: "This sunless tanner is by, far, THE BEST product on the market!!! I have tried so many tanners and have been embarrassed by the streaks, missed areas, sparkly sheen, smell, etc., but Tan Physics doesn't have any of that. It covers and tans beautifully! [...]"
---
Sun Bum Sunless Self Tanning Towelette
BEST FOR: Tan and hydrated skin without the sun
ABOUT THE BRAND: "We take surf breaks. We bring our dogs and kids to work. We want our company to make a difference. We want our lives to matter. We make products the way we like them. And we hope you like them too. Trust The Bum."
---
Alba Botanica Sunless Tanning Lotion
WHAT IT DOES: Safflower oil, shea butter, and sweet almond oil moisturize skin while botanicals gently give you a natural-looking tan within three hours.
USERS SAID: "I am a very fair skinned woman in my early 50's, and use this product daily. This self tanner gives you a very natural, even tone. I use it daily on my arms. I love the scent, it's not over powering. It keeps my dry skin moisturized all day."
---
Beauty by Earth Self Tanner
LOVED FOR: The vegan and organic formula
WHY YOU NEED IT: Whether you're headed to the beach (or want to look like you were just there), this self tanner will give you a healthy and natural bronze without harmful chemicals or spending too much time in the sun.
---
Fake Bake Self Tanning Liquid Solution
WHAT IT DOES: Works with your skin's unique makeup to give you a long-lasting tan without any orange tint or streaks
ABOUT THE BRAND: "We go through an extremely rigorous selection process to ensure we use only the best botanical extracts and state-of-the-art technology in our labs to make our Fake Bake products while also maintaining clean and environmentally-safe storage facilities for our products as well."
---
Tan Towel Self Tan Towelette
BEST FOR: Fair to medium skin tones
WHAT IT DOES: Towelettes are infused with a clear formula designed to work with your skin's amino acids and proteins for your best natural, sunless tan.
View All Beauty