Top 10 Food-Based Face Masks
Unleash The Power Of Your Favorite Foods With These 10 Face Masks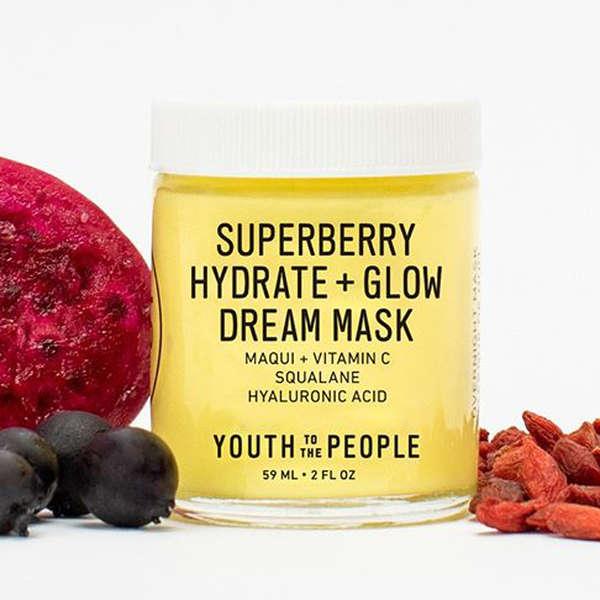 If you've ever paid a visit to your derm, you've probably heard the speech: what you eat can have a major impact on the appearance and health of your skin. Healthy foods like fruits and veggies—especially those packed with vitamin C—can work wonders when it comes to fighting acne, boosting radiance, and even combatting fine lines. So why not use them on your skin, too? Enter face masks jam-packed with—you guessed it—skin-loving food ingredients. If you're too intimidated to whip one up with what you've got in your pantry or fridge, never fear—cult-favorite skincare brands like Boscia, Bliss, GlamGlow, and more have got you covered with a few top-notch versions of their own, and we're giving you the inside scoop on which ones are worth the hype. Using our unique algorithm that bases its selections on user reviews, editorial mentions, and best-selling buzz, we've rounded up an unbiased list of the best food-based face masks on the market. From a watermelon-infused glow booster to a pumpkin-packed mask that smells good enough to eat (though we'd advise against it), the list that follows features a face mask to target any and all skin woes—dullness, dryness, and acne included. Keep scrolling to discover and shop our Top 10. Opening image: @youthtothepeople
Did you enjoy our 10 Best Food-Based Face Masks? Then we think you'll really enjoy our 10 Best Deep Conditioning Hair Masks!
Jump To List
July 31, 2019
Top 10 Lists serve as unbiased shopping guides to the most trusted product recommendations on the internet. Products are scored and ranked using an algorithm backed by data consumers find most valuable when making a purchase. We are reader-supported and may earn a commission when you shop through our links.
The Rankings
---
Boscia Matcha Magic Super-Antioxidant Mask
WHAT IT DOES: Turns out, matcha is a lot more than just an Instagram-worthy alternative to your morning cup of coffee. This antioxidant-packed mask detoxifies, decongests, and de-stresses skin for a complexion that's bright and rejuvenated. Bonus—it works wonders for redness, too.
FUN FACT: This mask contains a unique ingredient called bakuchiol—an alternative to retinol that provides the same glowy results, sans the irritation.
---
Bliss What a Melon Overnight Facial Mask
WHAT IT DOES: With hydrating watermelon and replenishing electrolytes, this millennial pink mask works while you sleep to bring tired, stressed-out skin back to life by morning. The result is a dewy, lit-from-within look that no highlighter could replicate.
WHY YOU NEED IT: Don't let that $13 price tag fool you. According to reviewers, this drugstore score works harder than masks five times the price.
---
Kiehl's Since 1851 Avocado Nourishing Hydration Mask
USERS SAID: "This mask is honestly so bomb. It left my skin feeling soft, plump, and supple. It's perfect to prep your skin for makeup if you're dry and perfect for a weekly hydration mask, too."
FROM THE EXPERTS: In hydration and barrier tests of 26 subjects, participants found that this mask increased hydration by 29% after just 15 minutes.
---
GlamGlow BerryGlow Probiotic Recovery Face Mask
WHAT IT DOES: Ever had that tight, dry feeling after stripping your skin with a harsh cleanser? This mask hits the rewind button. Packed with super berries and probiotics, it'll restore the skin's moisture barrier in just 10 minutes.
USERS SAID: "I am currently on Accutane, so my skin is flaking off on a daily basis. I use this mask every night before bed, and I wake up with amazingly calm, moisturized skin. This mask is a lifesaver!"
---
Juice Beauty Green Apple Peel Sensitive Exfoliating Mask
BEST FOR: At-home peels used to be a total no-no for sensitive-skinned gals, but this mask changes the game. With a gentle yet effective dose of organic, fruit-derived hydroxy acids, this product is suitable for even the most delicate skin types.
HELPFUL TIP: Don't freak—that tingling sensation you feel is a sign that the mask is really getting to work.
---
Kora Organics Turmeric 2-in-1 Brightening & Exfoliating Mask
WHAT IT DOES: Look past the unfortunate color on this one—the glow-boosting results are so worth it. Packed with turmeric (yes—a spice that's probably sitting in your pantry right now), this mask calms inflammation, reduces redness, soothes sensitive skin, minimizes the appearance of dark spots, evens texture, and brightens.
FUN FACT: This double-duty mask also contains papaya to promote skin cell renewal and gently exfoliate, so it's an excellent alternative to AHAs if you have sensitive skin.
---
Youth To The People Superberry Hydrate + Glow Dream Mask
BEST FOR: Formulated with four vital hydrators—hyaluronic acid, squalane, glycerin, and betaine—this mask plumps and seals in moisture to repair extra dry skin.
USERS SAID: "I am truly impressed with this overnight mask. It leaves my skin feeling so soft and smooth the next morning, and it doesn't feel heavy or greasy at all. I have been using it a few times a week and notice a huge difference in how hydrated and glowy my skin is!"
---
Farmacy Honey Potion Renewing Antioxidant Hydration Mask
LOVED FOR: This ultra-hydrating mask provides instant warmth upon application and reveals a glowing, plump complexion that's so moisturized, you may end up skipping your night cream.
HELPFUL TIP: It also comes with a handy magnetic spoon that attaches to the top of the jar, so you'll never have to worry about losing it amongst the abundance of beauty products in your medicine cabinet.
---
Glow Recipe Watermelon Glow Sleeping Mask
WHAT IT DOES: With hyaluronic acid, gently-exfoliating AHAs, and watermelon, this glow-boosting mask hydrates and smooths skin while you sleep. We know what you're thinking, but don't worry—it's totally pillow-proof.
HELPFUL TIP: If your skin's on the sensitive side, try it for just 10 minutes instead of overnight and increase the time as your skin adjusts.
View All Beauty