Top 10 Gua Sha Facial Tools
Experts Call This Skincare Tool A Non-Invasive Facelift Alternative—These Are The 10 Best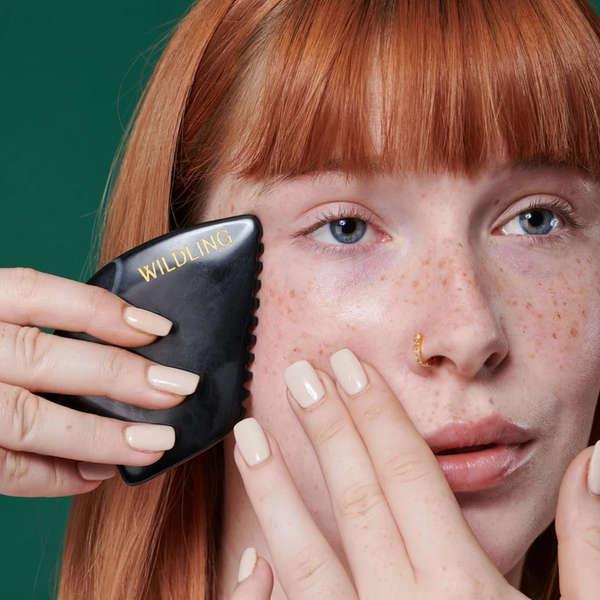 Our Top 10 Lists help shoppers quickly and easily find what they need. Using an intense review and approval process (which you can learn more about here), we break down the best products according to what consumers most commonly search for and want.
If you stay up to date with skincare trends, you've likely come across a gua sha tool on at least one of your social media timelines. Gua sha is the latest Eastern beauty technique to go mainstream, and lately, its gained some significant traction thanks to viral TikToks showcasing its transformative results. Like its close cousin, the jade roller, the gua sha's origin dates back to ancient Chinese medicine. Jade rollers and gua shas both stimulate lymphatic drainage and promote blood circulation, but the critical difference between them is the shape of each tool and the mechanism of each technique.
In short, the gua sha process requires a flat, handheld tool, traditionally made of jade. In Chinese culture, the jade stone represents luck and prosperity. Revered as a stone containing healing properties, jade is considered a Yin stone that's championed for its cooling properties known to alleviate inflammation, hence why the material is so commonly used in cosmetic tools.
The Western-adopted version of the gua sha method promotes lymphatic drainage and eliminates bloating, often contributed to interstitial fluid. This fluid collects underneath the surface of the skin and makes the face appear puffy. A gua sha tool uses a scraping motion to push and redirect the build-up of interstitial fluids into the lymphatic system—and eventually back into the bloodstream, where they're cleaned. With regular use, gua shas promote energy and blood flow by boosting circulation and ridding the skin of toxins.
Although gua sha is a non-invasive practice, it delivers impressive skin benefits like:
• Increased collagen production
• Softening of fine lines and wrinkles
• Stimulated circulation
• Decreased inflammation
• Reduction of dark circles
• Temporarily increased skin tightness
• Brightened complexion
• Sculpted facial muscles
How To Use A Gua Sha Tool
Gua shas use a scraping motion to sculpt the face and promote lymphatic drainage. To glide across the face and work their magic, they require the skin to have some slip. We recommend applying a quarter-sized amount of your favorite facial oil to cleansed skin before you get to work with your gua sha. Start by using the curved side of the tool, and glide it across your skin with short, stroking motions in one direction. When you reach your jawline and chin, glide the tool up your neck and outwards. Repeat the same movement on your cheeks, forehead, and underneath the eyes up to five times per area.
The frequency of your gua sha usage should be dependent on your skin's type and tolerance levels. Once a week is the recommended amount, but once you familiarize yourself with the practice, you can use your gua sha anywhere from two times a week to daily.
Gua shas come in a ton of different shapes and sizes. When choosing the shape of your gua sha tool, look for options with a couple of different ridges and curves—this will optimize versatility. Various contours make it easier to target and chisel out areas of the face like jawlines and cheekbones.
Our Method For Finding The Best Gua Sha Tools
Since we're all for testing out the buzziest skin trends—especially ones lauded as the natural alternative to facelifts—we turned to our data-backed algorithm to round up the Top 10 gua sha facial tools on the market. Our algorithm factors in rave reviews, social media buzz, and best-seller lists to discover and rank the best products out there. From expert-developed options by renowned acupuncturists to affordable alternatives on Amazon, keep scrolling to shop the buzziest gua sha tools you can buy right now.
Next up, check out the 10 Best Blackhead Removal Tools for more top-rated finds. Opening image: @wildling
Jump To List
June 3, 2021
Top 10 Lists serve as unbiased shopping guides to the most trusted product recommendations on the internet. Products are scored and ranked using an algorithm backed by data consumers find most valuable when making a purchase. We are reader-supported and may earn a commission when you shop through our links.
The Rankings
---
Ginger Chi Jade GuaSha Face Comb
100% JADE
WHY YOU NEED IT: The quality of the stone matters when choosing a gua sha tool, especially for those seeking its energy-boosting benefits. This one is crafted from 100% grade A Xuiyan Jade, and bonus—it's ergonomically designed to fit seamlessly into various face contours.
THINGS TO KNOW: The comb-like shape of this gua sha tool allows you to extend the benefits of your technique to your scalp to reduce fatigue and increase hair rejuvenation.
---
Odacité Crystal Contour Gua Sha Rose Quartz
ROSE QUARTZ
WHY YOU NEED IT: Designed with cooling and depuffing rose quartz, this gua sha tool smooths the look of wrinkles, deflates puffy eyebags, and firms the skin to reveal a radiant, more youthful appearance.
THINGS TO KNOW: This gua sha is made of rose quartz, a stone believed to attract opportunities and abundance into your life by bringing positive energy, prosperity, and good luck.
---
Daily Concepts Jade Gua Sha Tool
TEETHED ENDS
WHAT IT DOES: Designed with teethed ends, this gua sha tool works especially well for the contours of the face like the jawline and chin.
THINGS TO KNOW: This gua sha is made with 100% real jade. Add it to your moisturizing routine to reap brightening benefits and stimulate blood flow.
---
Skin Gym Jade Sculpty Heart Gua Sha Tool
HEART-SHAPED
WHAT IT DOES: Thoughtfully designed with a heart shape, this gua sha tool targets large and small areas of the face alike to lift, sculpt, and create more definition in the cheekbones and jawline.
WHO IT'S FOR: Struggling with under-eye bags? This tool allows you to target those puffs and circles thanks to its unique contours and slim shape.
---
Deayoka Rose Quartz Gua Sha Tool
AFFORDABLE
WHY YOU NEED IT: Equal parts affordable and effective, this tool is designed to give you a deeper massage than the average gua sha. It has a unique shape that fits easily in your hands, allowing for optimal control and mobility.
THINGS TO KNOW: This gua sha tool comes with a handy storage bag for easy travel and safekeeping after every use.
---
Rena Chris Gua Sha Facial Tool
FULL-BODY USE
WHY YOU NEED IT: Available in your choice of jade or rose quartz, this gua sha can be used on the entire body to increase blood flow and improve the microcirculation of fluids.
THINGS TO KNOW: Because these tools are made with real jade, no two gua shas are alike.
---
Mount Lai Gua Sha Facial Lifting Tool
AMETHYST
WHY YOU NEED IT: In search of the best gua sha tool for aging skin? This affordable pick turns back the hands of time. With regular sessions, you'll notice improvements in the loss of firmness, smoother texture, and brightened skin.
THINGS TO KNOW: Thanks to a slightly curved shape, this gua sha tool allows for a comfortable grip and better mobility.
---
Sacheu Stainless Steel Gua Sha Tool
STAINLESS STEEL
WHO IT'S FOR: Got acne-prone skin? Since this gua sha tool is made with stainless steel instead of the traditional jade or rose quartz, it prevents the build-up of pore-clogging bacteria that can lead to breakouts.
THINGS TO KNOW: If you find yourself constantly clenching your jaw or furrowing your brows, massaging with this tool can help relieve tension by relaxing the facial muscles and preventing dynamic wrinkles.
---
Wilding Empress Stone
BIANSTONE
WHAT IT DOES: This hardworking gua sha tool is designed to provide you with a laundry list of benefits—think everything from lifting and toning to sculpting the face and neck.
WHY YOU NEED IT: The Wilding empress stone works for all skin types, from dry to mature to acne-prone and everything in between.
View All Beauty