Top 10 Hair Smoothing Creams
Bid Adieu To Frizz And Flyaways With One Of These Reviewer-Praised Products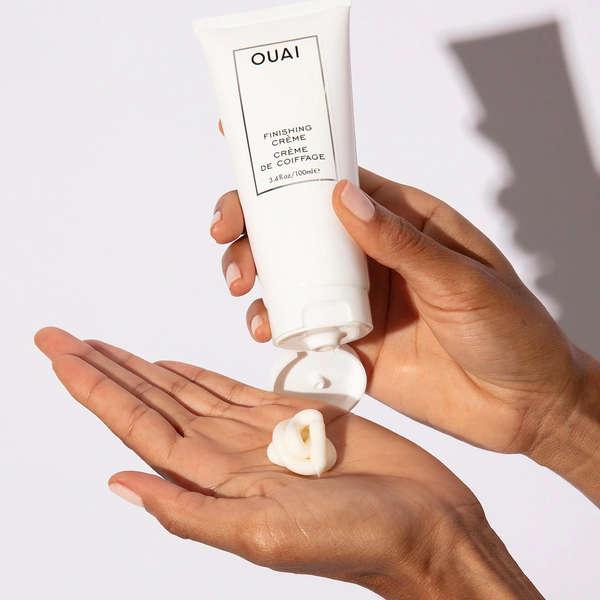 From Farrah Fawcett's face-framing waves to the sleek and short Rachel, hairstyles constantly go in and out of fashion. But one thing we've all agreed to consistently reject is frizz. It's unfortunate considering how common it is, but we live in a society that's decided to condemn frizz and flyaways until further notice—just think of the cultural impact Mia's transformation in The Princess Diaries had on us all.

However, if you feel like your locks are formless or fried, there is an alternative solution to reaching for your favorite hat (although we do approve of that option).
What Causes Really Frizzy Hair
When it comes to bad hair days, a combo of dry hair and humidity is almost always to blame. When humidity strikes, the moisture in the air searches for somewhere to go, which, unfortunately, is often the inside of your dehydrated hair. This is why it's crucial to reach for nourishing, hydrating products to fight frizz—think weekly hair masks and air-dry hair products that prevent the need for heat styling.
Regular chemical treatments, coloring, and excessive brushing can also contribute to frizz. So, if you hope to banish the problem once and for all, the best solution is to ensure that your hair has the proper balance of moisture to prevent it from becoming a victim of humid climates and other frizz-inducing causes.
How To Prevent Frizz
Achieving healthy, hydrated strands is a journey, but fortunately for us, anti-frizz products offer a faster solution. The key to getting the best results from anti-frizz products is to ensure you're using a formula that works for your unique hair type and texture and that you're properly applying the product.
For example, if you're working with a curly, coily, or kinky texture, you'll want to make sure you're applying anti-frizz products to damp hair—ideally when you're applying your other styling products. And if you don't have the time to diffuse your curls, try drying them with a microfiber towel or cotton t-shirt. This will help you wring out excess moisture, cutting down on frizz and breakage.
For those with straight or wavy textures, hairstylists say that applying anti-frizz solutions before heat styling is usually the most successful method. Before you dry or style your hair with a hot tool, work an anti-frizz product through your tresses. Next, finish off with a spray or hair oil to lock in moisture and repel humidity.
Our Method For Finding The Best Frizz-Fighting Products
Sure, maybe that anti-frizz serum you grabbed off the shelf tamed your flyaways, but it might have also weighed your hair down or caused build-up at your scalp. Believe it or not, there are products out there that can solve your frizz problems without causing new ones, and thanks to our unbiased algorithm, we've already found them for you. Below, you'll find the 10 best hair smoothing creams on the internet—and hopefully your next favorite.
Next up, check out the 10 Best Anti-Static Hair Products. Opening image: sephora.com
Jump To List
January 11, 2022
Top 10 Lists serve as unbiased shopping guides to the most trusted product recommendations on the internet. Products are scored and ranked using an algorithm backed by data consumers find most valuable when making a purchase. We are reader-supported and may earn a commission when you shop through our links.
View All Beauty