Top 10 Sheet Masks
These Are The Sheet Masks That Boast The Most Reviews On The Internet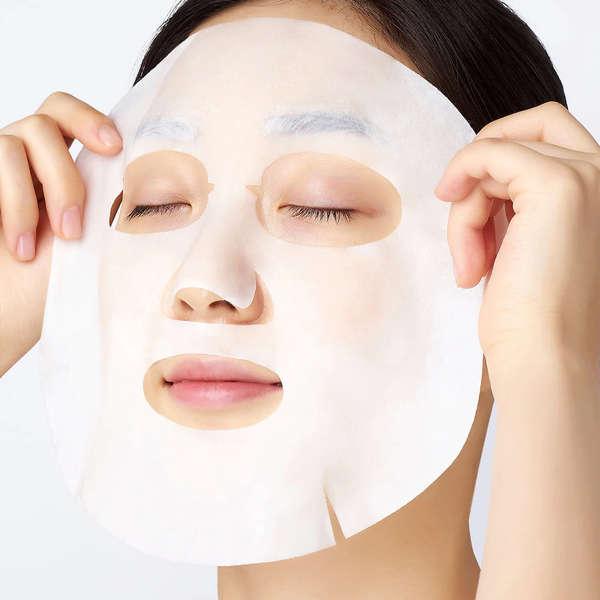 Our Top 10 Lists help shoppers quickly and easily find what they need. Using an intense review and approval process (which you can learn more about here), we break down the best products according to what consumers most commonly search for and want.
A great sheet mask is one of many ways to treat your skin, and lately, they've been all the rage. Most often, the nutrient-packed sheets of paper or cloth contain moisturizers and extracts, which are usually soaked in serum. They're generally intended for one-time use and individually packaged for simple application. It usually takes about 15-20 minutes for sheet masks to work their magic, so after applying one, you can multitask—whether that means going about your day or continuing your skincare routine with a body moisturizer.

Sheet masks have been around for quite some time, but they only recently gained international recognition thanks to the boom of Korean and Japanese skincare. Since sheet masks prevent the quick evaporation of water, they allow ingredients to stay on the skin longer, improving the absorption of nutrients and promoting supple, glowing results. Certain sheet masks are better for different skin types, but more often than not, you'll find that you can't really go wrong. Gel masks that are infused with collagen and antioxidants are great for people with oily skin, while sheet masks containing vitamin C and hyaluronic acid are great for dull, dry, and mature skin. If a sheet mask contains herbal ingredients like aloe vera, it's probably a great option for sensitive skin.
Now that we're spending more time at home than ever, we officially have no excuse to not be masking 24/7. Whether you're working (between Zoom meetings, of course), binge-watching, or baking cookies for the millionth time in a row, you can do it while wearing a sheet mask that's packed with ingredients perfect for your skin type. To help you find your match, we've rounded up an algorithm-approved list of the best sheet masks on the market right now.
How We Found The Best Sheet Masks
To round up this list, we tapped our unbiased algorithm that ranks and scores products by factoring in best-selling buzz, editor recommendations, rave reviews, and more. From indulgent, luxury formulas to a $3 K-beauty favorite with thousands of reviews, keep scrolling to shop the Top 10 sheet masks for instantly glowing skin.
Next up, check out the 10 Best Under-Eye Patches And Masks. Opening image: sephora.com
Jump To List
September 28, 2021
Top 10 Lists serve as unbiased shopping guides to the most trusted product recommendations on the internet. Products are scored and ranked using an algorithm backed by data consumers find most valuable when making a purchase. We are reader-supported and may earn a commission when you shop through our links.
The Rankings
---
Dr. Jart+ Ceramidin Facial Barrier Mask
BEST FOR DAMAGED SKIN
WHAT IT DOES: This reparative mask deeply moisturizes dry and damaged skin by supporting the skin barrier with 5-Cera Complex, ectoin, and peptide complex.
ADDITIONAL THINGS TO KNOW: The mask essence penetrates the skin and helps deliver concentrated hydration. It's also composed of 100% biodegradable bamboo-derived cellulose material.
---
Neutrogena Hydro Boost Moisturizing & Hydrating Face Mask
BEST DRUGSTORE
WHO IT'S FPR: Packed with hyaluronic acid, this affordable find is a lifesaver for dry skin. Unlike other masks, it has a unique hydrogel material that seals in the formula for maximum absorption into the skin.
WHERE TO WEAR: Whether you've got a long flight ahead of you or some cold days coming up, these masks are perfect for keeping your skin smooth, supple, and hydrated. We recommend stocking up and storing them in your purse, bedside table, desk, and anywhere else your complexion may need a little moisture.
---
TonyMoly I'm Real Mask Sheet
BEST BUDGET
WHY PEOPLE LOVE IT: With over 23 options to choose from, you can find the perfect sheet mask for your skin's needs.
USER REVIEW: "I have super sensitive combination skin (dry patches/oily t-zone), and I've quickly found out that this is basically the only mask I can handle. No weird burning sensation, no dry tight feeling, no harsh smells or flakiness afterward. Just a super soothing basic mask. The scent isn't overpowering, and although it does feel a bit tacky after you take it off, it soaks into your skin quickly. Obsessed. Definitely suggest the tomato one as well if you have a similar skin type."
---
Dr. Jart+ Dermask Water Jet Vital Hydra Solution
BEST FOR DRY SKIN
WHAT IT DOES: Made with aquaxyl, xylitol, and hyaluronic acid, this super soothing mask enhances moisture retention, strengthens the skin's barrier, and supports natural collagen synthesis to keep the complexion feeling hydrated and refreshed. Trust us—no amount of dry skin is too much for this baby to handle.
USER REVIEW: "This mask is AMAZING. I have really sensitive skin, and this is one of the few moisturizing masks I've used that doesn't make my face red or break out. It does exactly what it claims, and it leaves my skin so soft the next morning."
---
GlamGlow Bubblesheet Oxygenating Deep Cleanse Mask
BEST FOR OILY SKIN
WHY PEOPLE LOVE IT: Besides the super cool formula that bubbles up upon application, users rave about the cleansing powers of this mask. After just three minutes with it on, it'll remove every last trace of dirt and oil and can even wipe out a full face of makeup.
HELPFUL TIP: Once you peel off the mask, use the charcoal-infused fiber cloth to exfoliate for an added micro-circulation benefit.
---
SkinCeuticals Biocellulose Restorative Mask
BEST SPLURGE
WHO IT'S FOR: Itchy, dry, sensitive skin types, look no further than this indulgent face mask.
WHY PEOPLE LOVE IT: This restorative mask contains highly absorbent biofibers, which are infused with water to provide an immediate cooling relief to the skin
---
Tatcha Luminous Dewy Skin Sheet Mask
BEST OVERALL
WHAT IT DOES: Drawing inspiration from Tatcha's famous Dewy Skin Mist, this mask uses a hydrating blend of the brand's signature fermented green tea, rice, and algae to leave the skin with a velvety smooth, dewy glow after just one use. Please excuse us while we go buy every single one.
USER REVIEW: "My skin was still glowing even after a few days of wearing this mask, and I didn't feel the need to put on any highlighter because of how hydrated and luminous I was looking. I am obsessed! I just ordered another one because I've never seen my skin so happy and healthy!"
View All Beauty