Top 10 Shimmer Body Oils And Lotions
Non-Greasy Body Oils And Lotions For Boosting Your Skin's Glow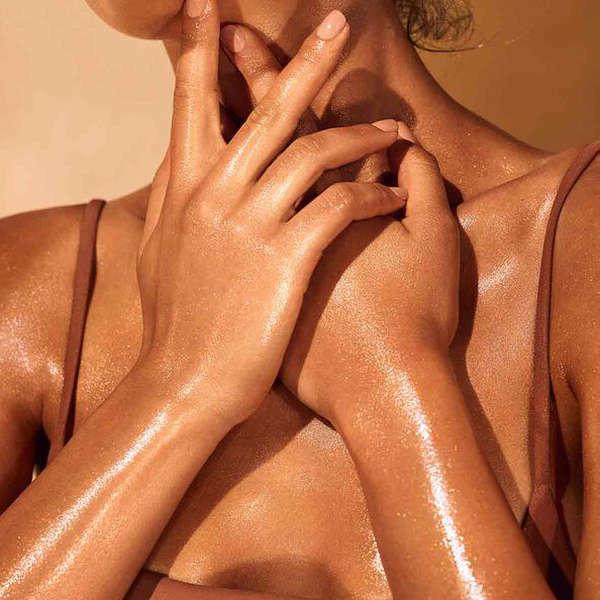 Our Top 10 Lists help shoppers quickly and easily find what they need. Using an intense review and approval process (which you can learn more about here), we break down the best products according to what consumers most commonly search for and want.
THE 10 BEST SHIMMER BODY LOTIONS AND OILS FOR SPARKLING SUMMER SKIN
If you were a teen in the '90s or early 2000s, you likely remember covering yourself in fruit-scented, roll-on glitter every chance you got. If that memory makes you cringe, you're not alone. Beauty products with the word "shimmer" in them have long been considered taboo, but today's sparkling formulas are nothing like the ones from our youth. Just like hair clips, brown lipsticks, and beaded jewelry, everything eventually comes back in time, including body shimmer. However, the grown-up version is much more sophisticated and hydrating, and it doesn't leave chunky streaks of glitter behind. In fact, the formulas of today are subtle, nourishing, and deliver a natural-looking, sun-kissed glow that's perfect for summer. Ahead, we're showing you what we mean with a roundup of the best shimmer body oils and lotions on the market right now, all of which are suitable for every age and occasion.
Our Method For Finding The Best Shimmer Body Oils And Lotions
In pursuit of the best shimmer body lotions and oils on the web, we enlisted the help of our data-driven algorithm. This proprietary tool factors in best-selling buzz, editorial mentions, and rave reviews to rank and score products, which is why we can assure you that you'll only see the best of the best when you visit our site. From Patrick Ta's All-Over Glow Balm to a Fenty Beauty find that Rihanna herself uses, keep scrolling to shop the Top 10 hydrating lotions and oils that deliver the perfect balance of shine and shimmer.
Up next, check out our 10 Best Gradual Self Tanners. Opening image: @fentybeauty.com
Jump To List
April 26, 2021
Top 10 Lists serve as unbiased shopping guides to the most trusted product recommendations on the internet. Products are scored and ranked using an algorithm backed by data consumers find most valuable when making a purchase. We are reader-supported and may earn a commission when you shop through our links.
View All Beauty