Top 10 Waterproof Mascaras
Waterproof Mascaras You Can Wear Without Worry Of Smearing Or Flaking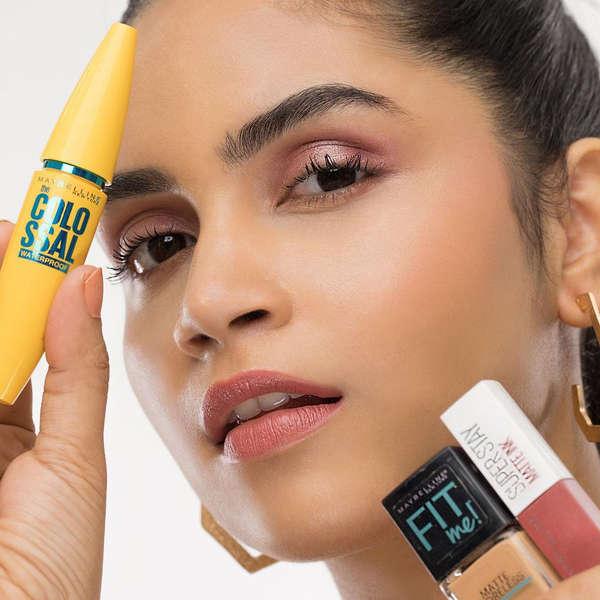 Our Top 10 Lists help shoppers quickly and easily find what they need. Using an intense review and approval process (which you can learn more about here), we break down the best styles according to what consumers most commonly search for and want.
There's no worse way for the makeup gods to put a damper on your day than when your mascara runs. Sure, you've mastered the eyelash curler prep and you've selected a brush that promises to leave your lashes fluttering flawlessly, but a rainy day or even a teary-eyed moment can ruin everything. Heading to a wedding ceremony, a swim workout, or something as simple as enjoying a stint outside during allergy season can be detrimental to your look. And although raccoons have a weirdly cute appeal to them, no one wants to look like a furry burglar because they chose the wrong mascara.
Why You Need A Waterproof Mascara
Since the arrival of waterproof mascara, beauty junkies over the world have sworn by its trusted security and backed coverage. While the waterproof options allow you to face the world worry-free, many mascaras have garnered an infamous reputation for overstaying their welcome. Removing your mascara should never be a battle, and many waterproof products of the past have become notorious for making lashes too stiff and staying put long after you've put away the makeup remover. But don't fret! You no longer have to sacrifice your lashes for your mascara that won't budge. Enter a new league of waterproof mascaras that you need in your makeup bag stat.
Benefits Of A Waterproof Mascara
For those of you who are still apprehensive about having semi-permanent lashes during your daily grind, let's explore the beauty benefits of making the switch to waterproof. Thanks to a nifty chemical known as dimethicone copolyol, waterproof mascara literally adheres to lashes while maintaining their smoothness and soft touch. Most waterproof options are silicone based, which is a product also used in shampoos, conditioners, and serums in the beauty aisle. Due to both silicone and dimethicone copolyol being fat based, water doesn't mix or interfere with its integrity while it's on your lashes. Looks like that 'oil and water don't mix' rule from your elementary science class really sticks!
Things To Consider Before Making Your Selection
Before you dive into this vetted list of waterproof products, it's important to know the dos and don'ts of the art of application. Thoroughly reading the packaging, having the right kind of remover on hand for your perfect pick, and selecting a mascara with a brush that will help you achieve your dream wink are major protips to remember. If you struggle with eye sensitivities, choose a waterproof mascara that has an ophthalmologist seal of approval. Don't worry, we got all the hypoallergenic basis covered in this product-packed list.
Products And Tools To Pair With Your Waterproof Mascara
To maintain and wonderful wink all day long, it's best to give your eyelashes a little TLC before you coat them in the good stuff. Make sure your lashes are set to flaunt their flutter with the help of a couple beauty tools every beau or beaut should have in their glamour arsenal. Investing in a quality eyelash curler is the first step. Whether you're blessed with a naturally fanned fringe or you need a little extra juice to make your lashes stretch the extra mile, keeping a curler on hand is an essential key to blowing them away with every bat. After securing your trusted eyelash curler, locking down a favorite eyelash primer is yet another way to ensure your wink doesn't falter no matter the weather, occasion, or crazy day that may lie ahead. Setting your lashes using a top quality lash primer is almost just important as finding a go-to waterproof mascara. It provides the perfect assist to guarantee your lashes wows with every passing glance, even in the most humid or downright wet situations. For those who may be new to the beauty game, selecting an eyelash primer is much easier than you think, and we've scoured the web to help you find the eyelash primer potion that's right for you. Check out this list of top eyelash primers to get your lookers in tip-top shape before you swipe on your blackest black or natural dark brown shade of preference.
Why You'll Love Using A Waterproof Formula
While the long-lasting wearability of mascara is crucial, the nourishing benefit of your product is just as important. Our list of top waterproof mascaras boasts quality formulas that not only lengthen lashes, but also promote continued growth, softness, and reduced clumping. A major sign of a quality mascara—waterproof or otherwise—is its ability to leave your lashes just as luscious when the makeup comes off after a day of slaying. And trust us, these 10 picks certainly fit the bill.
Our Method For Finding The Best Waterproof Mascaras
Give your lashes something to wink about this season with the top waterproof mascaras to have in your makeup bag. From best-selling favorites to drugstore classics, these mascaras are sure to keep your lashes lovely through any weather. This list includes trusted beauty brands like Dior, Maybelline, Lancome, and more that all boast waterproof and smudge-proof wearability. In addition to being a stellar lash lineup, these top waterproof mascaras have been vetted by our patented algorithm and have been gushed about by real beauty lovers who use them every single day. So what are you waiting for? Your new favorite stay-put mascara is just a click away.
Love our 10 Best Waterproof Mascaras? Just wait till you see our 10 Best Eyeshadow Sticks! Opening image: @maybelline
Jump To List
November 3, 2021
Top 10 Lists serve as unbiased shopping guides to the most trusted product recommendations on the internet. Products are scored and ranked using an algorithm backed by data consumers find most valuable when making a purchase. We are reader-supported and may earn a commission when you shop through our links.
View All Beauty