Top 10 Air-Dry Products
Good-Looking Air-Dried Hair Is Easy To Achieve—You Just Need One Of These 10 Products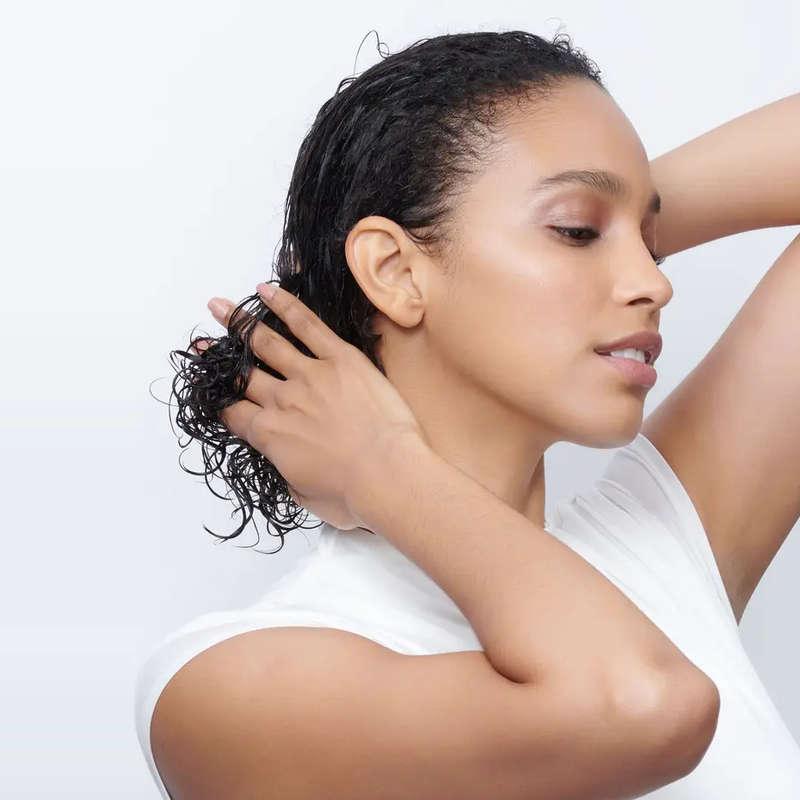 The power of a blowout is undeniable. In fact, there's a whole episode of New Girl centered around the idea that a fresh blowout gives a girl a dangerous amount of confidence. But in reality, blowing out your hair on the daily isn't doable, because not only is it pricey—it's also time-consuming. That means that most of us need a low-effort strategy for styling our hair that also delivers a self-esteem boost. Enter: air-dry hair products.
Air-dry hair products are formulated to lock in moisture, prevent frizz, and increase definition, so that you can skip the blow dryer and heat-styling tools and let your locks dry in their own natural fashion. And in addition to reducing the time it takes to go through your hair routine, opting to use product and let your hair air-dry is much healthier for your strands.
How To Air-Dry Hair Overnight
If you're ready to embrace your natural hair (or you just need an alternative for days when there's no time for the whole shebang), one of the best strategies is to let your locks air dry overnight. Of course, you'll get the best results with an air-dry hair product, which is why we've got 10 of the best options money can buy listed below. But before you get to those, let us share our process for how to air-dry hair overnight:
After washing and conditioning your hair, give your strands a good squeeze to remove excess moisture. Once you've gotten every drop of water you can get out of your strands, use a microfiber hair towel to gently squeeze some more. Try not to rub your hair with the towel as it can cause breakage and frizz.
Next, you'll apply your hair product of choice (we recommend opting for something hydrating and frizz-defying). If you're using a spray, you can apply the product directly to your hair—otherwise, work the product into your hair with your hands section by section. Once your strands are lightly saturated with product, use a wide-tooth comb to work out any tangles or knots you might have.
Lastly, make sure you cover your pillow with a microfiber towel. Not only will this help you avoid sleeping on a damp pillow all night, but it's also a great way to avoid waking up with a head full of frizz. Alternatively, you can use a silk pillowcase, which is great for both your skin and hair.
How We Found The Internet's Best Air-Dry Hair Products
Now that you've got the technique down, it's time to find the perfect air-dry hair product for you. But you should know that we do things a little differently at Rank & Style. In order to make sure that the products we recommend are worth the hype, we use data—specifically user reviews, best-seller lists, editor recommendations, and social buzz. All of this information is filtered through our algorithm, and the result is a bias-free list of the best products in any given category. So, if you're ready to find the miracle product that cuts your hair routine time in half, keep scrolling.
Next up, check out the 10 Best Hair Fragrances and Mists. Opening image: nordstrom.com
Jump To List
April 20, 2022
Top 10 Lists serve as unbiased shopping guides to the most trusted product recommendations on the internet. Products are scored and ranked using an algorithm backed by data consumers find most valuable when making a purchase. We are reader-supported and may earn a commission when you shop through our links.
View All Beauty