Top 10 Facial Cleansing Tools And Brushes
A Review Of The Best Cleansing Brushes And Tools To Buy in 2021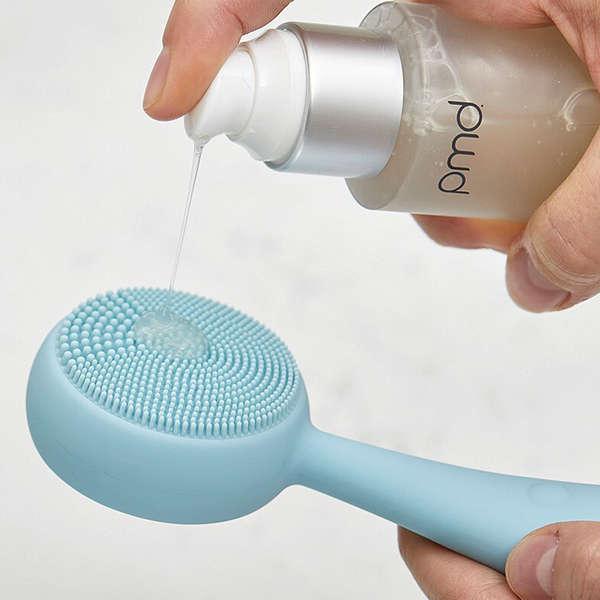 If you were a teenage girl in the 2000s, you probably remember the revolutionary Clarisonic or might have even owned one. If you remember it as we do, the millennial pink facial cleansing device seemed to be everyone's secret to radiant, glowing, and clear skin. While the OG Clarisonic has sadly gone away, we're happy to report there are tons of new options on the market that are just as good, if not, even better. To give you proof, we used our data-backed algorithm to round up the Top 10 most reviewed and effective brushes to buy in 2021.
But what makes these little devices so great and why should one even use a tool to wash their face? For starters, a good skincare routine begins with proper cleansing—and nothing quite compares to the effectiveness of a cleansing brush or tool. Facial cleansing brushes exfoliate, remove oil, dirt, and makeup, increase blood flow, improve the absorption of skincare products—oh, and cleanse the skin, of course. Needless to say, there are tons of benefits these babies provide that our hands cannot.
Keep scrolling to learn more about why you should incorporate a facial cleansing brush into your skincare routine and figure out which one to buy.
Who should use a facial cleansing brush?
Facial cleansing brushes can make a great addition to your skincare routine, but it's important to note that dermatologists generally don't recommend them for all skin types. If you struggle with severe acne, eczema, rosacea, or sensitive skin, it might be best to avoid cleansing brushes as they can aggravate these conditions. However, some of the gentler brushes on the market are suited for these skin types, including a few on this list. As for oily, normal, or dry skin types, dermatologists tend to recommend facial cleansing brushes as they are 10 times more effective than washing your face with your hands when it comes to achieving a cleaner, clearer complexion. It's also the best way to ensure the proper removal of makeup, oil, and additional pore-clogging bacteria.
Why use a facial cleansing brush?
So why invest in one of these bad boys? The main reason is that they ensure your skin will look as good as possible for years to come. We're talking fewer fine lines and wrinkles and firmer skin—all thanks to the way these brushes allow for better absorption of your favorite serums, acids, and creams. Not to mention, everyone's skin looks a whole lot brighter when it's free of impurities like oil, dirt, and makeup. Facial cleansing brushes guarantee you get the most out of your skin and your skincare products.
What to look for in a facial cleansing brush before you invest in one?
When it comes to deciding which cleansing brush is right for you, it's important to consider three things: your skin type, your budget, and what you ultimately want to gain from the usage. If your skin is on the sensitive side, we recommend opting for a manual brush or a pick with softer bristles. If you're concerned about your brush harboring bacteria that could aggravate an existing breakout, we recommend looking for a silicone brush or a pick that's antimicrobial. As you further read, we'll be highlighting key features about all of the below tools and brushes on this list to make finding the perfect option for you as easy as possible.
How to use a facial cleansing brush
Last but not least, how do you use these things? It's not complicated, we promise. Apply your cleanser to your wet face as you normally would, turn on your device, and get to cleansing. That's about it. In terms of frequency, dermatologists recommend using a facial cleansing brush one to three times a week depending on skin sensitivity, and to avoid over-cleansing of the skin. It's also important to note to wash your cleansing brush after every single use. Yes, you have to wash the brush and your face. It seems sort of annoying—we know—but trust us, cleansing your face with a dirty tool might be worse than not washing your face at all.
How we chose the best facial cleansing brushes
We turned to our data-driven algorithm to find the very best facial cleansing brushes on the world wide web. Our algorithm factors in editorial mentions, social media buzz, and reviews from skincare queens like you. Ahead, we've rounded up an edit of the top-rated cleansing brushes to arm you with the best skin-clearing arsenal around. Scroll down now and check out the 10 best facial cleansing tools you can buy and gear up for flawless skin. Opening image: @PMDbeauty
Find the facial cleansing brush for you? Grab a cleanser to go with it and check out our 10 Best Anti-Aging Cleansers.
Jump To List
January 12, 2021
Top 10 Lists serve as unbiased shopping guides to the most trusted product recommendations on the internet. Products are scored and ranked using an algorithm backed by data consumers find most valuable when making a purchase. We are reader-supported and may earn a commission when you shop through our links.
View All Beauty