Top 10 Facial Serums
Results Are Inevitable When You Start Using One Of These Face Serums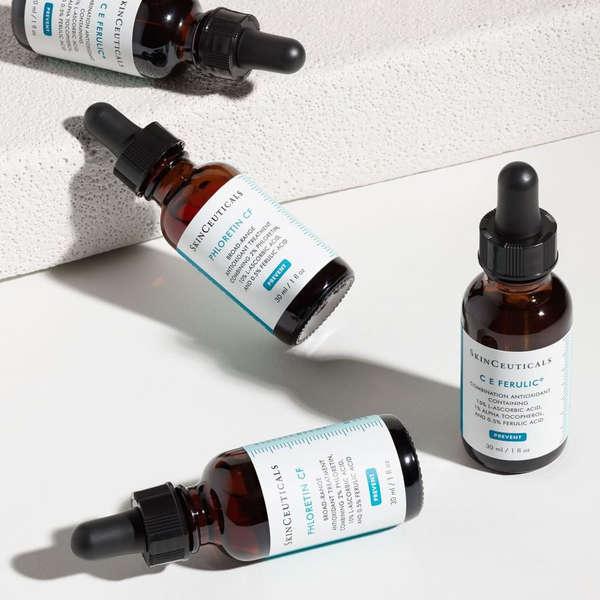 Our Top 10 Lists help shoppers quickly and easily find what they need. Using an intense review and approval process (which you can learn more about here), we break down the best products according to what consumers most commonly search for and want.
THERE ARE HUNDREDS OF FACIAL SERUMS ON THE MARKET—WE FIGURED OUT THE 10 MOST POPULAR AND EFFECTIVE FORMULAS ACCORDING TO REVIEWS AND SKINCARE EXPERTS
We're sure you already know all about the importance of moisturizing, but relying on your everyday moisturizer alone to keep fine lines, hyperpigmentation, dryness, and other skin issues at bay simply won't cut it. What you really need is a serum. These lightweight, concentrated formulas pack a serious punch when it comes to maintaining your skin's youthful appearance. Chock full of skin actives, serums are results-driven and penetrate far deeper than moisturizers or creams are able to—in fact, they're actually designed to target specific skin concerns. With a combination of good-for-your-skin ingredients like niacinamide, vitamin C, hyaluronic acid—and the holy grail—retinol, serums can improve tone, texture, plumpness, fine lines, and whatever else you may be concerned with. Whether you're battling breakouts, aging, or dryness, adding a facial serum to your skincare routine can work wonders. From splurges like Skinceuticals to affordable finds from The Ordinary, we went to work finding the best formulas out there so you can find the one that's right for your routine.
How To Choose The Right Facial Serum
As with most skincare products, choosing a formula that jives with your unique skin type and concerns is the key to success. Remember, most serums are results-driven formulas. That being said, different serums vary in their concentrations of active ingredients and therefore their efficacy. When you're shopping for a serum, you can opt for one that zeros in on a specific issue or something that targets multiple issues. Another option is choosing two serums—one to wear at night, and one to wear during the day. This tends to be a common strategy for those with acne-prone skin or those who struggle with hyperpigmentation, as some skin actives can make your skin more sensitive to sunlight. Think serums that contain ingredients like vitamin A, chemical exfoliants, and peptides.
If your goal is to correct uneven skin tone, be on the lookout for serums that contain ingredients like vitamin C or niacinamide. If aging is your main concern, stick to serums that contain ingredients that target fine lines and wrinkles like vitamin A and retinol. Lastly, if you find that your skin is constantly congested or prone to acne, you might see some major benefits from serums that contain zinc and salicylic acid.
Our Method For Finding The Best Facial Serums
The right facial serum can make all the difference in your skin, which is why we're letting you in on the best formulas the internet has to offer. To round up our Top 10 lists, we use a unique algorithm that scores and ranks products based on top reviews, editorial mentions, best-selling buzz, and more. Scroll through to shop the formulas that made the cut and find the one that's right for you.
Next up, check out the 10 Best Dark Spot Removers. Opening image: @skinceuticals
Jump To List
May 5, 2021
Top 10 Lists serve as unbiased shopping guides to the most trusted product recommendations on the internet. Products are scored and ranked using an algorithm backed by data consumers find most valuable when making a purchase. We are reader-supported and may earn a commission when you shop through our links.
The Rankings
---
L'Oreal Paris Skincare Revitalift Derm Intensives Hyaluronic Acid Serum
BEST FACIAL SERUM FOR ALL SKIN TYPES
WHY YOU NEED IT: This drugstore gem is so good that at least one bottle is sold every minute. Formulated with hyaluronic acid, the dermatologist-approved formula offers anti-aging benefits and transforms the skin in just two weeks.
THINGS TO KNOW: The body's natural hyaluronic acid production significantly decreases once we hit our late 20s, proving that it's never too soon to start an anti-aging skincare routine.
---
Clinique Smart Custom-Repair Serum
BEST FACIAL SERUM FOR WOMEN OVER 50
WHAT IT DOES: Using patented Clinique Smart technology, this serum diminishes the signs of aging with a blend of skin-healthy ingredients like peptides, glucosamine, and salicylic acid. Over time, the formula will refine the look of fine lines and visibly reduce the appearance of dark spots and discoloration.
BEAUTY TIP: You can use this lightweight serum two or three times a day to improve skin tone, refine texture, and visibly diminish lines.
---
Drunk Elephant T.L.C. Framboos Glycolic Resurfacing Night Serum
BEST FACIAL SERUM FOR MINIMIZING PORES
LOVED FOR: Ideal for nightly skincare routines, this resurfacing facial serum minimizes the appearance of pores fast. And thanks to Drunk Elephant's commitment to only using skin-benefiting ingredients, the formula is pH balanced and squeaky-clean.
WHAT IT DOES: This formula utilizes AHAs and BHAs to refine and resurface the skin and reveal a smoother, more radiant complexion. A blend of glycolic, tartaric, citric, and salicylic acids gently exfoliate the skin to keep oiliness at bay without causing excess dryness or irritation.
---
Neutrogena Hydro Boost Hydrating Hyaluronic Acid Serum
BEST FACIAL SERUM FOR DRY SKIN
WHY YOU NEED IT: Glowing, radiant skin can be yours with this hydrating formula. Made with nourishing ingredients found naturally in the skin (think hyaluronic acid), it addresses dryness and leaves the skin feeling naturally moisturized, supple, and smooth.
THINGS TO KNOW: Both oil-free and non-comedogenic, this hydrating serum quenches dry skin but won't over-moisturize oily skin.
---
The Ordinary Niacinamide 10% + Zinc 1%
BEST FACIAL SERUM FOR ACNE-PRONE SKIN
WHY YOU NEED IT: This cult-favorite serum fights off congestion and brightens the complexion for under $6. Blemish-busting ingredients like niacinamide ensure that redness, inflammation, and breakouts stay at bay.
USER REVIEW: "I absolutely LOVE this product! It is truly a GEM! For the price and the magic this does, it's amazing. My main goal is to reduce acne and the acne scars that I've had for a really long time, and this has been doing great. In two days—no lie—I see a huge difference in my scars. I am excited to see what more it does!"
---
SkinMedica TNS Essential Serum
BEST ANTI-AGING FACIAL SERUM
WHAT IT DOES: The secret to this potent serum is that it uses not one, but two active formulas that work together to smooth wrinkles and regenerate skin cells. One of them targets existing lines while the other strengthens skin and helps prevent future signs of aging.
WHY YOU NEED IT: This stuff is a major splurge, but we promise it's worth it. It's pumped with high concentrations of skin actives to deliver rapid results.
---
Obagi Professional-C Serum
BEST FACIAL SERUM FOR DISCOLORATION
WHY YOU NEED IT: With just five to seven pumps, the ascorbic acid (more commonly known as vitamin C) in this face serum brightens up dark spots and hyperpigmentation. According to experts, the earlier you add vitamin C into your routine, the longer your complexion will remain youthful and radiant.
WHO IT'S FOR: If you struggle with discoloration, uneven skin tone, pesky dark spots, and hyperpigmentation, this serum is an absolute must. The formula neutralizes free radicals that break down collagen leading to premature aging and dark spots.
---
iS Clinical Active Serum
BEST BRIGHTENING FACIAL SERUM
WHY YOU NEED IT: Powered by salicylic acid, this hardworking serum can tackle even the worst blemishes while it fights fine lines and wrinkles. According to one reviewer, it's the sole reason her cystic acne has completely subsided.

THINGS TO KNOW: This brightening serum is a cult favorite for a reason. It can handle a ton of skincare woes, including fine lines, breakouts, redness, and acne scars. The best part? It's proven to deliver both instant and long-term results.
---
Skinceuticals C E Ferulic
BEST FACIAL SERUM OVERALL
WHAT IT DOES: There's a reason C E Ferulic is talked about so often. Its unique combo of ingredients—vitamin C, vitamin E, and ferulic acid—work together to slow down the aging process and minimize the appearance of fine lines, wrinkles, sun damage, and even dark spots fast. We're talking see-results-the-next-day fast.
WHY YOU NEED IT: It's pretty difficult to top this age-fighting formula. It's designed to defend against photoaging, fights against free radicals, promotes collagen production, and packed with antioxidants that maintain the skin's youthful look.
View All Beauty