Articles
How To Build A Capsule Wardrobe
A Breakdown Of All The Fashion Essentials To Invest In When Building One's Wardrobe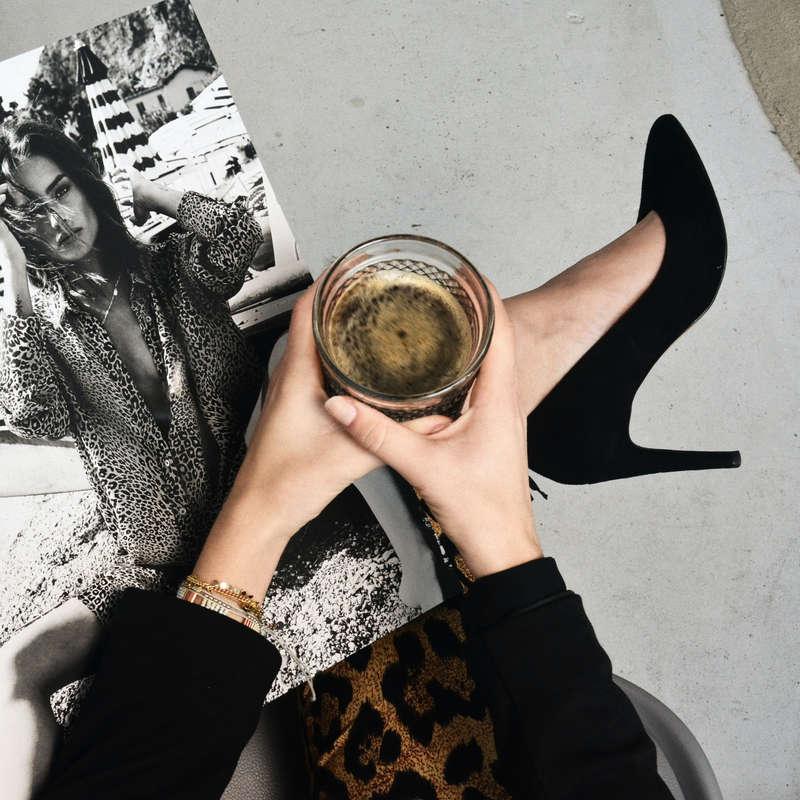 January marks the Invest in Yourself series here at Rank & Style HQ, which means we'll be spending the month focusing on the different ways in which you can use your time and money to establish the groundwork for a successful new year—think health and wellness, self-care, and all things splurge-worthy. We're big believers that a collection of high-quality wardrobe staples is one of the best investments you can make, so below, we're breaking down exactly how to build yours.


Everything You Need To Know About Building A Capsule Wardrobe And Which Fashion Essentials To Invest In
It's 8:45 a.m. and you have 15 minutes to head out the door before you're officially late to work. You stare at your closet full of clothing feeling panicked and rushed, then think to yourself, "I have nothing to wear." Relatable? Same. It's safe to say we've probably all been in this situation—unless you're lucky enough to have a required uniform for work.
Here at Rank & Style, we believe that every woman should own a capsule wardrobe. You may be wondering to yourself, "What the heck is a capsule wardrobe?" and honestly, that's a totally valid question. To put it simply, a capsule wardrobe is a collection of timeless, investment-worthy pieces that can save you from fashion dilemmas such as the one mentioned above. But they're not just good for those days when you snoozed your alarm one too many times—they're also ideal for last-minute events and even weekend trips that allow for limited real estate in your suitcase.
We know it's tempting to chase trends and spend your dollars on what's hot, but it's this mindset that leaves us cleaning out our closets season after season with that nothing-to-wear feeling. Instead, we recommend putting your money where it will benefit you in the long term and focus on the pieces that will always deliver and—even years from now—will continue to provide you with endless styling opportunities.
Think about building your closet as if you were building your dream house. You'll be living in it for years to come, so a great foundation is key. When it comes to appliances, backsplashes, and flooring, you definitely don't want to skimp. You're spending a ton of money, after all, so it's wise to get what you need, what you want—and most importantly—what will last. Your capsule wardrobe should be exactly the same. A closet full of investment pieces that can simplify getting ready, outlive trends, and stand the test of time is the goal.
So what are these splurge-worthy items, and what makes them so splurge-worthy? Your capsule wardrobe should include a selection of classic, easy-to-style pieces—think shoes, handbags, tops, bottoms, and outerwear. And while it may seem like you already own a ton of this stuff, it's important to remember that there's a reason why you still feel like you have nothing to wear. Trendy, fast-fashion pieces aren't built to last—quality-wise or style-wise. So when it comes to your capsule wardrobe, it's important to look for classic garments made of silk, linen, or cotton, and to take things one step further, make sure you always launder them correctly. The tag that reads "hand wash in cold water" isn't kidding—proper laundering is essential when it comes to ensuring that your pieces live up to their fullest potential (literally).
Now, on to the fun part. Ahead, we're sharing our guide to curating the perfect capsule wardrobe full of versatile, investment-worthy pieces that won't leave you with buyer's remorse.
#1 SHOES:
When it comes to your shoe collection, it's important to have plenty of evergreen styles to choose from. If we could only wear four pairs of shoes for the rest of our life, we'd go with ballet flats, boots, comfortable heels, and sneakers—all in a classic color that can easily transition from outfit to outfit. These silhouettes make styling a breeze, and there shouldn't be a single piece in your closet that won't work with at least one of them.
Top 10s to Shop: 10 Best Tall Boots; 10 Best Ankle Boots; 10 Best Black Heels; 10 Best White Sneakers
<div data-bonsai-product-id="ckkeji85n0lfk1dai0wsn1r3o" data-bonsai-variant-id="28273376"></div>
<div data-bonsai-product-id="ckkevgsc41e3o1dai3kuq8iu3" data-bonsai-variant-id="35115189"></div>
<div data-bonsai-product-id="ckkety4vh1aly1dai1owaexq3" data-bonsai-variant-id="25177325"></div>
#2 BAGS:
Start with a high-quality shoulder or tote bag—both of these silhouettes can easily elevate any outfit, and they're versatile enough to take you from work to weekend to evenings out. We know the price tags on designer bags can be intimidating—to say the least—but what makes investment-worthy handbags so investment-worthy is the fact that they're built to last. Keep that in mind while you're shopping, and we promise that price will be a little easier to swallow.
<div data-bonsai-product-id="ckkeve7k81d4k1caqhr9beren" data-bonsai-variant-id="41107731"></div>
<div data-bonsai-product-id="ckkejjo940lk01dai32c7b227" data-bonsai-variant-id="27762152"></div>
<div data-bonsai-product-id="ckkelt3h20qwa1daifhyi2sq4" data-bonsai-variant-id="40607506"></div>
#3 JEWELRY:
Simple, wear-with-everything pieces like simple studs, personalized pendant necklaces, and dainty rings can embellish your looks in the best way. And jewelry doesn't have to be over the top to make a statement —your money is best spent on simple yet high-quality pieces that will work with everything in your wardrobe. Think small gold hoops, barely-there bracelets, and simple, stackable rings.
Top 10s to Shop: 10 Best Everyday Earrings; 10 Best Personalized Necklaces; 10 Best Affordable Fine Jewelry Brands
<div data-bonsai-product-id="ckkekuvom0p311c9x7pwndzvw" data-bonsai-variant-id="44287688"></div>
#4 TOPS:
As Zoom meetings become the new norm for the foreseeable future, investing in tops has become more important than ever. Prioritize textiles—they'll have a major impact on how long your pieces will last. Materials like silk, linen, cashmere, and cotton are all sound investments, as they're guaranteed to last longer than lower-quality materials like polyester. However, remember that proper laundering is just as important when it comes to getting the most out of your pieces.
Another important attribute to consider when it comes to selecting your tops is the silhouette. We recommend well-structured, simple pieces with clean lines and little to no unnecessary embellishments or detailing—we're talking classic white button-downs, simple white tees, and crewneck or turtleneck sweaters. The best part about each one of these tops is that they're easy to throw on with any bottom, and—if styled properly—they can make an effortless outfit appear as if you tried a whole lot harder than you actually did.
Top 10s to Shop: 10 Best Cashmere Sweaters
<div data-bonsai-product-id="ckkek23uf0mw01c9x7axaez91" data-bonsai-variant-id="35416451"></div>
<div data-bonsai-product-id="ckkeo01ya0w1w1c9x26kl37sq" data-bonsai-variant-id="43137957"></div>
#5 DRESSES:
Owning a dress that you can wear everywhere will change your life, and we're not exaggerating in the slightest. An LBD is the perfect wear-everywhere option—the color works well for nearly every occasion. Add a blazer and some pumps, and it instantly becomes work-appropriate, but pair it with heels and a clutch, and you're ready for date night.
Having a strong selection of timeless, one-and-done dresses that work for multiple occasions can save you a few emergency shopping trips (or serious shipping fees) when you need something to wear stat. Look for a few dresses in a midi length—they're office-appropriate but not too conservative for happy hour or casual dinner dates. When selecting a color, opt for something neutral that could work with any topper or bag. Lastly, go with a fit or silhouette that you feel flatters you the most.
Top 10s to Shop: 10 Best Sheath Dresses
<div data-bonsai-product-id="ckkekdiho0n5d1caqb4xmgvx8" data-bonsai-variant-id="39030776"></div>
#6 BOTTOMS:
When it comes to bottoms, think beyond denim. Don't get us wrong—we're huge believers that finding the perfect pair of jeans is important—but there's so much more to bottoms than denim. Investing in an array of bottoms that work for multiple occasions and activities will serve you well for years to come. For example, black trousers or slacks can instantly elevate your office attire, while a trusty pair of black leggings will simplify styling when it comes to gym attire.
And although jeans shouldn't be the one and only bottom option in your closet, investing in a high-quality, well-fitting pair is definitely encouraged. When shopping for those perfect jeans, don't be afraid to splurge—quality, long-lasting denim doesn't come cheap. We also encourage you to consider new silhouettes (ahem, diversify) and explore more evergreen washes. Incorporating these two simple concepts into your shopping criteria can make all the difference when it comes to styling denim. Think straight-leg jeans that look great with your cashmere sweaters and booties now or dark-wash denim that makes your favorite bright-colored tops pop come springtime.
<div data-bonsai-product-id="ckkejor0j0m2d1c9xf1mf2n91" data-bonsai-variant-id="29381350"></div>
<div data-bonsai-product-id="ckkengjwp0ul71daihralf357" data-bonsai-variant-id="42169857"></div>
#7 OUTERWEAR:
Wool coats are truly magical. Don't believe us? Style a wool coat over a matching sweatsuit, and report back to us. The minimalist topper can transform even the most effortless looks into a chic ensemble, so when it comes to prioritizing investment-worthy pieces, coats rank high. We suggest starting with a camel coat. Classic, cozy, and versatile enough to pair with anything, this is an outerwear piece that'll remain in your closet for years to come. If you live in a warmer climate that rarely sees all four seasons, opt for something lighter, like a blazer. The silhouette is just as chic and timeless, but it won't be too heavy for everyday, year-round use.
Top 10s to Shop: 10 Best Long Coats; 10 Best Leather Jackets
<div data-bonsai-product-id="ckkp9ita100lg111d7msm4mku" data-bonsai-variant-id="40949750"></div>
<div data-bonsai-product-id="ckkepvx6y10zu1c9x77ci22c0"></div>
#8 UNDERGARMENTS:
What's underneath your outfit is just as important as the outfit itself—trust us. Undergarments that provide ample support and fit properly can completely change the way your clothing looks, not to mention provide a major increase in comfort and potentially your health, too. When it comes to shopping for underwear, be sure to select panties that aren't too tight or restrictive. You'll want to look for options that are designed with breathable materials like cotton. And when it comes to bras and shapewear, investing in high-quality pieces can make a huge difference when it comes to the fit of your clothing. (Pro tip: it doesn't hurt if they're pretty, either.) Say bye-bye to unwanted bulges and undergarments that showcase everything we don't want to, and hello to the smoothing, tummy-controlling benefits of well-fitting bras and shapewear.
Top 10s to Shop: 10 Best Women's Bras; 10 Best Women's Underwear; 10 Best Body Shapers
<div data-bonsai-product-id="ckkepnyro10di1c9x5mzw83m2" data-bonsai-variant-id="23919500"></div>
<div data-bonsai-product-id="ckkejbwpk0l1i1daif8pm4iyp" data-bonsai-variant-id="23138285"></div>
<div data-bonsai-product-id="ckkekn23e0oeb1c9xbt4r7zz0" data-bonsai-variant-id="37718246"></div>
Last few things to know about building a capsule wardrobe:
When it comes to investing in yourself and a closet full of clothing that you feel confident in, we believe the work is never done. In fact, we're committed to helping you—our readers—make purchases that you love from the moment you unbox them to the 100th time you wear them. That means less time scouring the internet for the perfect piece of clothing, less time returning items that didn't work out, and a much simpler shopping experience overall. Check out our Top 10 lists for more keep-forever finds. Opening image: Photo by Cleo Vermij on Unsplash
WHAT TO READ NEXT: The Skincare Essentials To Invest In At Every Age
January 22, 2021
Interviews and Articles make it easy to learn more about the products that top our lists, what's currently trending, and the leaders who inspire us We are reader-supported and may earn a commission when you shop through our links.
---
View All Articles